Apple
In a valley known for what Steve Jobs calls "boring" office parks, Apple has the chance to reinvent Silicon Valley architecture the way it has changed everything we know about technology. And with Facebook and Google and other tech titans laying out visions for new campuses, many hope this could be the dawn of a new look that defines the birthplace of tech. In typical grandiose style, Jobs unveiled plans for a four-story spaceshiplike sphere of glass and steel by a renowned architecture firm, saying it gives Apple "a shot at building the best office building in the world." And if the design-obsessed billionaire is as successful with his new headquarters as he is with his iProducts, architecture enthusiasts and culture buffs hope it will put the "there there" in the sprawling Silicon Valley.
Iconic design for Apple headquarters could transform Silicon Valley landscape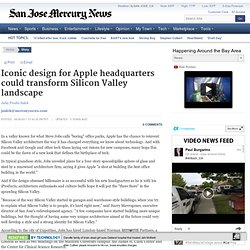 Socialisation Virtuelle et Online Media » TRENDS / La présentation de l'OS X Lion lors de la Keynote d'Apple !
Apple Should Stand Up and Defend its Developers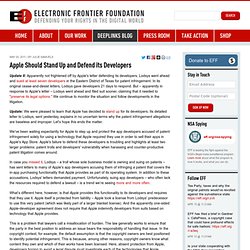 Update II: Apparently not frightened off by Apple's letter defending its developers, Lodsys went ahead and sued at least seven developers in the Eastern District of Texas for patent infringement. In its original cease-and-desist letters, Lodsys gave developers 21 days to respond. But – apparently in response to Apple's letter – Lodsys went ahead and filed suit sooner, claiming that it needed to "preserve its legal options." We continue to monitor the situation and follow developments in the litigation. Update: We were pleased to learn that Apple has decided to stand up for its developers.
Apple says developers are licensed for Lodsys patents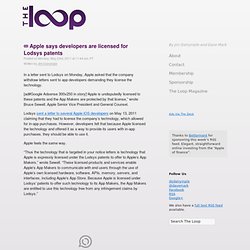 In a letter sent to Lodsys on Monday, Apple asked that the company withdraw letters sent to app developers demanding they license the technology. [ad#Google Adsense 300x250 in story]"Apple is undisputedly licensed to these patents and the App Makers are protected by that license," wrote Bruce Sewell, Apple Senior Vice President and General Counsel. Lodsys sent a letter to several Apple iOS developers on May 13, 2011 claiming that they had to license the company's technology, which allowed for in-app purchases. However, developers felt that because Apple licensed the technology and offered it as a way to provide its users with in-app purchases, they should be able to use it. Apple feels the same way. "Thus the technology that is targeted in your notice letters is technology that Apple is expressly licensed under the Lodsys patents to offer to Apple's App Makers," wrote Sewell. Selon les informations exclusives de notre confrère Greg Sandoval de Cnet.com, Apple est sur le point de boucler un accord de licence avec Universal Music et Sony Music. La firme de Cupertino se serait déjà entendue avec Warner Music et EMI. Tout pourrait donc être finalisé avant l'ouverture de la Worldwide Developers Conference le 6 juin. Fort d'une entente avec les quatre principaux labels, Apple pourrait lancer un service d'écoute de musique en streaming accessible depuis n'importe quel terminal iOS et plus étoffé que ceux de ses rivaux Amazon et Google. Car si ces derniers ont pris Apple de vitesse, ils ne sont pas parvenus à s'entendre avec les labels. Une différence qui pourrait conférer un net avantage à la Pomme et pousser ses concurrents à revenir à la table des négociations avec les maisons de disque estime Greg Sandoval.
Musique cloud : Apple sur le point de conclure avec les principaux labels
Petites mais solides, des valeurs fortes, une bonne image : les entreprises familiales recèlent bien des atouts. Mais restent peu ouvertes à l'innovation, à l'export, et en proie à des difficultés de transmission. Les enjeux pour les faire grandir sont importants.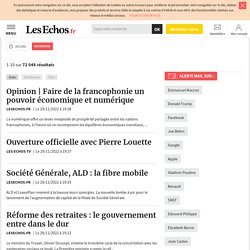 Apple is not "recording your moves"
Locationgate: South Park Takes on Apple and Steve Jobs
It just wouldn't make sense if South Park didn't have a say regarding Apple's "ooooh, we're not tracking you" thing. Gawker has the video available online here. Ever since news broke that Apple is tracking iPhone users' location, it's unleashed a whole storm of controversy surrounding data privacy.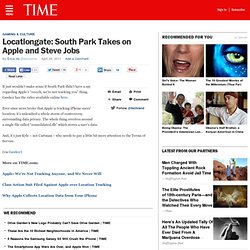 Apple crushes Street forecasts, revenue up 83 percent
By Poornima Gupta and Noel Randewich SAN FRANCISCO Wed Apr 20, 2011 7:42pm EDT SAN FRANCISCO (Reuters) - Apple Inc's results smashed Wall Street's expectations after iPhone and Mac sales scaled new heights while iPad supplies could not keep up with roaring global demand. Shares of the world's most valuable technology corporation rose 3 percent after it said a record 18.65 million units of the category-defining iPhone -- its flagship product -- moved in the March quarter, outpacing the 16 million or so expected.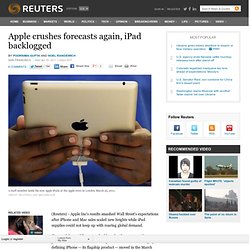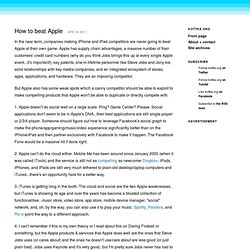 In the near term, companies making iPhone and iPad competitors are never going to beat Apple at their own game. Apple has supply chain advantages, a massive number of their customers' credit card numbers (why do you think Jobs brings this up at every single Apple event...it's important!), key patents, one-in-lifetime personnel like Steve Jobs and Jony Ive, solid relationships with key media companies, and an integrated ecosystem of stores, apps, applications, and hardware. They are an imposing competitor. But Apple also has some weak spots which a canny competitor should be able to exploit to make compelling products that Apple won't be able to duplicate or directly compete with.
How to beat Apple