Apple
Iconic design for Apple headquarters could transform Silicon Valley landscape. In a valley known for what Steve Jobs calls "boring" office parks, Apple has the chance to reinvent Silicon Valley architecture the way it has changed everything we know about technology.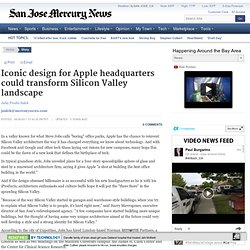 And with Facebook and Google and other tech titans laying out visions for new campuses, many hope this could be the dawn of a new look that defines the birthplace of tech. In typical grandiose style, Jobs unveiled plans for a four-story spaceshiplike sphere of glass and steel by a renowned architecture firm, saying it gives Apple "a shot at building the best office building in the world.
" And if the design-obsessed billionaire is as successful with his new headquarters as he is with his iProducts, architecture enthusiasts and culture buffs hope it will put the "there there" in the sprawling Silicon Valley. TRENDS / La présentation de l'OS X Lion lors de la Keynote d'Apple ! Read It Later: Save Your One Read Wonders.
Apple Should Stand Up and Defend its Developers. Update II: Apparently not frightened off by Apple's letter defending its developers, Lodsys went ahead and sued at least seven developers in the Eastern District of Texas for patent infringement.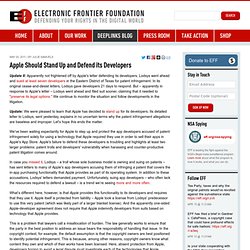 In its original cease-and-desist letters, Lodsys gave developers 21 days to respond. But – apparently in response to Apple's letter – Lodsys went ahead and filed suit sooner, claiming that it needed to "preserve its legal options. " We continue to monitor the situation and follow developments in the litigation. Update: We were pleased to learn that Apple has decided to stand up for its developers. Apple says developers are licensed for Lodsys patents. In a letter sent to Lodsys on Monday, Apple asked that the company withdraw letters sent to app developers demanding they license the technology.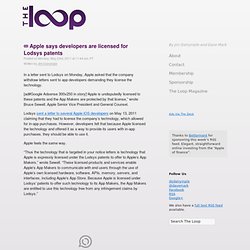 [ad#Google Adsense 300x250 in story]"Apple is undisputedly licensed to these patents and the App Makers are protected by that license," wrote Bruce Sewell, Apple Senior Vice President and General Counsel. Lodsys sent a letter to several Apple iOS developers on May 13, 2011 claiming that they had to license the company's technology, which allowed for in-app purchases. However, developers felt that because Apple licensed the technology and offered it as a way to provide its users with in-app purchases, they should be able to use it. Apple feels the same way. "Thus the technology that is targeted in your notice letters is technology that Apple is expressly licensed under the Lodsys patents to offer to Apple's App Makers," wrote Sewell.
Musique cloud : Apple sur le point de conclure avec les principaux labels. Les Apple Stores fêtent les dix ans d'une stratégie à part dans le haut de gamme, Actualités. Apple is not "recording your moves" Locationgate: South Park Takes on Apple and Steve Jobs. It just wouldn't make sense if South Park didn't have a say regarding Apple's "ooooh, we're not tracking you" thing.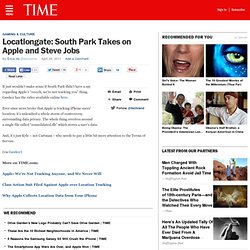 Gawker has the video available online here. Ever since news broke that Apple is tracking iPhone users' location, it's unleashed a whole storm of controversy surrounding data privacy. Apple crushes Street forecasts, revenue up 83 percent. How to beat Apple.
---