Attire
Young Man/Old Man. Street Etiquette. Mens Style Guide, Men's Fashion Advice, Articles. How a Black Sock Service Began | Samy Liechti's Story. It all began inauspiciously as an embarrassing moment for a young advertising executive in 1994.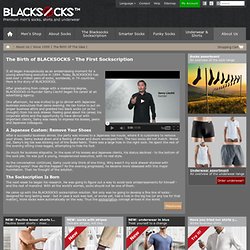 Today, BLACKSOCKS has sold over 1 million pairs of socks, worldwide, in 74 countries. Here is the story of BLACKSOCKS. After graduating from college with a marketing degree, BLACKSOCKS co-founder Samy Liechti began his career at an advertising agency. One afternoon, he was invited to go to dinner with Japanese business executives that same evening. Men's Fashion: Look Stylish on the Cheap. Whether a man has made his fortune or not, he desires others to see him as confident, trustworthy, and professional.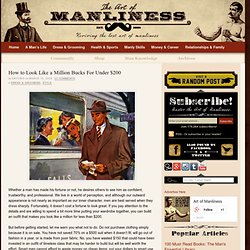 We live in a world of perception, and although our outward appearance is not nearly as important as our inner character, men are best served when they dress sharply. Fortunately, it doesn't cost a fortune to look great. Intro Men's Pocket Squares & Mens Handkerchiefs. The Pocket Square - An Introduction Of all the various accessories available to the gentleman, the handkerchief in the jacket's breast pocket is quite likely the least understood.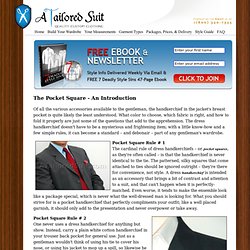 What color to choose, which fabric is right, and how to fold it properly are just some of the questions that add to the apprehension.
How to Build Your Wardrobe for Men. Our appearance speaks louder than our words…..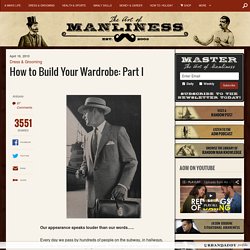 Every day we pass by hundreds of people on the subway, in hallways, or on the streets, never saying a word. Yet despite the lack of verbal communication, decisions are being made as to the trustworthiness and intentions of those around you. Doubt this? Try wearing a ski mask and trench coat while gesturing wildly with your arms. In the 15 minutes you have before the police show-up, take note that despite not saying a single word your appearance has sent a message.
---