Street Art
Recyclart.org, the art of recycling ! Pedestrian Street Art by Peter Gibson. Peter Gibson (aka Roadsworth) began painting the streets of Montreal in the fall of 2001.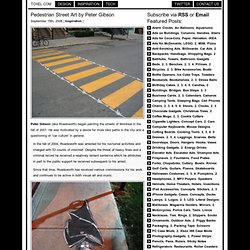 He was motivated by a desire for more bike paths in the city and a questioning of "car culture" in general. In the fall of 2004, Roadsworth was arrested for his nocturnal activities and charged with 53 counts of mischief. Despite the threat of heavy fines and a criminal record he received a relatively lenient sentence which he attributes in part to the public support he received subsequent to his arrest.Since that time, Roadsworth has received various commissions for his work and continues to be active in both visual art and music. Edit: the above artwork is by Banksy, also a great artist. 30 Stencil Graffiti Artworks that are worth seeing. Some people will say it's definitely Banksy others will deny that.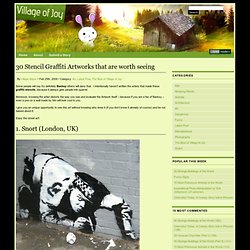 I intentionally haven't written the artists that made these graffiti stencils, because it always gets people into quarrel. Moreover, knowing the artist distorts the way you see and evaluate the Artwork itself – because if you are a fan of Banksy – even a poo on a wall made by him will look cool to you. I give you an unique opportunity to see this art without knowing who drew it (if you don't know it already of course) and be not biased about it. Enjoy the street art! Video Biggest drawing in the world - biggestdrawingintheworld, Biggest, drawing, world, GPS - Dailymotion Jouw video's delen. Fine arts blog » Graffiti. Iman Maleki's Mind-Blowing Art. Posted by Radhika on March 4th, 2009 Are these REAL PICTURES or PAINTINGS???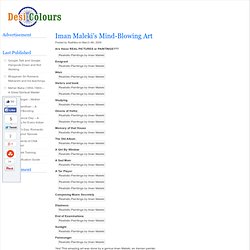 Emigrant Wish. Grafitti Masters | Abduzeedo - design inspiration and tutorials. This selection includes information about the artists and a lot of photos of their work, a lot of graffiti artists do a lot of great pieces but these guys just kill it.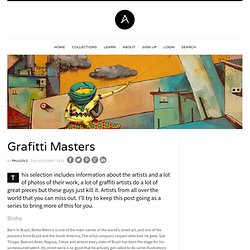 Artists from all over the world that you can miss out. I'll try to keep this post going as a series to bring more of this for you. Banksy's rare breeds, pet supplies & mechanically retrieved meat. Banksy, the prolific, British, graffiti-artist-prankster declares, "New Yorkers don't care about art, they care about pets.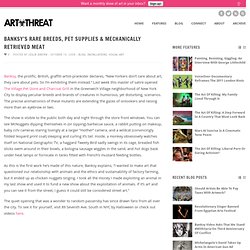 So I'm exhibiting them instead." Last week this master of satire opened The Village Pet Store and Charcoal Grill in the Greenwich Village neighborhood of New York City to display peculiar breeds and brands of creatures in humorous, yet disturbing, scenarios. The precise animatronics of these mutants are extending the gazes of onlookers and raising more than an eyebrow or two. The show is visible to the public both day and night through the store front windows.
You can see McNuggets dipping themselves in (or sipping) barbecue sauce, a rabbit putting on makeup, baby cctv cameras staring lovingly at a larger "mother" camera, and a wildcat (convincingly folded leopard print coat) sleeping and curling it's tail. God game: SimCity urban planning taken to terrifying extreme. 40 Cool Star Wars Graffiti Pictures - Cool Pictures | Cool Stuff | Cool Videos. -Flickzzz-: Very Weird Signs. BLU > Skelewags - Urban Art - Baekdal.com. Goodgraffiti.org. Fun Forever - Luxury fun is affordable for everyone! » Graffiti on Ruins in Brazil. Ads. When you are Nike, you just do it.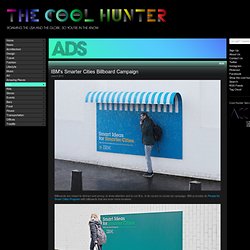 There's absolutely no point being timid or ordinary. You blaze trails, create trends, draw attention. Here at Access, we are creating Nike Extreme experiences around the globe. Here are a few of our concepts in which we use the Nike singular swoosh power to create serious buzz. Coolest & Creepiest Urban Vinyl Collectibles. 20 Cool (& Creepy) Urban Vinyl Collectibles Article by msaleem, filed under Products & Packaging in the Design category.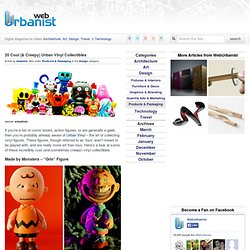 (source: artoyzflickr) Bus stop swing set makes commuting a bit more fun. As adults, we need to take the time to remember to have fun sometimes.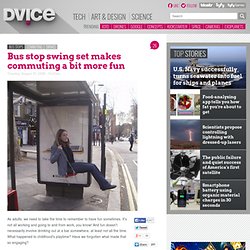 It's not all working and going to and from work, you know! And fun doesn't necessarily involve drinking out at a bar somewhere, at least not all the time. REVERSE GRAFFITI: Clean Green Street Art. When is cleaning the sidewalks a crime?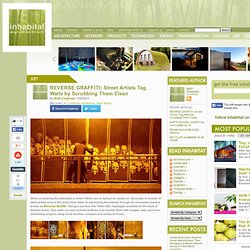 When you're doing it to create art. Obviously. A number of street artists around the world have taken to expressing themselves through an innovative practice known as Reverse Graffiti. Worlds Best Graffiti. VEGAONE.DE. VEGAONE.DE. -Flickzzz-: Funny Legends on Walls.
---