Web conf/visio
Makes it easy to work in groups.
Conférence téléphonique - OVH
Free web based Webinar and Presentation service | Present Online Now
Meeting Dashboard - Free Screen Sharing - Online Meetings, Web Conferencing Tools| FreeScreenSharing.com
FlashMeeting
Liveminutes.com tout ce qui manque dans une visio conférence
Liveminutes.com est un site qui permet de prendre des notes en visio conférence. Plutôt utile pour un travail collaboratif à distance, mais moi, je trouve que le site pourrait me servir à donner des cours en ligne, puisqu'il y a presque tout pour partager des informations à côté d'une bonne conversation sur skype.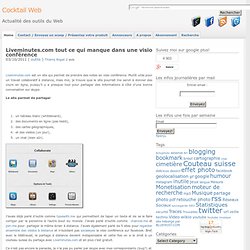 BigBlueButton vidéoconférence - Académie de Versailles
Koowy, video chat rooms
Mise à jour importante du côté de chez Google+ .