Autora Naomi Klein
Get flash to fully experience Pearltrees
Dell, Inc. NASDAQ : DELL es una compañía multinacional estadounidense establecida en Round Rock ( Texas ) que desarrolla, fabrica, vende y da soporte a computadoras personales , servidores , switches de red, programas informáticos , periféricos y otros productos relacionados con la tecnología. En 2008 tenía 95.000 empleados en todo el mundo. La corporación creció durante los 70 y los 90 para convertirse durante varios años en el vendedor de PC y servidores más grande del mundo.
"In Venezuela Chavez has made the co-ops a top political priority, giving them first refusal on government contracts and offering them economic incentives to trade with one another. By 2006, there were roughly 100,000 co-operatives in the country, employing more than 700,000 workers. Many are pieces of state infrastructure – toll booths, highway maintenance, health clinics – handed over to the communities to run. It's a reverse of the logic of government outsourcing – rather than auctioning off pieces of the state to large corporations and losing democratic control, the people who use the resources are given the power to manage them, creating, at least in theory, both jobs and more responsive public services. Chavez's many critics have derided these initiatives as handouts and unfair subsidies, of course.
No Logo : El poder de las marcas . Naomi Klein . Paidós. 2000. 2001. ISBN: 84-493-1248-5.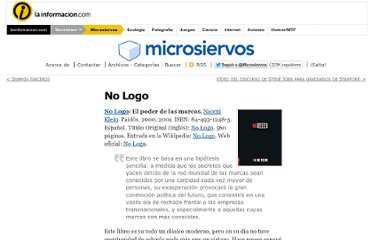 Published in The Phoenix Naomi Klein, black-clad and sharp-tongued mistress of the global anti-corporate left, friend to Occupiers and scourge of oil barons, stood outside a dressing room backstage at Boston's Orpheum Theatre one night last month, a clear-eyed baby boy on her hip. "I'm really trying not to play the Earth Mother card," Klein told me over the phone the week before, as she talked about bringing Toma, her first child, into the world. But she didn't need to worry. Inside the dressing room, she'd been fielding questions from a small gaggle of young reporters alongside 350.org's Bill McKibben, who had invited her to play a key role in the 21-city "Do the Math" climate-movement roadshow that arrived at the sold-out Orpheum that night.
L a periodista canadiense Naomi Klein ha conseguido un importante éxito internacional con "No Logo. El poder de las marcas", un libro al que ha dedicado cuatro años de trabajo y que está de plena actualidad por las protestas populares que se han producido en los últimos meses contra el modelo de globalización impuesto por las grandes multinacionales. De hecho, la obra, publicada originalmente poco después de las manifestaciones de Seattle contra la World Trade Organization, a finales de 1999, se ha convertido en un punto de referencia para este movimiento. Así lo confirma la web www.nologo.org , originalmente creada por la editorial americana del libro para apoyar su lanzamiento y actualmente reconvertida por la autora en un foro internacional de ideas e información sobre este nuevo activismo.