SFL
Killing Your Startup on a Thursday Night. Editor's Note: Lucas Rayala was the cofounder of Altsie.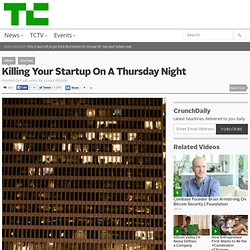 This is what you do when you close down your startup: you call Rackspace and cancel the Windows SQL server plan. You email SendGrid and give them notice on your Silver SMTP Service Package. You close down your Wells Fargo Business Checking account and your Paypal Merchant account. Glamorous stuff. Harder than that: you email your cofounders and tell them you're jumping into the deadpool. Squash: The open-source bug-smashing tool. Venarc | Delivering Technology. The Six Networking Secrets Of Silicon Valley's Superconnector. Business: What are the top five most important lessons learned in Business school. Instagram's Mike Krieger Shares How To Do Better Product Design. App and mobile design has come a long way in the past few years, with many popular services shifting their focus more towards to improving the way their apps look.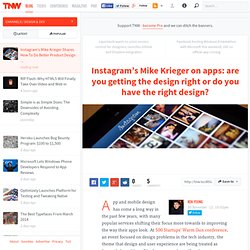 At 500 Startups' Warm Gun conference, an event focused on design problems in the tech industry, the theme that design and user experience are being treated as "second class citizens" in the community — if you're not focusing on usability and response time, then "you suck". "Do it for the puppies" Those words came from 500 Startups co-founder Dave McClure.
Ads
How To Thrive In The Free-Product Economy. Building technology has never been cheaper than it is today.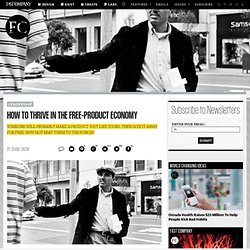 Or faster. In the past twelve months, Ruby on Rails programmers built more than a million apps on top of Heroku, a platform that allows coders to save drastic amounts of development time. Contact Details. Schafer: Cash in the bank makes risk easier to stomach. Think about how an entrepreneur's behavior would change if the company had $1 million in the bank.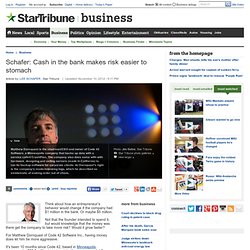 Or maybe $5 million. Not that the founder intended to spend it, but would knowledge that the money was there get the company to take more risk? Would it grow faster? For Matthew Dornquast of Code 42 Software Inc., having money does let him be more aggressive. Facebook Tests Ranked Comments to Boost Engagement. Facebook is testing a new comments format on brand and subscriber pages by placing the most engaging comments up higher on posts, the company confirmed on Monday.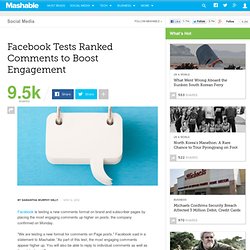 "We are testing a new format for comments on Page posts," Facebook said in a statement to Mashable. "As part of this test, the most engaging comments appear higher up. You will also be able to reply to individual comments as well as the original post. "' SEE ALSO: Facebook Testing Sound Notifications. Themes, Insights and Advanced Landing PagesLaunchRock. The goal at LaunchRock is to build an audience for your product, startup or idea as easily as possible, so we're introducing a completely redesigned experience that does just that.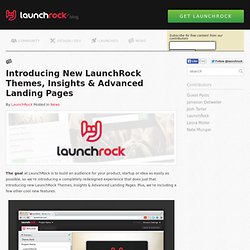 Introducing new LaunchRock Themes, Insights & Advanced Landing Pages. Plus, we're including a few other cool new features. Redesigned: Faster. Cleaner. All Grown Up. Ads Disguised as Content Mislead, Annoy [Statistics] >Native, Schmative…its getting hard out here for a Brand Pimp…While "Native" advertising is the meme of the moment in publishing ad circles, recent data may show that today's users aren't too keen, or at the least, very confused by ads that blur the line on content and promotion.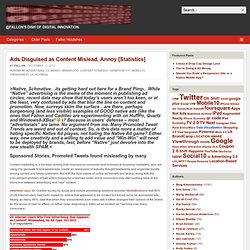 Now, surveys skim the surface…are there, perhaps burgeoning (and less visible) examples of GOOD native ads (like the ones that Fallon and Cadillac are experimenting with on HuffPo, Quartz and Windows8-XBox! )? Because in users' defense – most "advertorials" are lame. No argument from me. 7 tactics lean startups need to build great products.
If you're running a lean startup, "launch and learn" is undoubtedly a familiar mantra.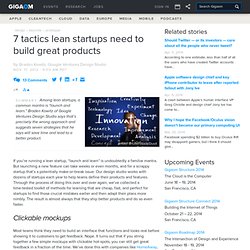 But launching a new feature can take weeks or even months, and for a scrappy startup that's a potentially make-or-break issue. Our design studio works with dozens of startups each year to help teams define their products and features. Lessons for Data Driven Businesses. Robert J.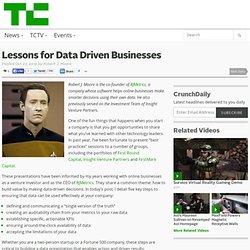 Moore is the co-founder of RJMetrics, a company whose software helps online businesses make smarter decisions using their own data. He also previously served on the Investment Team of Insight Venture Partners. One of the fun things that happens when you start a company is that you get opportunities to share what you've learned with other technology leaders. Harvesting intent at Future m. What is Summify? AOL May Have Invented Email's Next UI Paradigm. Bill Wetherell, a senior director of UX design at AOL, is struggling to find a recent message from his wife in his Gmail inbox.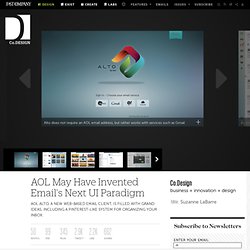 He's mashing and mashing and mashing on the down-arrow key while squinting at his laptop screen. Wetherell eventually finds the right email, but not before admitting his true feelings for Google's popular messaging product. "It's a frickin' mess right now," he says. "I just want to find that frickin' email, but I have to go all the way down here--wait, wait, there it is--way down here. This is basically the inbox fatigue we're all now dealing with. " Streak Raises $1.9 Million For Gmail-Based CRM App. Streak has raised $1.9 million for its CRM service that uses a Google Chrome extension to share your email and track deals through your Gmail inbox. In addition to the funding, Streak is also unveiling an API to programmatically pull data from Streak for access in such apps as MailChimps and Wufoo. The Streak team sees a number of use cases, including creating and editing boxes (useful for setting up web forms that submit straight to Streak); creating and editing pipelines; setting up automated reminders; searching through Streak data and getting a newsfeed for updates to a customer's boxes and pipelines.
Streak launched last March out of the winter Y Combinator class. Since then, Co-Founder Aleem Mawaani says the company has had 71% month-to-month growth. Welcome Board. Venomous porridge - Is a federated Twitter even possible? Toward the end of my last post, I mentioned that I'd like to see App.net move toward a federated architecture. Broadly, what that means is that instead of being a central service that each client connects to directly, it would become a loosely organized mesh of independently controlled nodes. Users and devices would connect to whatever node they liked best — you can run your own if you want — and the nodes would talk to each other in some clever way to collectively maintain the appearance of a single unified social network.
Blog | A TweetMeme Farewell. When we launched TweetMeme in 2008, I never dreamed of how quickly our service would take off and the incredible reach it would have. TweetMeme was built to curate and rank Twitter links and gained 10 million monthly users in just nine months. We were the first to create the iconic (green) retweet button that was installed on 500,000+ websites, with a peak serving of 1.5 billion daily retweet buttons.
We are now in the process of shuttering TweetMeme and I wanted to share the reasons behind this decision, along with next steps to guide you. Fixing A Broken User Experience. Advertisement Unless you're developing completely new products at a startup, you likely work in an organization that has accumulated years of legacy design and development in its products. Even if the product you're working on is brand spanking new, your organization will eventually need to figure out how to unify the whole product experience, either by bringing the old products up to par with the new or by bringing your new efforts in line with existing ones.
A fragmented product portfolio sometimes leads to an overall broken user experience. Understanding an organization and its users and designing the right interaction and visual system take exceptional effort. You also need to communicate that system to teams that have already produced work that doesn't align with it. Traditional Strategy Is Dead. Welcome to the #SocialEra - Nilofer Merchant. By Nilofer Merchant | 10:34 AM September 12, 2012 When I say, "Social is and can be more than media," people resist. It's as if the two words (social and media) are now permanently fused together. But they shouldn't be. The fact that they are joined at the hip in so many people's minds means that marketing agencies are thriving — but that the rest of our organizations are not.
Social can be — and already is — more than Media. File Under: Metaservices, The Rise Of. This Curation Trend has One Big Problem: Scale. Will die soon. Here's why. How to Tell Your Company's Story: Eight Questions to Get You Started [Slide Show] Q: What's your best advice to social media managers? A: Stop talking about social media. Content Marketing vs. Traditional Advertising [Infographic] Without a Strategy, There Is No ROI. The Twitter API Insanity – What Everyone Seems to Be Missing.
Principles of User Interface Design. 4 Reasons Google Bought Wildfire. Sacca: Don't think about how to explain... Photo by erickschonfeld. Dennis Crowley of Foursquare on Open Lines of Communication. 5 Super Cheap Web Analytics Tools Besides Google. KPCB Internet Trends 2012. Why Are B2B Social Media Firms So Hot? Twitter is Poised to Overhaul its Search and Discovery Features. Marketers Love Facebook, But Don't Necessarily Want to Advertise There [STUDY]
Digital's Ever-Swifter Incursion. 96% Of Small Businesses Are On Facebook: Report. Social Media And The History Of Influence [INFOGRAPHIC] Social Networking. Polly Wanna Cracker? | #Amwriting (dot org) Facebook comments, ads don't sway most users: poll. Discovery Communications Discovers the Meaning of Like. Marketing Lessons Startups Need to Learn from Google's Project Glass Concept Video.
Social media marketing landscape complicated. Spammers invade social media to sidestep e-mail. #StereotypicalHarley | Dark Custom™ Motorcycles. No More Breasts, Elephants, or SOPA: How Warren Adelman Is Saving Go Daddy's Soul. MIT management professor Tom Malone on collective intelligence and the "genetic" structure of groups.
The Path from a Social Brand to a Social Business. AOL beats on profit; display ads hit hurdle. Eight Products the Facebook Generation Will Not Buy. Meet Generation C: The Connected Customer. The evolution of business. Worldwide Social Media Usage Trends in 2012. Infographic. 2012 Pages. 4 Ways to Rethink the Press Release. The 6 Pillars of Social Commerce: Understanding the psychology of engagement. Social Media is a Must in Today's Small Business. Foursquare shuts off API access to creepy app, Girls Around Me. Future of Entertainment: Viewer Becomes User.
Pinterest API Profile. Developer Center - Explore APIs - ESPN Developer Center. How the TV landscape has changed. Companies Worldwide Plan to Increase Social Media Marketing. Niche Social Networks Deliver Big Results. "Social" sports fans love their smartphones - infographic | Sports Marketing 2.0 | Pat Coyle. One in Three Online Consumers to Use a Tablet by 2014. Anatomy of Facebook. Digital media marketing firms are failing to reach half of consumers. The Future of Social TV at the Mashable Media Summit [LIVE BLOG] What Twitter Users Think About the Brands They Follow.
---