Trends
Canada tops globe in Internet usage. It might be the long winters, or the national pastime of keeping tabs on Justin Bieber.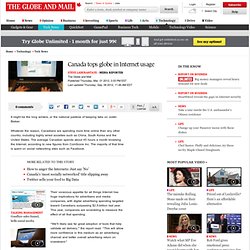 Whatever the reason, Canadians are spending more time online than any other country, including highly wired societies such as China, South Korea and the United States. The average Canadian spends about 45 hours a month browsing the Internet, according to new figures from ComScore Inc. The majority of that time is spent on social networking sites such as Facebook. 10 Facebook Page Timeline Cover Examples. By Jason Keath on Feb 29, 2012 Facebook pages got Timeline today.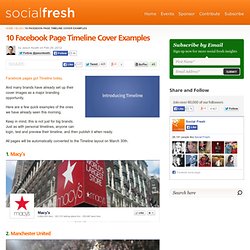 And many brands have already set up their cover images as a major branding opportunity. Here are a few quick examples of the ones we have already seen this morning. Keep in mind, this is not just for big brands. Facebook Expands Media Sharing on Timeline - Too Much Content, Not Enough Social? One of the intriguing aspects of Facebook Timeline, ever since the initial launch last September, is how it highlights the media you consume.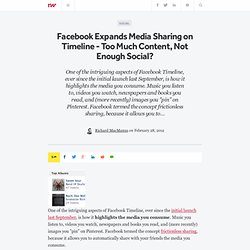 Music you listen to, videos you watch, newspapers and books you read, and (more recently) images you "pin" on Pinterest. Facebook termed the concept frictionless sharing, because it allows you to automatically share with your friends the media you consume. Earlier this month, Facebook added new third party apps to its platform. Now, a change to Timeline itself has made media sharing even more prominent. The right-hand half of my Timeline is now dominated by my favorite third party media apps: Rdio, Pinterest, Goodreads.
Social Media: 2. Who Uses Them? (2010-05E) Although the adoption of social media has been rapid and widespread in Canada, rates of use vary considerably between demographic groups.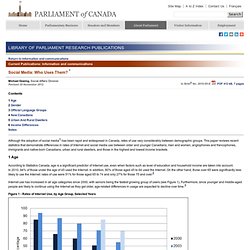 This paper reviews recent statistics that demonstrate differences in rates of Internet and social media use between older and younger Canadians, men and women, anglophones and francophones, immigrants and native-born Canadians, urban and rural dwellers, and those in the highest and lowest income brackets. 1 Age According to Statistics Canada, age is a significant predictor of Internet use, even when factors such as level of education and household income are taken into account. The 10 Most-Followed Brands on Pinterest. The Perfect Palette, a wedding blog that explores "the color palette possibilities for your wedding" and serves as a resource for other wedding ideas, would seem to be a perfect match for Pinterest, and it is.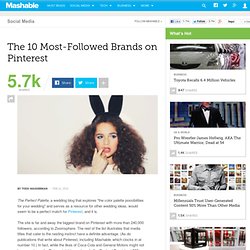 The site is far and away the biggest brand on Pinterest with more than 240,000 followers, according to Zoomsphere. The rest of the list illustrates that media titles that cater to the nesting instinct have a definite advantage. (As do publications that write about Pinterest, including Mashable, which clocks in at number 10.) In fact, while the likes of Coca-Cola and General Motors might not have much use for Pinterest right now, brands like Rachael Ray (about 500 followers) and Diapers.com (400 followers) might want to step up their game. SEE ALSO: 10 Most-Followed Users on Pinterest. The latest (and most fascinating) stats on Twitter. Google to Sell Heads-Up Display Glasses by Year's End. The 20 most interesting social media stats and insights of 2012.
The year's not even two months old and already we've seen a number of big splashes in the social media scene.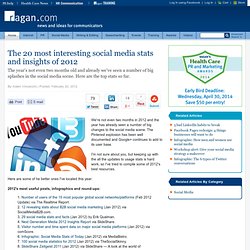 Here are the top stats so far. By Adam Vincenzini | Posted: February 20, 2012. Beyond Facebook: The Rise Of Interest-Based Social Networks. Editor's Note: This guest post is written by Jay Jamison, a Partner at BlueRun Ventures, who focuses on early stage mobile, consumer and enterprise investments.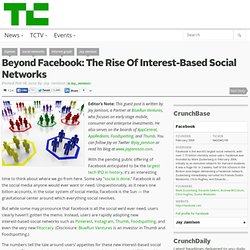 He also serves on the boards of AppCentral, AppRedeem, Foodspotting, and Thumb. You can follow Jay on Twitter @jay_jamison or read his blog at www.jayjamison.com. With the pending public offering of Facebook anticipated to be the largest tech IPO in history, it's an interesting time to think about where we go from here. Some say "social is done," Facebook is all the social media anyone would ever want or need. Old Dogs New Tricks and Crappy Newspaper Executives. (Speaking notes for an address to the Canadian Journalism Foundation Toronto, Canada, 2/16/2012) Good evening.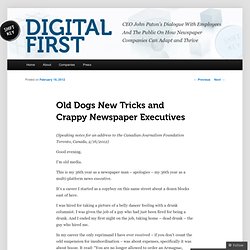 I'm old media. This is my 36th year as a newspaper man – apologies – my 36th year as a multi-platform news executive. It's a career I started as a copyboy on this same street about a dozen blocks east of here. Strategy - Five Trends B2B Marketers Need to Understand to Succeed in 2012. To learn how to defeat their enemies, kings and other rulers once relied on soothsayers who read animal entrails or on astrologers who charted the stars to divine the future.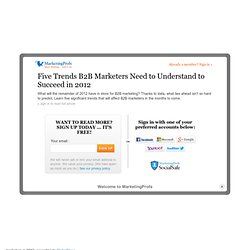 More recently, farmers (and others) relied on the Farmers' Almanac to decide whether that new winter coat or snow blower would be a good or bad investment. Gaining a glimpse into what tomorrow holds has always been a strategic advantage. Fortunately, today we have something a little better than entrails or stars to guide us—namely, hard data. Although statistics and the trends they reveal may not always be entirely accurate (ask any stockbroker about that), they certainly give us a quantifiable advantage when making decisions about strategies and tactics for the future. With that advantage in mind, consider the following five significant trends that will affect B2B marketers in 2012, according to GlobalSpec.
5 Key Trends Supercharging Today's Digital PR. In 2012, Social Media will move beyond growth to saturation.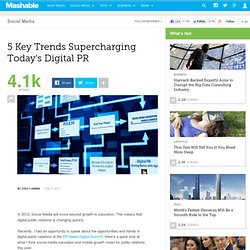 This means that digital public relations is changing quickly. Recently, I had an opportunity to speak about the opportunities and trends in digital public relations at the PR News Digital Summit. Pinterest: How Do U.S. and UK Users Compare? [INFOGRAPHIC] If you've spent any time on Pinterest, the hottest new social network since sliced bread, you might have noticed its popularity among certain demographics — namely, women who are into fashion, weddings, home decor and puppies. But some data compiled by Visual.ly sheds light on the interesting differences between U.S. and UK Pinterest users.
Using anonymized, aggregated opt-in data from various Google products (including Toolbar and Analytics), DoubleClick Ad Planner has drawn some conclusions about pinners on both sides of the pond. SEE ALSO: 21 Must-Follow Pinterest Users Most compelling are the gender, wealth and interest differences between the two countries' users. Facebook and Its Users, Mutually Dependent. The Washington Post, Recast for a Digital Future. Search Engine Marketing - Four Keyword Research Mistakes to Avoid at All Costs. Doing keyword research is like being a detective: you're always searching for those tiny, but valuable clues that decide the fate and future of a case you are handling.
You can never arrive at a conclusion without clues and evidence, so you should master keyword research if you are serious about the words "sales," "profit," and "conversions. " Many webmasters make common keyword research mistakes and are later surprised that their campaigns are not producing results. They have all the technical details, data, scope, and so on, but one small mistake sinks the entire ship. Before trying your hand at researching a keyword and targeting a few phrases, learn the following four pitfalls you should steer clear of. 1.
H&M Has the Most-Followed Brand Page on Google+ Fashion retailer H&M has beat out heavyweights Pepsi, Starbucks and Coca-Cola to become the most-followed brand on Google+. In a testament to the network's viability as a marketing vehicle, Google, the former number one on Google+, is now number 13. Following H&M is Samsung USA, Pepsi, Starbucks and Burberry. LinkedIn Hits 150 Million Members.
LinkedIn on Thursday announced it has 150 million members in its network, a 20 million increase over November. The figure was disclosed in a press release the company issued Thursday announcing its fourth quarter and full-year 2011 results. The company posted revenues of $167.7 million, beating the analysts' consensus of $160 million for Q4. Adjusted profit was $0.12 cents per share, which beat analysts' projections of 7 cents a share. Q&A: Foursquare CEO Dennis Crowley on What He's Learning From Twitter and What's Next.
Foursquare, about to celebrate its third birthday, is big but not huge. It has signed up 15 million users, hired over 100 employees and now boasts several million check-ins per day. That is impressive work for three years, but it must keep growing. To do so, Foursquare co-founder and CEO Dennis Crowley says the company is in the process of redesigning its mobile app for a broader audience, disassembling it and trying to put its features back together in a way that's more useful and interesting. It has also launched new features on its Web site, such as the neat and powerful "Explore" tool, which can help you find cool places to visit in your neighborhood or in an entirely new city. As Twitter realized a few years ago, Crowley says Foursquare is seeing a big chunk of its growth from people who want to use parts of Foursquare, but not necessarily broadcast to the world.
Cool Infographics - Blog. 7 ways to use Pinterest to promote your business. Startup Lessons. Learning the hard way. Social Media Trends With Benefits in 2012. Facebook Timeline Brand Pages Are Here [PICS] 7 things PR pros should know about the shifting media landscape. Employers and Brands Use Gaming to Gauge Engagement. Facebook Releases Moviemaking App to Demystify Timeline | Digital. Why Pinterest Should Be of Interest to Brands. 69 percent of smartphone users access web every day. What Is Gamification and How Does It Support Marketing? The Internet Data We Would Like the Right to Forget. Lp.wildfireapp.com/Wildfire2012SocialMarketingTrendForecast.html?mkt_tok=3RkMMJWWfF9wsRoluqnBZKXonjHpfsX56OsqXKW%2FlMI%2F0ER3fOvrPUfGjI4CTspkI%2FqLAzICFpZo2FFPE%2ByReolS%2Fw%3D%3D.
YouTube hits 4-billion daily videos. Kapture lets merchants reward users for sharing pictures online. Technology Will Kill. 5 Tips to Avoid Shiny Object Syndrome. Big Data is watching you. Welcome to Web 3.0, The Contextual Web. Report: Companies average 178 social media accounts. New Year Tech Predictions. Social media in 2012: the experts' view. Social Media: Five Facts to Bank On in 2012. 6 Social Media Networks to Watch in 2012 plus Infographics. The next big prophet: A social network soothsayer. Why I'm Betting on PR. Corporate comms trends to watch in 2012. 5 Tech Trends to Watch in 2012.
4 Significant Social Media Trends To Watch For In 2012. 5 social network predictions for 2012 | Rafe's Radar. Eight Social Media Trends for 2012. Top 5 Social Media Trends for 2012. Why Kred Might Be Your Go-To Tool for Influence Measurement. Six Social Media Trends for 2012 - David Armano. 10 Predictions for B2B Marketing in 2012 (Part 2) 5 Major Trends That Changed Digital Entertainment in 2011. Climb the Social Business Hierarchy of Needs: LeWeb Keynote, 2011.
---