Trends
It might be the long winters, or the national pastime of keeping tabs on Justin Bieber.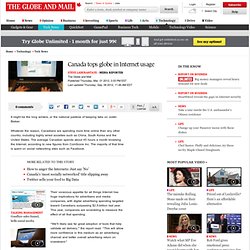 Canada tops globe in Internet usage
10 Facebook Page Timeline Cover Examples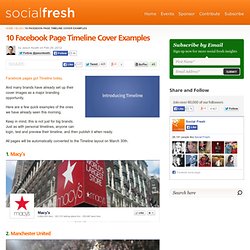 by Jason Keath on Feb 29, 2012
One of the intriguing aspects of Facebook Timeline, ever since the initial launch last September , is how it highlights the media you consume . Music you listen to, videos you watch, newspapers and books you read, and (more recently) images you "pin" on Pinterest. Facebook termed the concept frictionless sharing , because it allows you to automatically share with your friends the media you consume.
Facebook Expands Media Sharing on Timeline - Too Much Content, Not Enough Social?
Social Media: 2. Who Uses Them? (2010-05E)
Although the adoption of social media has been rapid and widespread in Canada, rates of use vary considerably between demographic groups.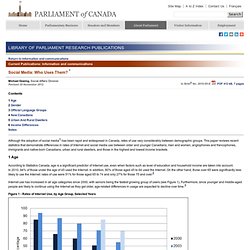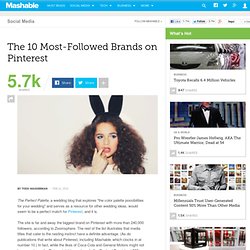 The 10 Most-Followed Brands on Pinterest
The Perfect Palette , a wedding blog that explores "the color palette possibilities for your wedding" and serves as a resource for other wedding ideas, would seem to be a perfect match for Pinterest , and it is. The site is far and away the biggest brand on Pinterest with more than 240,000 followers, according to Zoomsphere.
The latest (and most fascinating) stats on Twitter
Screenshot via Google The Google glasses will use augmented reality software to return real-time information about locations and people. Facebook Twitter Google+ Save E-mail Share Print People who constantly reach into a pocket to check a smartphone for bits of information will soon have another option: a pair of Google-made glasses that will be able to stream information to the wearer's eyeballs in real time.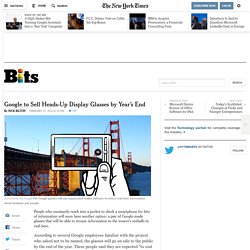 Google to Sell Heads-Up Display Glasses by Year's End
The year's not even two months old and already we've seen a number of big splashes in the social media scene. Here are the top stats so far. By Adam Vincenzini | Posted: February 20, 2012
The 20 most interesting social media stats and insights of 2012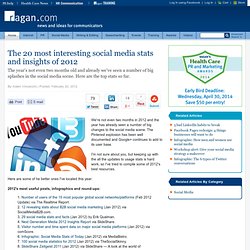 Editor's Note: This guest post is written by Jay Jamison, a Partner at BlueRun Ventures , who focuses on early stage mobile, consumer and enterprise investments.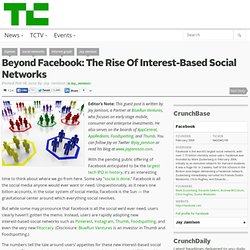 Old Dogs New Tricks and Crappy Newspaper Executives | Digital First
(Speaking notes for an address to the Canadian Journalism Foundation Toronto, Canada, 2/16/2012)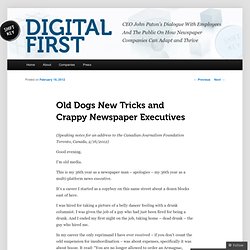 In this article, you'll learn... Five B2B marketing trends that will dominate 2012 Why marketers should focus on content creation, online marketing, and technology in 2012
Strategy - Five Trends B2B Marketers Need to Understand to Succeed in 2012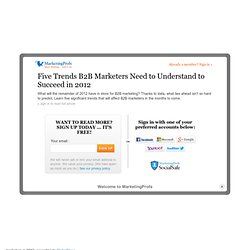 Rogers trend report connected personal life 2012
In 2012, Social Media will move beyond growth to saturation. This means that digital public relations is changing quickly. Recently, I had an opportunity to speak about the opportunities and trends in digital public relations at the PR News Digital Summit .
5 Key Trends Supercharging Today's Digital PR
If you've spent any time on Pinterest , the hottest new social network since sliced bread, you might have noticed its popularity among certain demographics — namely, women who are into fashion, weddings , home decor and puppies.
Pinterest: How Do U.S. and UK Users Compare? [INFOGRAPHIC]
Facebook and Its Users, Mutually Dependent
I was upset over some comments he had posted to my Facebook wall, beneath a status update about a particularly cheesy pop song I was obsessed with at the time. We argued in a flurry of instant messages. He insisted that his remarks were made in good humor, while I was sure that he was making fun of me.
Jennifer Graylock/Associated Press
The Washington Post, Recast for a Digital Future
In this article, you'll learn... Four common mistakes when selecting keywords Ways to avoid making those common mistakes
Search Engine Marketing - Four Keyword Research Mistakes to Avoid at All Costs
H&M Has the Most-Followed Brand Page on Google+
LinkedIn Hits 150 Million Members
Q&A: Foursquare CEO Dennis Crowley on What He's Learning From Twitter and What's Next
7 ways to use Pinterest to promote your business
Startup Lessons. Learning the hard way.
Social Media Trends With Benefits in 2012
Facebook Timeline Brand Pages Are Here [PICS]
7 things PR pros should know about the shifting media landscape
Employers and Brands Use Gaming to Gauge Engagement
Facebook Releases Moviemaking App to Demystify Timeline | Digital
Why Pinterest Should Be of Interest to Brands
69 percent of smartphone users access web every day
What Is Gamification and How Does It Support Marketing?
The Internet Data We Would Like the Right to Forget
lp.wildfireapp.com/Wildfire2012SocialMarketingTrendForecast.html?mkt_tok=3RkMMJWWfF9wsRoluqnBZKXonjHpfsX56OsqXKW%2FlMI%2F0ER3fOvrPUfGjI4CTspkI%2FqLAzICFpZo2FFPE%2ByReolS%2Fw%3D%3D
YouTube hits 4-billion daily videos
Kapture lets merchants reward users for sharing pictures online
Technology Will Kill
12 "truths" about social in 2012 noted at CES | TechJournal South
5 Tips to Avoid Shiny Object Syndrome
Big Data is watching you
Welcome to Web 3.0, The Contextual Web
Report: Companies average 178 social media accounts
New Year Tech Predictions
Social media in 2012: the experts' view
Social Media: Five Facts to Bank On in 2012
The next big prophet: A social network soothsayer
Why I'm Betting on PR
Corporate comms trends to watch in 2012
5 Tech Trends to Watch in 2012
4 Significant Social Media Trends To Watch For In 2012
5 social network predictions for 2012 | Rafe's Radar
Eight Social Media Trends for 2012
Top 5 Social Media Trends for 2012
Why Kred Might Be Your Go-To Tool for Influence Measurement
10 Predictions for B2B Marketing in 2012 (Part 2)
5 Major Trends That Changed Digital Entertainment in 2011
Climb the Social Business Hierarchy of Needs: LeWeb Keynote, 2011