Superorganism
42 Spikes | Mike's Tech Notes for 1/29/2012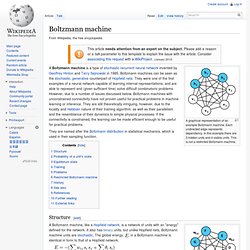 Boltzmann machine
A graphical representation of an example Boltzmann machine. Each undirected edge represents dependency. In this example there are 3 hidden units and 4 visible units.
Demonstrations of Kilobot collective behaivors on up to 29 robots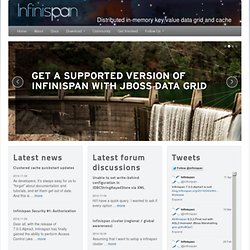 Infinispan - Open Source Data Grids
Distributed in-memory key/value data grid and cache
Center for Models of Life - CMOL: Models / Interactive Java Applets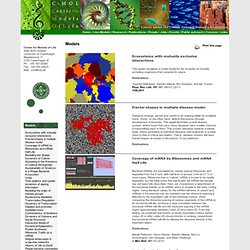 Coverage of mRNA by Ribosomes and mRNA Half Life Bacterial mRNAs are translated by closely spaced ribosomes and degraded from the 5′-end, with half-lives of around 2 min at 37 °C in most cases.
Genome comparison of ants establishes new model species for molecular research
Aug. 26, 2010 — By comparing two species of ants, Shelley Berger, PhD, the Daniel S. Och University Professor at the University of Pennsylvania, and colleagues Danny Reinberg, PhD, New York University, and Juergen Liebig, PhD, Arizona State University, have established an important new avenue of research for epigenetics -- the study of how the expression or suppression of particular genes affects an organism's characteristics, development, and even behavior.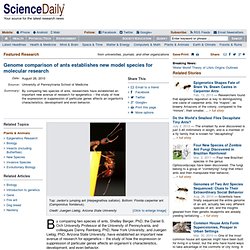 June 28, 2010 — We are what we eat, but who are "we"?
Manipulating microbes in the gut may remedy disease and enhance health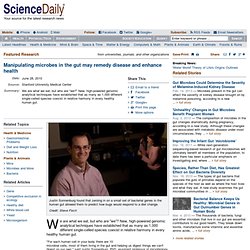 Natural selection alone can explain eusociality, scientists say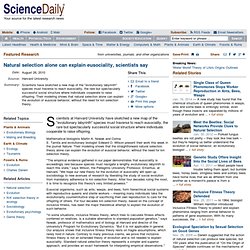 Aug. 26, 2010 — Scientists at Harvard University have sketched a new map of the "evolutionary labyrinth" species must traverse to reach eusociality, the rare but spectacularly successful social structure where individuals cooperate to raise offspring.
Mar. 12, 2012 — A novel study of honey bee genetic diversity co-authored by an Indiana University biologist has for the first time found that greater diversity in worker bees leads to colonies with fewer pathogens and more abundant helpful bacteria like probiotic species.
Increased honey bee diversity means fewer pathogens, more helpful bacteria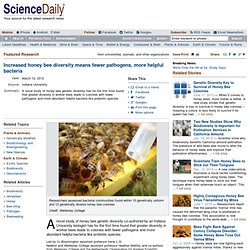 Feb. 11, 2010 — A biologist at UC San Diego has discovered that honey bees warn their nest mates about dangers they encounter while feeding with a special signal that's akin to a "stop" sign for bees. The discovery, detailed in a paper in the February 23 issue of the journal Current Biology, which appears online February 11, resulted from a series of experiments on honey bees foraging for food that were attacked by competitors from nearby colonies fighting for food at an experimental feeder.
Biologist discovers 'stop' signal in honey bee communication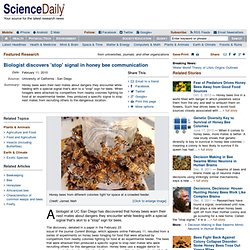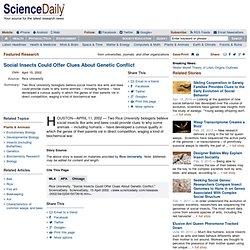 Apr. 15, 2002 — HOUSTON—APRIL 11, 2002 — Two Rice University biologists believe social insects like ants and bees could provide clues to why some animals -- including humans -- have developed a curious quality in which the genes of their parents vie in direct competition, waging a kind of biochemical war. Social insects are best known as exceptions to the general rule that relations between individuals are competitive.
Social Insects Could Offer Clues About Genetic Conflict
Nov. 20, 2008 — Worker ants of the world, unite! You have nothing to lose but your fertility.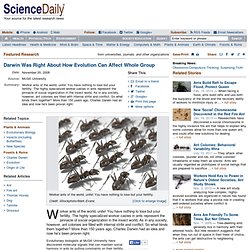 Darwin Was Right About How Evolution Can Affect Whole Group
Mar. 28, 2010 — Rival colonies of bacteria can produce a lethal chemical that keeps competitors at bay, scientists report. By halting the growth of nearby colonies and even killing some of the cells, groups of bacteria preserve scarce resources for themselves, even when the encroaching colony is closely related.
Colonies of bacteria fight for resources with lethal protein
Oct. 8, 2004 — Understanding how microbes in the gut interact with the body could lead scientists and doctors to new a understanding and novel treatments for diseases say scientists from Imperial College London and Astra Zeneca. In a review published today in Nature Biotechnology, researchers describe how microbes in the gut form the second largest metabolic 'organ' in the body and play a key role in disease processes alongside genetic and environmental factors.
Bugs In The Gut Could Play Key Role In Understanding Human Disease And Drug Toxicity
Insect colonies operate as 'superorganisms', new research finds
Jan. 22, 2010 — New A team of researchers including scientists from the University of Florida has shown insect colonies follow some of the same biological "rules" as individuals, a finding that suggests insect societies operate like a single "superorganism" in terms of their physiology and life cycle.
June 13, 2007 — How social or altruistic behavior evolved has been a central and hotly debated question, particularly by those researchers engaged in the study of social insect societies – ants, bees and wasps. In these groups, this question of what drives altruism also becomes critical to further understanding of how ancestral or primitive social organizations (with hierarchies and dominance fights, and poorly developed division of labor) evolve to become the more highly sophisticated networks found in some eusocial insect collectives termed "superorganisms."
Competition, Loss Of Selfishness Mark Shift To Supersociety
'Autoantibodies' May Be Created In Response To Bacterial DNA