Street Art
Tru Freedom (Slow Mo Freerunning) Maquis-art - Street art - Graffiti. JR in New York. 'Banksy of Bulgaria' Transforms Red Army Soldiers Into Superheroes. The Joker, Superman, Santa Claus, Robin and Ronald McDonald were all part of the latest public statue transformation in Bulgaria.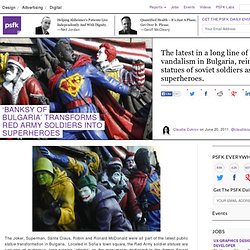 Located in Sofia's town square, the Red Army soldier statues are just one of numerous, long-running 'attacks' on the monuments dedicated to the former Soviet Union. So far no one has claimed the work. However, the anonymous artist has earned the title 'Banksy of Bulgaria.' Beneath the piece is written: 'Moving with the times.' Ecolo-Info » Loisirs culturels » Ludo: le streetart qui venge la nature. Le 16 juin 2011 | Par Anne-Sophie Ses articles Son Twitter.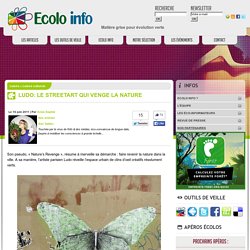 Starts With V - Paintball Machine. Vous raffolez des Space Invaders collés aux murs de nos villes ? Exposition de leur créateur du 6/06 au 2/07 - invasiondepresse1000. OBEY GIANT - WORLDWIDE PROPAGANDA DELIVERY. SPACE INVADERS. 1000 - une vidéo Art et Création. ARCHIVE + ACTU. STREET ART. Banksy. Shop Authentic Out Of Print Shepard Fairey Art Prints.
---