Videos
CAMPAÑA FAD 2011: ¿QUÉ DEBEMOS HACER CON EL ALCOHOL? (JÓVENES)
Tendencias de Consumidor 2011
Trends in 2010 - 2010 Consumer Trend Report from TREND HUNTER
JWTIntelligence - 10 Trends for 2011 in 2 minutes
Global marketing Trends
Macrotrend 2010/2011 - Connections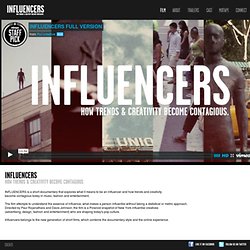 INFLUENCERS is a short documentary that explores what it means to be an influencer and how trends and creativity become contagious today in music, fashion and entertainment.
INFLUENCERS, How Trends & Creativity Become Contagious.
Macro Trends and Predictions in Mobile Broadband (Moray Rumney) - Emerging Communications - eComm - blip.tv
Canal de JAFjustafact
I recently finished reading the techno-thriller Daemon by Daniel Suarez.
The future IS gaming - Trends in the Living Networks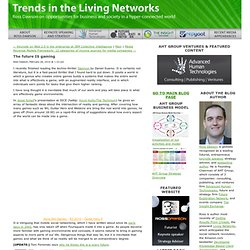 Best of CH 2010: Top Five Cool Hunting Videos