Videos
Bare Necessities. CAMPAÑA FAD 2011: ¿QUÉ DEBEMOS HACER CON EL ALCOHOL? (JÓVENES) Tendencias de Consumidor 2011. Trends in 2010 - 2010 Consumer Trend Report from TREND HUNTER. JWTIntelligence - 10 Trends for 2011 in 2 minutes. Global marketing Trends. Sixty Symbols - Physics and Astronomy videos. Macrotrend 2010/2011 - Connections. INFLUENCERS, How Trends & Creativity Become Contagious. INFLUENCERS is a short documentary that explores what it means to be an influencer and how trends and creativity become contagious today in music, fashion and entertainment.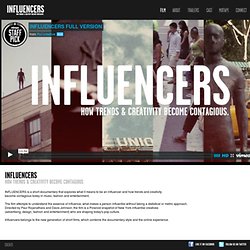 The film attempts to understand the essence of influence, what makes a person influential without taking a statistical or metric approach. Directed by Paul Rojanathara and Davis Johnson, the film is a Polaroid snapshot of New York influential creatives (advertising, design, fashion and entertainment) who are shaping today's pop culture. Influencers belongs to the new generation of short films, which combine the documentary style and the online experience.
Macro Trends and Predictions in Mobile Broadband (Moray Rumney) - Emerging Communications - eComm - blip.tv. Canal de JAFjustafact. The future IS gaming - Trends in the Living Networks. I recently finished reading the techno-thriller Daemon by Daniel Suarez.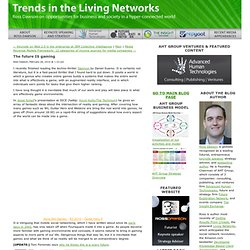 It is certainly not literature, but it is a fast-paced thriller that I found hard to put down. It posits a world in which a genius who creates online games builds a systems that makes the entire world into what is effectively a game, with an augmented reality interface, and in which individuals earn points for tasks that give them higher ranking. I have long thought it is inevitable that much of our work and play will take place in what are effectively game environments. Simon Sinek: How great leaders inspire action. Best of CH 2010: Top Five Cool Hunting Videos.
---