Innovacio
Qualcomm Spark: What's Next in Tech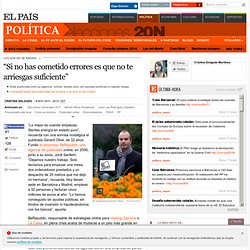 "Lo mejor es cuando empiezas. Sientes energía en estado puro", recuerda con una sonrisa nostálgica el publicista Gerard Olivé, de 32 años. Fundó su empresa, BeRepublic, una agencia de publicidad online, en 2006, junto a su socio, Jordi Sanllehí. "Dejamos nuestro trabajo. Solo teníamos para empezar una mesa, dos ordenadores prestados y un despacho de 20 metros que me dejó mi hermana", recuerda.
"Si no has cometido errores es que no te arriesgas suficiente"
Five Companies that Inspire & Impress on Innovation | Chorus+Echo
Here comes a list of my current favorite companies that inspire and impress me on innovation. The list is by no means based on in-depth research. It is based on actions, initiatives or shared insights of these companies over the last month or so – and thus what I believe could inspire other companies. 1. GE – for continuously developing the Ecomagination challenge The challenge is highly successful and now they are even launching a specific challenge for China.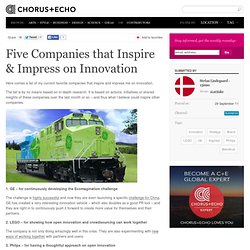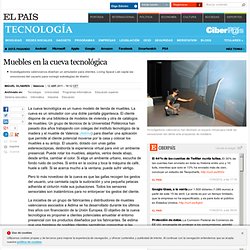 La cueva tecnológica es un nuevo modelo de tienda de muebles. La cueva es un simulador con una doble pantalla gigantesca. El cliente dispone de una biblioteca de modelos de vivienda y otra de catálogos de muebles. Un grupo de técnicos de la Universidad Politécnica han pasado dos años trabajando con colegas del instituto tecnológico de la madera y el mueble de Valencia (Aidima) para diseñar una aplicación que permite al cliente potencial moverse por la casa y colocar los muebles a su antojo. El usuario, dotado con unas gafas estereoscópicas, desborda la experiencia virtual para vivir un ambiente presencial.
Muebles en la cueva tecnológica · ELPAÍS.com
Futurizar al consumidor
co-society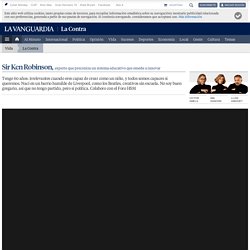 Buscando la 'zona' Salgo tan inspirado de la entrevista a Ken Robinson que no me resigno a reducirla a esta Contra. Así que, si ustedes me lo piden, explicaremos de su mano en breve cómo encontrar nuestro elemento creativo. Porque a ser innovador se aprende igual que a sumar: a cualquier edad y en cualquier circunstancia, con la única condición de tener ganas. Robinson precisa cómo lograrlo en el informe que está transformando la educación británica. Y me anima a desaprender lo mal aprendido en el cole y a arriesgarme con ustedes a renovarnos hasta encontrar nuestra propia zona,nuestro mentor y tribu creativa, para alcanzar la misma e intensa conexión con la vida que gozaron Einstein o Mozart.