Sd local info
Elfin Forest Community Foundation
B2.17a_ef.hg.cp_102010.pdf (application/pdf Object)
Beginning with the end in mind: San Diego Foundation spearheads 'Regional Vision Initiative' San Diego Cities - Regional News – BY LANDON BRIGHT In 1909, the San Diego Civic Improvement Association engaged John Nolen, the country's top city planner, to San Diego to develop a long-term plan for the city. Many of the issues that Nolen addressed at the beginning of the 20th century are still pertinent today.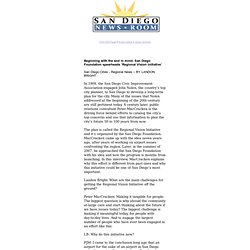 Peter MacCracken - Articles
The San Diego Foundation > Home
ULI San Diego/Tijuana
If you have a question about a specific market please call the market manager for that market listed below. Back to Top Borrego Springs Chamber of Commerce Farmers Market Friday: 7 am -12 pm, October to May 700 Palm Canyon Dr & Borrego Springs Rd Borrego Springs, California 92004 Map
Farmers Markets in San Diego - Find locally grown produce: San Diego County Farm Bureau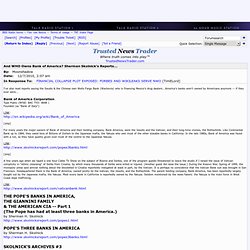 And WHO Owns Bank of America? Sherman Skolnick's Reports...
And WHO Owns Bank of America? Sherman Skolnick's Reports... I've also read reports saying the Saudis & the Chinese own Wells Fargo Bank (Wachovia) who is financing Mexico's drug dealers...
Insperity | Inspiring Business Performance
Local Food or Less Meat? Data Tells The Real Story - Andrew Winston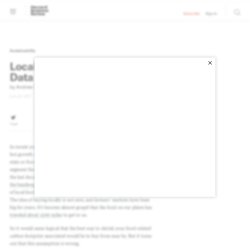 by Andrew Winston | 8:25 AM June 20, 2011 In recent years, one part of the food business has rivaled organics as the hot growth area: "local" food (defined vaguely as coming from the same state or from less than 100 miles away, for example). It's a market segment that has just about doubled in sales and number of outlets over the last decade.
Introduction With growing public concern over climate change, information and opportunities for consumers to lower their "carbon footprint," a measure of the total consumer responsibility for greenhouse gas emissions, have become increasingly available. The growing field of sustainable consumption (1-3) has offered information to consumers on the climate and environmental impacts of their consumptive choices. In general, much of this research has concluded that food, home energy, and transportation together form a large share of most consumers' personal impacts (2) . Of these three, food represents a unique opportunity for consumers to lower their personal impacts due to its high impact, high degree of personal choice, and a lack of long-term "lock-in" effects which limit consumers' day-to-day choices (1) .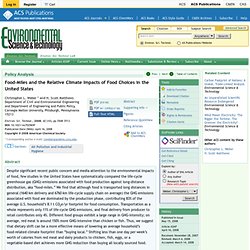 Food-Miles and the Relative Climate Impacts of Food Choices in the United States - Environmental Science & Technology
Business Plan Competition - Rice Business Plan Competition
November 11, 2011 12:03 PM James Fahn pieces together the Thai disaster from international and local news By James Fahn In the movie The Paper , a group of editors for a New York tabloid are trying to decide how prominently to print the story of a terrible but distant plane crash when one of them asks if any New Yorkers died. It's a morbid question that seems in poor taste, but it also reveals just how much of... Continue reading
Earth Journalism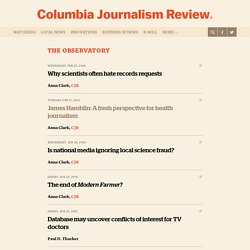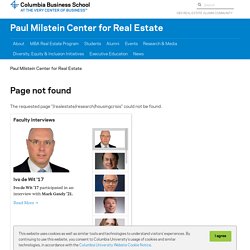 Real Estate : Columbia Business School on the Housing Crisis
Columbia Business School's thought leadership on issues related to the U.S. housing crisis has gained the attention of the media and policymakers alike. This section contains a guide to related background and analyses, broken into three main policy areas. Accelerated Amortization : Allowing refinancing with shorter amortization periods and at minimal closing costs would benefit more than a million homeowners while also helping to stabilize the housing market and boost the broader economy, all without cost to taxpayers. Economic Stimulus Through Refinancing : How the federal government could stimulate the economy while helping middle-class households without a cost to taxpayers—and possibly benefiting them. Mortgage Modification : Targeting privately securitized mortgages for loan modifications would stabilize the housing market and prevent foreclosures. About the Researchers
How It Works | FLMB.org
Javelin Strategy & Research | Syndicated Research | Custom Research | Strategic Consulting
Franklin Furnace
The Kitchen - Home
Over the past four decades, Creative Time has commissioned and presented ambitious public art projects with thousands of artists throughout New York City, across the country, around the world—and now even in outer space. Our work is guided by three core values: art matters, artists' voices are important in shaping society, and public spaces are places for creative and free expression. We are acclaimed for the innovative and meaningful projects we have commissioned, from Tribute in Light , the twin beacons of light that illuminated lower Manhattan six months after 9/11, to bus ads promoting HIV awareness, to Paul Chan's production of Waiting for Godot in New Orleans , and much more.
Creative Time - Mission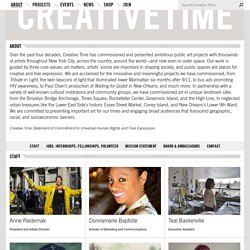 The Stone
welcome... | The Tank
Startup Incubator by Webtrends
iDisc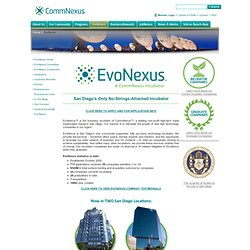 San Diego » Incubator
EvoNexus™ is the business incubator of CommNexus™, a leading non-profit high-tech trade organization based in San Diego. Our mission is to stimulate the growth of new high technology companies in our region. EvoNexus is San Diego's only community-supported, fully pro-bono technology incubator. We provide full services – furnished office space, domain experts and mentors, and the opportunity to leverage our wide network of business and VC contacts – to start-up companies striving to achieve sustainability.
Should Governments Make Happiness A Priority?
Audio Should Governments Make Happiness A Priority? Aired 4/26/11 One of the most famous lines from the United States Declaration of Independence states "We hold these truths to be self-evident, that all men are created equal, that they are endowed by their Creator with certain unalienable Rights, that among these are Life, Liberty and the pursuit of Happiness."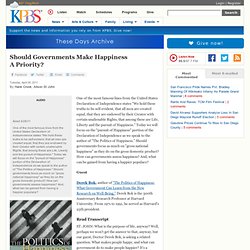 California Center for Sustainable Energy (CCSE)
California Center for Sustainable Energy
The Project Gutenberg EBook of The Botanic Garden, by Erasmus Darwin This eBook is for the use of anyone anywhere at no cost and with almost no restrictions whatsoever. You may copy it, give it away or re-use it under the terms of the Project Gutenberg License included with this eBook or online at www.gutenberg.net Title: The Botanic Garden A Poem in Two Parts.
Mozilla Firefox
The School for Social Entrepreneurs: Innovation brokers: necessary intermediaries?
The other week I attended an interesting and thought-provoking day at NESTA about social innovation, with many of the major players in the field ( NESTA , Innovation Unit , Young Foundation , etc) in attendance. On the same day, the Innovation Unit had launched a report, called 'Honest Brokers: brokering innovation in public services'. [ see here for more and to download the pdf] Matthew Horne, who wrote the report, spoke about it briefly on the day, and I've since read the whole thing. The general gist is that social innovation is important, and that innovation in other fields (technology etc) has many intermediaries to help it come to scale and grow (such as hubs, incubators, labs, accelerators and so forth). As Horne writes,
The Innovation Unit - Home
Center for Computer Research in Music and Acoustics | CCRMA
RSF Social Finance
RSF Social Finance , is a financial services organization dedicated to transforming the way the world works with money. RSF offers investing, lending, and giving services that generate positive social and environmental impact while fostering community and collaboration among participants. RSF's growing community of clients is furthering the work of social entrepreneurs in the fields of Food & Agriculture, Education & the Arts, and Ecological Stewardship. Building the field of social finance through community-based economic practices and a productive ecosystem of social finance partners is part of RSF's work toward a human centered culture of finance. Since 1984, RSF has made over $275 million in loans and over $100 million in grants to non-profit and for-profit social enterprises.
SCRIPPS INSTITUTION OF OCEANOGRAPHY
World Vision Micro - Life Changing Microfinance Loans for the Poor
National Collegiate Inventors and Innovators Alliance | NCIIA
2011 So Cal Permaculture Convergence
Instruction on all course dates is from 9 AM to 5 PM. This first few sessions lays the ground work for permaculture design and can be taken as a single "Introduction to Permaculture" workshop. This session will include Permaculture Ethics & Principles, Regenerative, Generative & Degenerative Systems, Natural Patternerning, Climatic Pattern Understanding, Site Assessment, Forests & Energy, Permaculture Design Methodologies, and tours of local permaculture sites. In the middle sessions we will look at "Growing Permaculture" as we learn about water harvesting (rainwater and greywater), soil building, and using plants in a permaculture setting. Topics to include hands on rainwater harvesting, tours of functioning and legal greywater systems, compost and composting teas, sheet mulching, plant guilds, garden ecology, and food forestry.
Eden on Earth - Permaculture Design Course
Southern CA Permaculture Convergence
Not so long ago I was working in the field of finance and before that, information technology (IT). Finance is a great field for self-professed math lovers and perfectionists, and IT is perfect for those tech heads who love to problem solve. I have a few friends who work in these areas that love it and are hard pressed to imagine doing anything else.
Cultivating a Sense of Purpose
Buy Tickets | Lightning in a Bottle
About Us | STE[+a]M
Speakers : TEDxAmericasFinestCity
Entrepreneurship
San Diego Sources | San Diego Public Library
Open San Diego
Data, Government & Geographic Information Services