Palamovie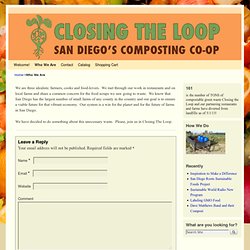 Who We Are |
We are three idealists: farmers, cooks and food-lovers. We met through our work in restaurants and on local farms and share a common concern for the food scraps we saw going to waste. We know that San Diego has the largest number of small farms of any county in the country and our goal is to ensure a viable future for that vibrant economy. Our system is a win for the planet and for the future of farms in San Diego. We have decided to do something about this unecessary waste.
timeanddate.com
Quotes
Georges Rouault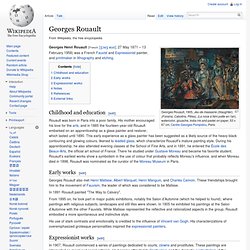 Georges Henri Rouault ( French pronunciation: ​ [ʒɔʁʒ ʁuo] ) (27 May 1871 – 13 February 1958) was a French Fauvist and Expressionist painter, and printmaker in lithography and etching . [ edit ] Childhood and education Rouault was born in Paris into a poor family. His mother encouraged his love for the arts , and in 1885 the fourteen-year-old Rouault embarked on an apprenticeship as a glass painter and restorer, which lasted until 1890.
Use Cases « FairSetup
Overview « FairSetup
The almost-brief, semi-digestible summary: We've built a system that uses performance evaluations to calculate employee impact with the goal of rigorously quantifying the relationship between performance, impact, and compensation. Our system uses regular expectation-based collaborative feedback to increase accountability and autonomy while reducing the need for management. It also creates an opportunity for non-shareholder employees to have skin in the game thus adjusting their incentives fostering more partner-like behavior. Uhm… but what does that actually mean?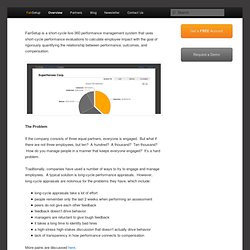 Bruce V. Bigelow 6/12/12 The X Prize Foundation likes to say its first $10 million prize (for successfully demonstrating a private rocket can reach space) has multiplied 100-fold, resulting in a $1 billion private space industry—not to mention the benefits of worldwide media coverage in 2004, when SpaceShipOne claimed the prize. In recent years, it's become increasingly clear that San Diego's Qualcomm (NASDAQ: QCOM ) has been paying attention.
Qualcomm Offers Cash Prizes for Mobile Apps at Uplinq Hackathon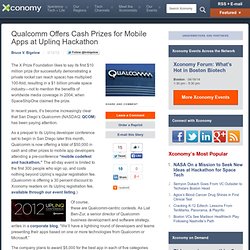 What is The Mission Continues?
Home - Urban Guide for Alternate Use
» The U.S. Economy By The Numbers: 70 Facts That Barack Obama Does Not Want You To See Alex Jones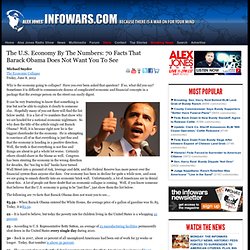 Michael Snyder The Economic Collapse Friday, June 8, 2012 Why is the economy going to collapse? Have you ever been asked that question? If so, what did you say? Sometimes it is difficult to communicate dozens of complicated economic and financial concepts in a package that the average person on the street can easily digest. It can be very frustrating to know that something is true but not be able to explain it clearly to someone else.
A.M. Freyed Infowars.com June 7, 2012 Time for dollar, euro to step aside — the redback cometh… Yuan finally set to emerge on a global scale with China hot on heels of US as world's second largest economy. There are increasing calls for the yuan to become an international payment, investment and reserve currency. The move towards yuan internationalisation requires domestic structural reforms and financial market development.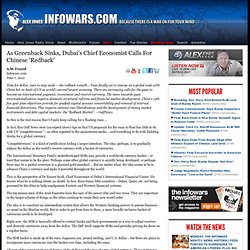 » As Greenback Sinks, Dubai's Chief Economist Calls For Chinese 'Redback' Alex Jones
Frente en Defensa de Wirikuta TAMATSIMA WAHAA | Sí a la VIda en Wirikuta y la Sierra de Catorce
Entrevista CIESAS Carlos Chavez 18 03 13 Carlos Chavez hablando sobre el caso de Wirikuta y de otros casos de mineras en México, parte de la entrevista realizada por la Dra. Alejandra Aguilar Ros del CIESAS Occidente a Paul Liffman (Dr. en Antropología de la Universidad de Chicago y autor del libro "La territorialidad Wixarika y el espacio nacional", de El Colegio... Entrevista a Paul Liffman y Carlos Chavez 18-marzo-2013 1ra parte Primera parte de la entrevista realizada por la Dra.
SALVEMOS WIRIKUTA
venado mestizo en la sierra de Catorce #wirikuta
Frente en Defensa de Wirikuta
home > Highway through Huichol Sierra is stopped indefinitely. These news pages are dedicated to reporting on current events.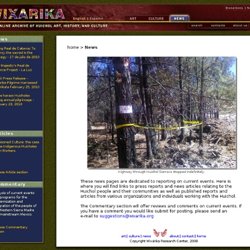 Wixarika | News
Wixarika | About Us
home > about us | About Wixarika Research Center The Wixárika Research Center is a 501(c)3 nonprofit corporation that has been formed to promote public awareness of the Huichol (Wixárika) Indian culture of Mexico. Its founders, Yvonne and Juan Negrín, have worked with the Wixaritari since 1970, establishing links with other organizations working in the area as well. For the past 40 years they have collected religious and authentic art and endeavored to help the public appreciate it and understand it as a window into the Wixárika culture.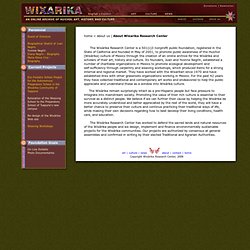 Huichols slam Mexican government for "media masquerade" | The Esperanza Project
Above, Rubén Albarran from the rock band Café Tacvba confers with Wixarika leader Santos de la Cruz at a press conference regarding the government announcement. MEXICO CITY – It sounded too good to be true – and, indeed, it was. The mining company First Majestic Silver was handing over its mining concessions in the sacred lands of Wirikuta, and the government was declaring 45,000 hectares a National Mining Reserve, which would be protected from exploitation. In a ceremony held Thursday at the National Museum of Anthropology, Bruno Ferrari, Secretary of the Economy, and Juan Rafael Elvira Quesada, Secretary of the Environment, announced the news in the company of a group of Wixarika people.
Story and photos by Tracy L. Barnett REAL DE CATORCE, Mexico – They came by the hundreds from the Western Sierra Madre, native Wixarika or Huichol people on a spiritual quest, seeking to consult with the spirits of their ancestors and of the land where their world began. They came in their ceremonial dress, colorfully embroidered with their sacred symbols of the deer, the eagle and the peyote. They came with offerings they had fashioned from beads and gourds and beeswax, offerings they had made precious with their love and their prayers, as their forebears had done for centuries.
Wixarika | The Esperanza Project
Transformational Festivals - 4-Part Documentary Webseries by Jeet-Kei Leung
Transformational Festivals are a potent phenomenon blossoming on the west coast and beyond and playing a profound role in hundreds of thousands of people's lives. Our new 4-part documentary video series sets out on a journey over summer 2012, exploring 10 to 12 of the premier festivals of this kind to illuminate this remarkable phenomenon. Joining the forces of TEDx presenter Jeet-Kei Leung as narrator/host and videographers Syd Woodward (Grounded TV Network) and Akira Chan (Akira Chan Arts) , the "Transformational Festivals" series will bridge the gap in articulating the profound nature of this burgeoning movement. The 4 parts explore key themes related to the transformational nature of these festivals, combining Jeet-Kei's insights with inspirational interviews and the evocative, magic moments captured through the Syd and Akira's lens.
The Scale of the Universe 2
The crowd dances at Lunch Beat Stockholm Photograph by Kirsten Eddyson Photography. When it comes to lunch breaks, the laissez-faire French like to take two hours out of their workday to savor their food in the company of colleagues while workaholic Americans prefer dining solo in front of their computers. Well, in Sweden we have a whole other vibe going. Here, more and more workers are forgoing both leisurely lunches and " al-desko " dining in favor of daytime raves.
Swedes spend their lunch breaks clubbing
Russian-born American businessman and president of the United Fruit Company Samuel Zemurray Photograph by Eliot Elisofon/Time & Life Pictures/Getty Images. Samuel Zemurray took his money and went south. Wisteria bloomed along the railroad tracks. Towns drifted by. He could smell the ocean before he could see it.
Banana mangante Samuel Zemurray: Rich Cohen's The Fish That Ate the Whale
Ted Turner Calls for Depopulating Two Thirds of the World – Luke Rudkowski Reports :
A Rare Look at Venus, June 5/6, 2012 | Rose Marcus, evolutionary astrologer, Vancouver
Bill Herbst, astrologer
The Electrical Dance of Uranus and Pluto
MediaProCamp
Peter Brook
Bhagwan Shree Rajneesh
George Gurdjieff
Isha Upanishad
20th-century Mystics and Sages (Arkana) (9780140191998): Anne Bancroft
The Walter B. Wriston Archives
Walter Wriston
Androgyny
Zimmermann Telegram
Plan of Tuxtepec
Military history of Mexico
Tampico Affair
Porfirio Díaz
History
Dream of a Sunday afternoon in Alameda Park « Mexico Mystic's Blog — Expat In Tlaxcala