Tech
100% freeware to convert your documents from PDF to Word preserving its original formatting and layout | [FlipPDF.com] Pic to Icon Converter || ProDraw Graphics Online Tool. This helps to convert image file into several different icon formats upon your needs: Windows Desktop Icon(32x32 or 48x48 pixel, .ico format), Windows 7(up to 256x256 pixel PNG icon.), Application Icon, iPhone(60x60 pixel PNG icon, 120x120 px for iPhone retina), iPad(76x76 pixels PNG icon, 152x152 px for iPad retina), Android(72x72, 48x48 or 36x36 pixels PNG icon) and Website Favicon(16x16 pixels ICO icon).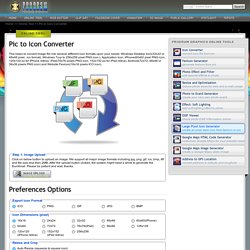 ApplyWebsite Favicon : (16x16 .ICO), To use the generated icon as your web site Favicon, please add the code below at page header: Website Icon at iPhone & iPad : To use the generated icon as your web site icon for the Home Screen icon of Apple devices, please add the code below at your web page header(4 PNG icons are needed: 60x60, 76x76, 120x120, 152x152): TaoTronics Gmate Bluetooth Transformer for Apple iPod iPhone/pad iPad/ Android Smartphone Black: Electronics. Welcome to Kraftwurx - Custom products for you, by you. Video Editing By Magisto | An Automatic Online Video Editor. Twine : Listen to your world, talk to the Internet by Supermechanical.
The Kickstarter is over, but if you missed out on backing us, not to worry.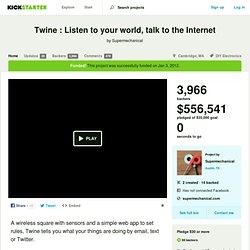 You can still join the thousands of other awesome Twine owners by pre-ordering on Supermechanical. It's the next best thing to being an original backer! Follow us on Facebook or Twitter. Want to hook up things to the Web? Maybe you want to get a tweet when your laundry's done, or get an email when the basement floods while you're on vacation. DockShelf: Your Macs best companion for launching apps and files.
Robotics
Coding. Luminoso | Common Sense Computing Initiative. Luminoso is a visualizer for AnalogySpace and related representations.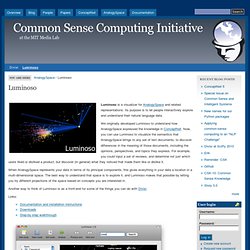 Its purpose is to let people interactively explore and understand their natural language data. We originally developed Luminoso to understand how AnalogySpace expressed the knowledge in ConceptNet. Now, you can use Luminoso to visualize the semantics that AnalogySpace brings to any set of text documents, to discover differences in the meaning of those documents, including the opinions, perspectives, and topics they express. For example, you could input a set of reviews, and determine not just which users liked or disliked a product, but discover (in general) what they noticed that made them like or dislike it. Home | DropPages.com. MobiUs ... the world's first HTML5 Web App browser.
Pho.to - online photo editor, fun effects and tools, free software. Home. Vidgames. Mail&feeds. Chatbot. Map Builder::Rapid mashup development tool for Google and Yahoo maps!
iOS. PC. Cars. DIY. 3D photo/video. Web technology.
---