Social Economy
Les meilleurs livres blancs sur l'entreprise collaborative
Zyncro a, depuis plus d'un an, produit une série de livres blancs dont certains pourraient être qualifiés de best-sellers compte tenu de leur succès… si seulement ces livres étaient payants ! Mais parce-que notre objectif est de vous aider à migrer votre entreprise vers les enjeux de demain, nous souhaitons vous offrir gratuitement ces contenus de grande qualité écrits par des experts de l'entreprise collaborative. Bonne lecture ! Meilleures pratiques dans les Réseaux Sociaux d'Entreprise
I read a lot of articles about social design that emphatically declare design's potential to change the world. Headlines state that design thinking is the key to innovation and that opportunities abound for creating positive social change. Amongst this ambitious rhetoric, it's tempting to think we can tackle big, global problems all at once. If you want to change the world, go big or go home, right? Well, reading about social design and practicing it are completely different. The social design process is messy and ambiguous.
Start Small: Why Social Designers Should Pick Low-Hanging Fruit First | Social Design on GOOD
Fundação EDP
Announcing a new call for forward-thinking research on social innovation
A Monster List of Social Innovation Books, Blogs, Conferences, Funders
A Monster List of Social Innovation Books, Blogs, Conferences, Funders
Current calls for proposals - Employment, Social Affairs & Inclusion - European Commission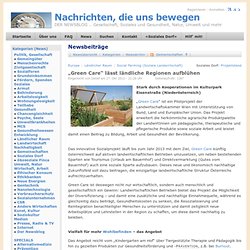 "Green Care" lässt ländliche Regionen aufblühen | Nachrichten, die uns bewegen
Stark durch Kooperationen im Kulturpark Eisenstraße (Niederösterreich) "Green Care" ist ein Pilotprojekt der Landwirtschaftskammer Wien mit Unterstützung von Bund, Land und Europäischer Union. Das Projekt erweitert die herkömmliche agrarische Produktpalette der LandwirtInnen um pädagogische, therapeutische und pflegerische Produkte sowie soziale Arbeit und leistet damit einen Beitrag zu Bildung, Arbeit und Gesundheit der Bevölkerung. Das innovative Sozialprojekt läuft bis zum Jahr 2013 mit dem Ziel, Green Care künftig österreichweit auf aktiven landwirtschaftlichen Betrieben umzusetzen, um neben bestehenden Sparten wie Tourismus (Urlaub am Bauernhof) und Direktvermarktung (Gutes vom Bauernhof) auch eine soziale Sparte aufzubauen. Dieses neue und ökonomisch nachhaltige Zukunftsfeld soll dazu beitragen, die einzigartige landwirtschaftliche Struktur Österreichs aufrechtzuerhalten.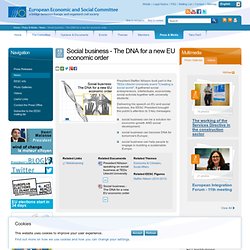 Social business - The DNA for a new EU economic order | European Economic and Social Committee
President Staffan Nilsson took part in the TEDx Utrecht University event "Creating a social world". It gathered social entrepreneurs, intellectuals, economists, social activists together with university students. Delivering his speech on EU and social business, the EESC President brought the public's attention to 3 key messages: social business can be a solution for economic growth AND social development; social business can become DNA for tomorrow's Europe; social business can help people to engage in building a sustainable Europe.
Ecofriend | Yellow Boat Social Entrepreneurism
Publications | Social Watch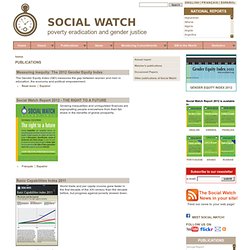 Por toda parte, as crescentes desigualdades e a desregulamentação das finanças estão destituindo as pessoas da parte que lhes cabe nos benefícios da prosperidade mundial. Nossos filhos terão por legado o ônus do desflorestamento, da desertificação, da diminuição da biodiversidade e da mudança climática. Para reverter essa tendência, a promessa de dignidade universal que aportam os direitos humanos tem que ser implementada e os direitos das futuras gerações têm que ser reconhecidos e devidamente defendidos.
future-farmers.net
Il Comitato economico e sociale europeo accoglie nella propria casa i protagonisti dell'agricoltura sociale | lostruscio | Il Cannocchiale blog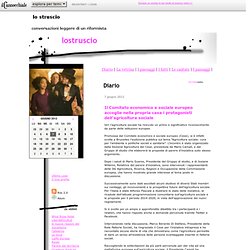 7 giugno 2012
Home | Social Innovation Europe
Be Social Change New York is putting together an urban farming workshop this Saturday, March 17 from 10am – 2pm –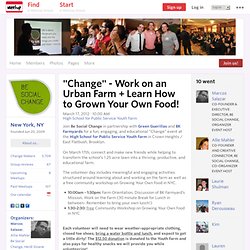 "Change" - Work on an Urban Farm + Learn How to Grown Your Own Food! - Be Social Change New York (New York, NY
Join Be Social Change in partnership with Green Guerillas and BK Farmyards for a fun, engaging, and educational "Change" event at the High School for Public Service Youth Farm in Crown Heights / East Flatbush, Brooklyn. On March 17th, connect and make new friends while helping to transform the school's 1.25 acre lawn into a thriving, productive, and educational farm. The volunteer day includes meaningful and engaging activities structured around learning about and working on the farm as well as a free community workshop on Growing Your Own Food in NYC.
Marcos Salazar - Be Social Change New York (New York, NY
www.les-scop.coop/export/sites/default/fr/_media/documents/cinq-questions-economie-sociale-solidaire.pdf
www.jlsouchet.com/cariboost_files/rep_98.pdf
Après la chute du mur de Berlin, le capitalisme semble avoir gagné la partie.
L'économie sociale. Une alternative au capitalisme par Thierry Jeantet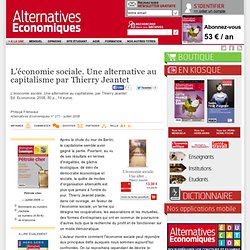 Une banque sociale, la Shore Bank, qui veut changer le monde en ouvrant l'accès au crédit aux populations défavorisées des quartiers de Chicago, Detroit ou Cleveland ; une société coopérative, Autocool, qui propose un service d'autopartage de véhicules, accessible vingt-quatre heures sur vingt-quatre et sept jours sur sept, grâce à un réseau de stations urbaines de proximité.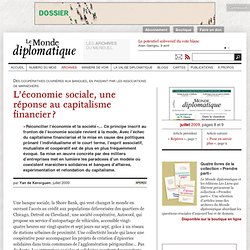 L'économie sociale, une réponse au capitalisme financier ?
« Réconcilier l'économie et la société »... Ce principe inscrit au fronton de l'économie sociale revient ŕ la mode.
Descripteur - ECONOMIE SOCIALE
Detalhes: Visitas: 1780
Os Nós da Economia Social
Apresentação « MISIE
Este Ciclo de Estudos resulta de uma parceria entre a Faculdade de Psicologia e de Ciências da Educação e a Faculdade de Economia da Universidade de Coimbra e decorre de uma reflexão aprofundada sobre as práticas de intervenção social e sobre a necessidade, reconhecida nessa reflexão, de sustentar a intervenção em projectos inovadores e numa dinâmica de acção empreendedora. O Mestrado em "Intervenção Social, Inovação e Empreendedorismo" visa aperfeiçoar e ampliar a capacidade de compreensão, prospetiva e holística, da ação, dos processos de mudança, dos paradigmas de desenvolvimento e de intervenção social em contextos multidimensionais, bem como potencializar a capacidade de iniciativa e as competências de identificação e aproveitamento de oportunidades de desenvolvimento e de gestão/criação e avaliação de recursos e respostas.
www.confagri.pt/Download/ER76Editorial.pdf
www.iefp.pt/iefp/publicacoes/Dirigir/Documents/2010/DIRIGIR_109.pdf
Portal da Empresa Áreas de Interesse » Economia Social
CASES
CASES
Orçamento do Estado para 2012A lei orçamental contém diversas disposições relativas à economia social, destacando-se a revogação do Estatuto Fiscal Cooperativo, passando os benefícios fiscais cooperativos a ficar concentrados no artº 66º-A, do Estatuto dos Benefícios Fiscais. Os ramos cooperativos antes abrangidos por redução de taxa – comercialização, crédito e serviços ( utentes ) passam para o regime geral de IRC.
CNES | Conselho Nacional para a Economia Social
Portugal • Centro de Documentação - Documentos (Economia social/Terceiro sector)
Social Economy - Social Economy Europe
Social Economy enterprises and organisations are economic and social players active in all sectors of society; they are set up to respond to people's needs.
www.socialeconomy.eu.org/IMG/pdf/2011_12_08_speech_svex.pdf
Review of Social Economy
Association for Social Economics
INAISE | International Association of Investors in the Social Economy
Social Economy Lisburn - What is Social Economy?
Social Economy Centre
www.socialeconomy.eu.org/IMG/pdf/2011_10_20_ep_gtso-2.pdf
www.socialeconomy.eu.org/IMG/pdf/erdmuthe_klaer_reves.pdf
www.socialeconomy.eu.org/IMG/pdf/karine_pfluger_social_economy_europe.pdf
PUBLIC HEARING - SOCIAL ECONOMY AS A RESPONSE TO THE ECO-SOCIO-ECONOMIC CRISIS IN EUROPE - 20/10/2011 - Social Economy Europe
www.socialeconomy.eu.org/IMG/pdf/sven_giegold_mep_-_malte_arhelger-3.pdf
Social Economy - Small and medium sized enterprises (SME) - Enterprise and Industry