G
Liste des sociétés rachetées par Google. Par Olivier Duffez, Mercredi 16 avril 2014 Voici une liste de 129 sociétés et brevets rachetés par Google depuis 2001.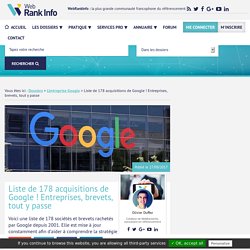 J'essaie de la tenir à jour (comme celle des produits et services Google) afin d'aider à comprendre la stratégie globale de Google. Ces derniers temps Google investit beaucoup dans les réseaux sociaux, le mobile, le e-tourisme et le e-commerce, mais s'élargit aussi avec la maison connectée, les robots ou les drones. Voilà ma liste des rachats de Google, mise à jour pour la dernière fois le 16 avril 2014 Affichage des lignes 1 à 129 sur 129. WeatherBill Raises $42 Million. Google Ventures and Khosla Ventures have led a $42 million financing round in WeatherBill, a San Francisco start-up that insures farmers against extreme weather conditions that can cripple crop production.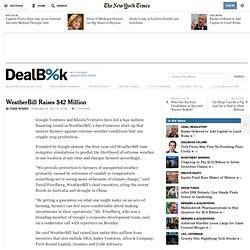 Founded by Google alumni, the four-year-old WeatherBill runs computer simulations to predict the likelihood of extreme weather in any location at any time and charges farmers accordingly. "We provide protection to farmers of unexpected weather primarily caused by extremes of rainfall or temperature, something we're seeing more of because of climate change," said David Friedberg, WeatherBill's chief executive, citing the recent floods in Australia and drought in China. "By getting a guarantee on what one might make on an acre of farming, farmers can feel more comfortable about making investments in their operations," Mr. Google's Venture Fund Steps Up the Pace. Google has been throwing money around the last few days.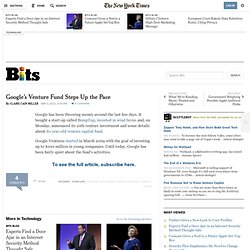 It bought a start-up called BumpTop, invested in wind farms and, on Monday, announced its 10th venture investment and some details about its year-old venture capital fund. Google Ventures started in March 2009 with the goal of investing up to $100 million in young companies. Until today, Google has been fairly quiet about the fund's activities. Though it would not disclose how much it has invested, it said it has made 10 investments and aims to invest about $100 million a year. Google Ventures Funds a Search Marketing Start-Up. Google makes the vast majority of its money selling search ads.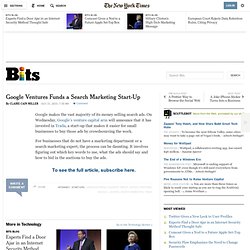 On Wednesday, Google's venture capital arm will announce that it has invested in Trada, a start-up that makes it easier for small businesses to buy those ads by crowdsourcing the work. For businesses that do not have a marketing department or a search marketing expert, the process can be daunting. Google Ventures Leads Financing of Biofuels Start-Up. Google Ventures has led a $20 million financing round in CoolPlanetBiofuels, a Southern California start-up that is developing mobile refineries to turn wood chips, agriculture waste and other biomass into biofuels.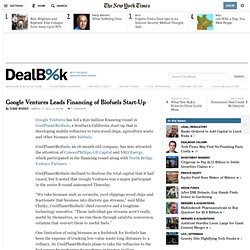 CoolPlanetBiofuels, an 18-month-old company, has also attracted the attention of ConocoPhillips, GE Capital and NRG Energy, which participated in the financing round along with North Bridge Venture Partners. CoolPlanetBiofuels declined to disclose the total capital that it had raised, but it noted that Google Ventures was a major participant in the series B round announced Thursday.
"We take biomass such as corncobs, yard clippings wood chips and fractionate that biomass into discrete gas streams," said Mike Cheiky, CoolPlanetBiofuels' chief executive and a longtime technology executive. "Those individual gas streams aren't really useful by themselves, so we run them through catalytic conversion columns that convert them to useful fuels." Google Acquires The DealMap. Google may have failed in its takeover attempt of Groupon last year, but it's not giving up on the social shopping market.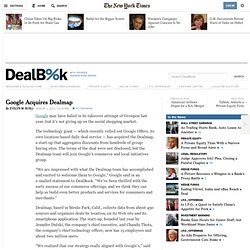 The technology giant — which recently rolled out Google Offers, its own location-based daily deal service — has acquired the Dealmap, a start-up that aggregates discounts from hundreds of group-buying sites. The terms of the deal were not disclosed, but the Dealmap team will join Google's commerce and local initiatives group. "We are impressed with what the Dealmap team has accomplished and excited to welcome them to Google," Google said in an e-mailed statement to DealBook. The Truth About Why Path Turned Down A $100 Million Acquisition Offer From Google.
So this is interesting.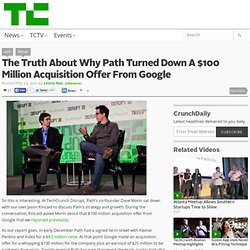 At TechCrunch Disrupt, Path's co-founder Dave Morin sat down with our own Jason Kincaid to discuss Path's strategy and growth. During the conversation, Kincaid asked Morin about that $100 million acquisition offer from Google that we reported previously. As our report goes, in early December Path had a signed term sheet with Kleiner Perkins and Index for a $8.5 million raise. At that point Google made an acquisition offer for a whopping $100 million for the company plus an earnout of $25 million to be paid over four years.
Facebook, Google share startup buying strategies. Ask any entrepreneur what they want to do, and they'll nearly all say the same thing: change the world.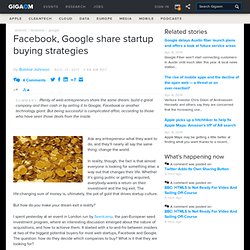 In reality, though, the fact is that almost everyone is looking for something else: a way out that changes their life. Whether it's going public or getting acquired, everybody wants a return on their investment and the big exit. The life-changing sum of money is, ultimately, the pot of gold that drives startup culture.
---