Home School Curriculum
LEGO homeschool! Oodles of lesson plans and more for every grade and subject - Mankato Homeschooling. Do you have a Lego lover in your house?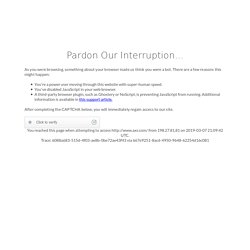 Legos are great for learning when they're used as building tools, but there are also all sorts of great lesson plans on the web to use them in even more educational ways. From chemistry models to creative writing prompts to symmetry challenges, there are fabulous lesson plans on the net to use Legos in your homeschool. Here's some of my favorites. The Sun, Auroras & Solar Flares. More Silent E Quiz. Goatella Apps. Solar System Model Craft. iPad Curriculum. StarChild: Glossary. Glossary ASTEROID A rocky space object that can be a few feet wide to several hundred miles wide.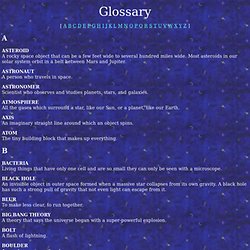 Most asteroids in our solar system orbit in a belt between Mars and Jupiter. ASTRONAUT A person who travels in space. ASTRONOMER Scientist who observes and studies planets, stars, and galaxies. Rhyming worksheets. Startram could usher in era of low-cost space travel. Next Big Future has covered the Startram concept in detail before.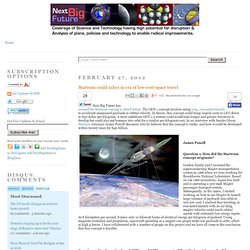 The GEN 1 concept involves using long, evacuated tunnels to accelerate unmanned payloads to orbital velocity. In theory, this concept could bring launch costs to LEO down to $50 dollar per kilogram. A more ambitious GEN 1.5 system could would take longer and greater resources to develop but could also put humans into orbit for a similar per-kilogram cost. In an interview with Sander Olson, Startram visionary James Powell discusses why he believes that the concept is viable, and how it could be developed within twenty years for $40 billion.
Homepage - F1 in Schools. How to Home School Your Child For Success and Prepare them for the Real World. ArtLex Art Dictionary. Youtube dr quantum. Grade 2 Maths Practice. YouTube. Picture of continents before move. The Cambridge Academy- Online K-12 Homeschooling - Cambridge Second Grade Courses. Home School Info South Africa - Resources. A list of curriculum suppliers as well as a host of other contact details useful for moms teaching at home.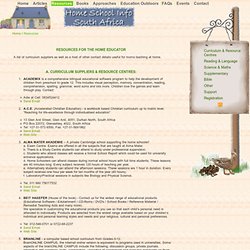 ACADEMIX is a comprehensive bilingual educational software program to help the development of children from preschool to grade 12. This includes visual perception, memory, concentration, reading, comprehension, spelling, grammar, word sums and lots more. Children love the games and learn through play. Contact: A.C.E. (Accelerated Christian Education) - a workbook based Christian curriculum up to matric level.
Homeschool Curriculum Packages. A complete second-grade program.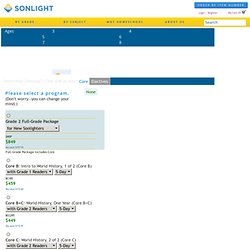 Get a complete program that lets you breathe easy and enjoy homeschooling. Notes: If you have used Sonlight before and have already done the Intro to World History, Year 1 of 2 Core Program, you'll want the Grade 2 Multi-Subject Package for Returning Sonlighters. This package for returning Sonlighters includes the next Core in your sequence, Intro to World History, Year 2 of 2. The regular Grade 2 package (on this page) includes a condensed one-year Core with materials and books you have already used. If you'd prefer, you can build your own customized Second Grade package.
Magic Key - England. Magic Key - England. The Magic Key - Lug and the Giant Storks. The Magic Key - Teachers Notes - HMS Sweet Tooth. NHEN Library. Your domain setup is almost ready!
Your domain is properly configured to point to our IP address. Now follow these 3 easy steps to make your web site to appear under your domain: Login to Admin View of your site From Control Panel at top right choose Site PropertiesInside the My Domain field, enter your domain name both with, and without "www. " Homeschooler's Guide to the Galaxy -- Homeschool Diner -- HomeschoolDiner.com. The Homeschool Diner's Homeschooler's Guide to the Galaxy by Julie Shepherd Knapp, copyright 2006.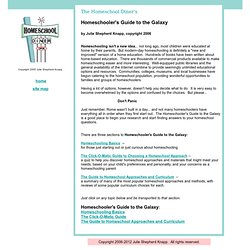 Special Events - Experience Enki: an alternative to Waldorf and Montessori for classroom and homeschool using an experiential, developmentally based, sensory rich, arts integrated, multicultural, holistic program for gifted to special needs children. Parenting as Path: one day workshop (for details click here) Tomorrow is the Spelling Bee (karate competition, gymnastics recital, or any other "performance").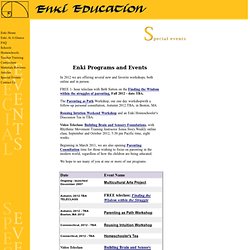 You know your child can win and it would make him so happy - and validate your decision to spend extra time on his practice. But he is in his room alternately whining and stomping and saying he won't go. Opening course in an alternative teacher education program for an arts integrated education using sensory integration in a developmentally based curriculum for an experiential alternative to Waldorf for homeschool and classroom. Rousing Intuition No approach to teaching, however brilliant or effective, will ever be more important than the individual teacher's ability to hear and act upon his own intuition.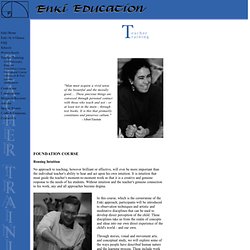 It is intuition that must guide the teacher's moment-to-moment work so that it is a creative and genuine response to the needs of his students. Without intuition and the teacher's genuine connection to his work, any and all approaches become dogma. In this course, which is the cornerstone of the Enki approach, participants will be introduced to observation techniques and artistic and meditative disciplines that can be used to develop direct perception of the child.
These disciplines take us from the realm of concepts and ideas into our own direct experience of the child's world - and our own. Philosophy of an alternative teacher education program for an arts integrated education using sensory integration in a developmentally based curriculum for an experiential alternative to Waldorf for homeschool and classroom. In the myths of ancient Sumer, Enki is the god of the waters.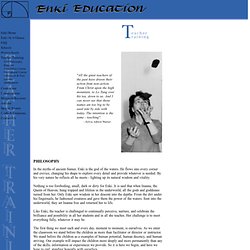 He flows into every corner and crevice, changing his shape to explore every detail and provide whatever is needed. By his very nature he reflects all he meets - lighting up its natural wisdom and vitality. Enki: Homeschool Curriculum, Classroom Curriculum. Enki: Sensory Integration Program. Human beings have been growing and learning for many thousands of years. So why the focus on now? Why put so much attention to this very normal, well-established process? The reason is that for most of these thousands of years human beings have had demanding physical activity at the center of their lives and their survival.
Waldorf Homeschooling -- The Homeschool Diner -- HomeschoolDiner.com. The Homeschool Diner's Guide toWaldorf (or Steiner) Homeschooling by Julie Shepherd Knapp, copyright 2006 This method was first formulated by Austrian educator Rudolf Steiner in 1907 in his book, "The Education of the Child in the Light of Spiritual Science". Enki: a holistic, developmentally based, arts integrated, multicultural, experiential, alternative education for the classroom and home school. We offer two different Grade Two Curriculum Packages suitable to different situations. Each package can be tailored for the Homeschool or Classroom program. These packages are very thorough and are designed to fully support the parent in bringing the curriculum to the typical child.
Zen Home Education: Green Education, Natural World, Sustainable Living. Holistic Homeschooling -- The Homeschool Diner -- HomeschoolDiner.com.
---