Management & Entrepreneurship
Community Management
Davos panel: Can we avert a lost generation? - Ideas@Innovations. Posted at 02:32 PM ET, 01/26/2012 Jan 26, 2012 07:32 PM EST TheWashingtonPost The World Economic Forum Annual Meeting 2012 in Davos, Switzerland.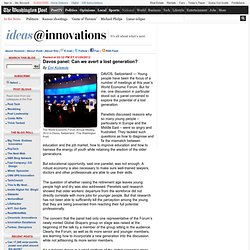 Wanagement : le management à contre-courant. 33 entrepreneurs who are changing the world for the better. The startup scene continues to thrive, and amongst the founders of tomorrow's top businesses are a group of entrepreneurs with the lofty goal of making the world a better place.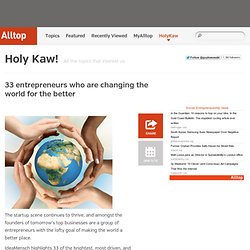 IdeaMensch highlights 33 of the brightest, most driven, and admirable entrepreneurs who devote their businesses for causes that range from animal rights to ending street harassment. A sampling of the selected to help get you inspired: Shiny, happy company: Why happiness is the new metric for startup success. The seal of the high school I attended contained two Latin mottos: Non Sibi and Finis Origine Pendet.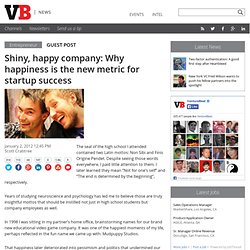 Despite seeing those words everywhere, I paid little attention to them. I later learned they mean "Not for one's self" and "The end is determined by the beginning", respectively. Years of studying neuroscience and psychology has led me to believe those are truly insightful mottos that should be instilled not just in high school students but company employees as well. In 1998 I was sitting in my partner's home office, brainstorming names for our brand new educational video game company. RSA Animate - Drive: The surprising truth about what motivates us. Don't Grow Your Business With Bad Customers. The CEO of one of our clients, a public company that provides credit card processing services to merchants, had a problem: The company had consistently delivered revenue growth rates better than most of its competitors, but its price-earnings multiple was lower than those companies.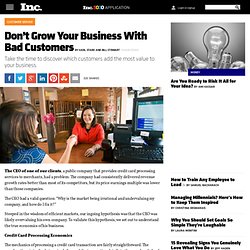 The CEO had a valid question: "Why is the market being irrational and undervaluing my company, and how do I fix it?" Steeped in the wisdom of efficient markets, our ingoing hypothesis was that the CEO was likely overvaluing his own company. Starting Over (Basecamp)| Get Real | Jason Fried. In 2004, 37signals, the software company I co-founded, released a Web-based project-management and collaboration tool called Basecamp.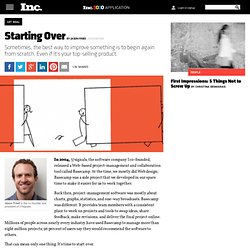 At the time, we mostly did Web design; Basecamp was a side project that we developed in our spare time to make it easier for us to work together. Back then, project-management software was mostly about charts, graphs, statistics, and one-way broadcasts. In Startups And Life, You Need Plan A, B, And Z. Editor's note: Reid Hoffman is the founder of LinkedIn and a prolific investor.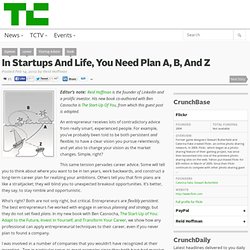 His new book co-authored with Ben Casnocha is The Start-Up Of You, from which this guest post is adapted. An entrepreneur receives lots of contradictory advice from really smart, experienced people. For example, you've probably been told to be both persistent and flexible; to have a clear vision you pursue relentlessly, and yet also to change your vision as the market changes. Simple, right? This same tension pervades career advice.
---