Typografie
FF Dora on Behance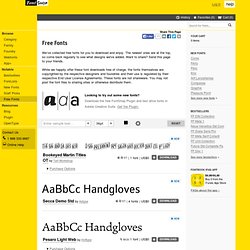 Free Font Pages - Results 1 - 30
We've collected free fonts for you to download and enjoy. The newest ones are at the top, so come back regularly to see what designs we've added. Want to share? Send this page to your friends. While we happily offer these font downloads free of charge, the fonts themselves are copyrighted by the respective designers and foundries and their use is regulated by their respective End User License Agreements.
Using Type « FontShop Blog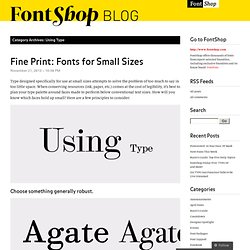 Last week we discussed a few basics of setting up and applying styles properly , now let's do it. All instructions below apply specifically to InDesign, and generally to any technology that makes macrotypography possible through styles. Start fresh, specify as little as possible In the previous piece on the theory behind setting up styles , I end with the question, "What's the rule, and what's the exception?" Let's start there.
Great Pairs « FontShop Blog
Ysobel and Dessau March 27, 2013 – 10:12 PM This week we pair and explore the relationship between Ysobel , the Century-inspired collaborative work of Delve Withrington , Robin Nicholas and Alice Savoie , and Gábor Kóthay's Bauhausian display type series Dessau . Both come in a variety of styles.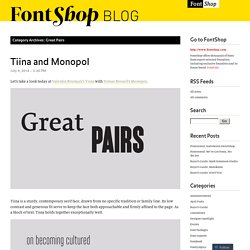 Typografie voor de grafische vormgever
The American Association of University Presses (AAUP) holds an annual Book, Jacket & Journal Show which catalogs the best in book design and exhibits it around the country. The jurors for this year's show include some important names in typography, including William Drentel and Jessica Helfand of Design Observer , and typographer and type designer Kent Lew , who created the Font Bureau's lovely and literary text face, Whitman . Jessica Helfand, William Drentel, Susan Colberg, and Kent Lew examine AAUP Show entries.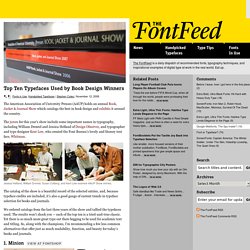 Top Ten Typefaces Used by Book Design Winners
FF Good Black, FF Elementa Regular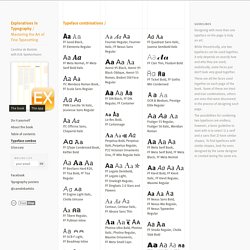 Typeface combinations
365 Days of Hand Lettering: Day 365 Happy New Year, friends! Thank you for following along on my project over the past year. Stay tuned Thursday for the announcement about my 2013 project. To possibility !! Have a great 2013.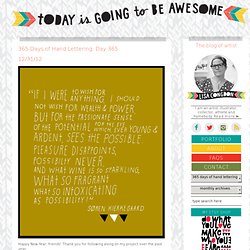 Category Archives: 365 Days of Hand Lettering
So you think you can tell Arial from Helvetica? Quiz
Articles: How to Spot Arial
Many of the characters in Helvetica and Arial are very similar to each other, although none are quite identical. Other characters are quite a bit different, and they are the key to telling which is which. Here are some of the most obvious ones (Grotesque 215, Arial's ancestor, has also been included for comparison): The "a" in Helvetica has a tail; Arial does not. Also, the bowl of the "a" flows into the stem like a backwards "s"; the bowl of Arial's "a" simply intersects the stem with a slight curve. (Interestingly, the Grotesque "a" has a tail, just like Helvetica.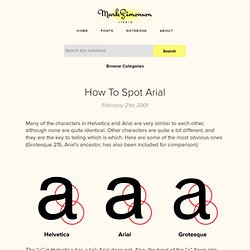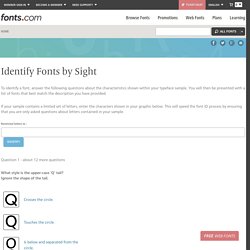 Search by Sight
To identify a font, answer the following questions about the characteristics shown within your typeface sample. You will then be presented with a list of fonts that best match the description you have provided. If your sample contains a limited set of letters, enter the characters shown in your graphic below. This will speed the font ID process by ensuring that you are only asked questions about letters contained in your sample. Question 1 - about 13 more questions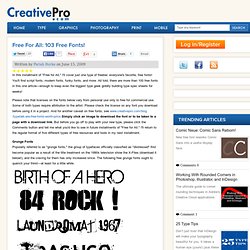 Free For All: 103 Free Fonts!
In this installment of "Free for All," I'll cover just one type of freebie: everyone's favorite, free fonts! You'll find script fonts, modern fonts, funky fonts, and more. All told, there are more than 100 free fonts in this one article—enough to keep even the biggest type geek giddily building type spec sheets for weeks! Please note that licenses on the fonts below vary from personal use only to free for commercial use. Some of both types require attribution to the artist.
Anyone who's ever tried their hand at designing a typeface will know that it's a wildly difficult process, and to actually come out at the end with something beautiful takes an extreme amount of skill, taste and patience. Type design isn't meant for everyone, but typography is, and nearly every designer works with it every day. This is exactly why we've teamed up with Type Release creator Sean Mitchell to share with you some of the latest typefaces released this past month. These are his findings: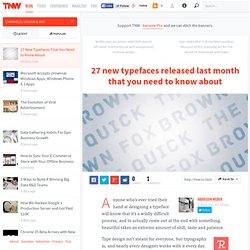 27 New Typefaces That You Need to Know About
Some time ago I created article – 52 Really High Quality Free Fonts For Modern And Cool Design , which turned out to be very popular. But I felt like I haven't featured even a half of beautiful, professional free fonts, so I decided to continue with another article. This time I found 65 high quality fonts, where many of them are very good for font creation, creative graphic typographic works, unique web design titles and so on.
FontShop. The World's Best Fonts.
Bold Monday - independent font foundry of high quality type