Typografie
The 43 best typography apps | Typography
Boost your skills and knowledge, create typefaces and play font-related games with these brilliant typography apps for iOS, Android and the web. From iOS or Android, Windows to web apps, the app world is brimming with ways to improve your typography skills and make working with fonts quicker and easier. So typographers, this one's for you - our pick of the most essential typography apps that can make your font-oriented life a little easier and in some cases a lot more fun. Read all our iPad articles here, our iPhone articles here, our Android articles here, and our typography articles here 01.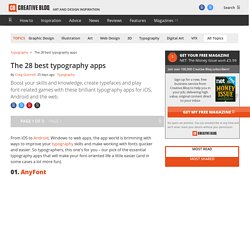 FF Dora on Behance
Free Font Pages - Results 1 - 30
Using Type « FontShop Blog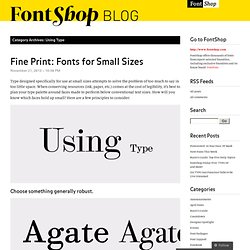 Just so you know, we're not all print all the time here at FontShop. In fact a great majority of my work here has been conveyed solely over the internet. In terms of graphic design, print's my first love, but I distinctly remember some time in late 2009 that I heard something about webfonts, the canvas element, pseudo-selectors, transitions, and a number of other experimental and not-widely-supported web technologies, and thought, 'I need to really dig down into this stuff.' One ambitious autoinitiated web project later (it was something similar to Readability, before I knew it existed, indeed, perhaps before it did exist), and I was happily up to my nose in markup, CSS, JavaScript, and preprocessing, feeling good about the direction of the internet and electronic media in general. Since then I've tried to keep up with at least the aspects that touch web typography, but I'm not a current practicing web designer, or a specialist in web composition.
Great Pairs « FontShop Blog
FF Tisa and Pilcrow January 8, 2014 – 10:20 PM Bringing us a type palette with a subtle bounce today is the pairing of a long-held personal favorite, Mitja Miklavčič's FF Tisa, and Satya Rajpurohit's recently released Pilcrow. Though Satya's work through his own Indian Type Foundry focuses mainly on Indic scripts such as Devanagari, Tamil, or Gurmukhi, his latest release demonstrates a developed understanding of the Latin alphabet, and a new perspective at the intersection of geometric and industrial gothic.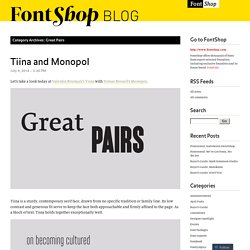 Typografie voor de grafische vormgever
The American Association of University Presses (AAUP) holds an annual Book, Jacket & Journal Show which catalogs the best in book design and exhibits it around the country. The jurors for this year's show include some important names in typography, including William Drentel and Jessica Helfand of Design Observer, and typographer and type designer Kent Lew, who created the Font Bureau's lovely and literary text face, Whitman. Jessica Helfand, William Drentel, Susan Colberg, and Kent Lew examine AAUP Show entries.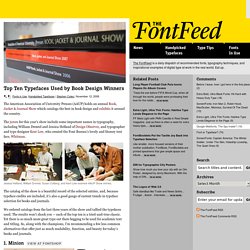 Top Ten Typefaces Used by Book Design Winners
FF Good Black, FF Elementa Regular FF Meta Normal, FF Meta Serif Bold Italic ITC Mendoza Roman Book, FF Scala Sans Regular PMN Caecilia 56 Italic, Jeunesse Sans Regular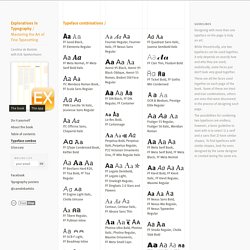 Typeface combinations
365 Days of Hand Lettering: Day 365 Happy New Year, friends! Thank you for following along on my project over the past year. Stay tuned Thursday for the announcement about my 2013 project. To possibility!! Have a great 2013.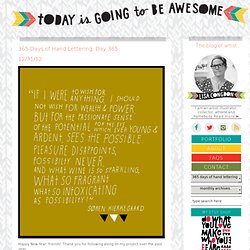 Category Archives: 365 Days of Hand Lettering
So you think you can tell Arial from Helvetica? Quiz
Articles: How to Spot Arial
Many of the characters in Helvetica and Arial are very similar to each other, although none are quite identical. Other characters are quite a bit different, and they are the key to telling which is which. Here are some of the most obvious ones (Grotesque 215, Arial's ancestor, has also been included for comparison): The "a" in Helvetica has a tail; Arial does not. Also, the bowl of the "a" flows into the stem like a backwards "s"; the bowl of Arial's "a" simply intersects the stem with a slight curve. (Interestingly, the Grotesque "a" has a tail, just like Helvetica.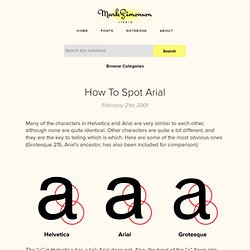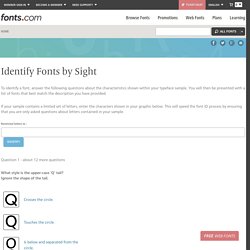 Search by Sight
To identify a font, answer the following questions about the characteristics shown within your typeface sample. You will then be presented with a list of fonts that best match the description you have provided. If your sample contains a limited set of letters, enter the characters shown in your graphic below. This will speed the font ID process by ensuring that you are only asked questions about letters contained in your sample. Question 1 - about 12 more questions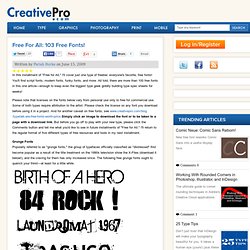 Free For All: 103 Free Fonts!
In this installment of "Free for All," I'll cover just one type of freebie: everyone's favorite, free fonts! You'll find script fonts, modern fonts, funky fonts, and more. All told, there are more than 100 free fonts in this one article—enough to keep even the biggest type geek giddily building type spec sheets for weeks! Please note that licenses on the fonts below vary from personal use only to free for commercial use. Some of both types require attribution to the artist.
Anyone who's ever tried their hand at designing a typeface will know that it's a wildly difficult process, and to actually come out at the end with something beautiful takes an extreme amount of skill, taste and patience. Type design isn't meant for everyone, but typography is, and nearly every designer works with it every day. This is exactly why we've teamed up with Type Release creator Sean Mitchell to share with you some of the latest typefaces released this past month. These are his findings: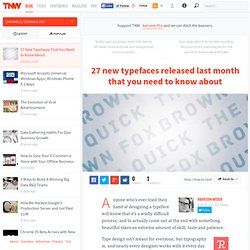 27 New Typefaces That You Need to Know About
Some time ago I created article – 52 Really High Quality Free Fonts For Modern And Cool Design, which turned out to be very popular. But I felt like I haven't featured even a half of beautiful, professional free fonts, so I decided to continue with another article. This time I found 65 high quality fonts, where many of them are very good for font creation, creative graphic typographic works, unique web design titles and so on.
FontShop. The World's Best Fonts.
Well crafted (free) fonts by Jos Buivenga Welcome to Jos Buivenga's exljbris Font Foundry. Here you can find my [free] fonts. Delicious, Fontin, Fontin Sans, Tallys, Fertigo Pro, Diavlo, Anivers, Museo, Museo Sans, Museo Sans Rounded, Museo Slab, Calluna, Calluna Sans & Geotica. What's in this difficult to read and pronounce name?
Bold Monday - independent font foundry of high quality type