Modes de vie alterntives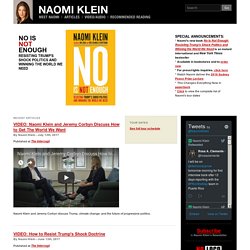 Published in The Phoenix Naomi Klein, black-clad and sharp-tongued mistress of the global anti-corporate left, friend to Occupiers and scourge of oil barons, stood outside a dressing room backstage at Boston's Orpheum Theatre one night last month, a clear-eyed baby boy on her hip. "I'm really trying not to play the Earth Mother card," Klein told me over the phone the week before, as she talked about bringing Toma, her first child, into the world. But she didn't need to worry. Inside the dressing room, she'd been fielding questions from a small gaggle of young reporters alongside 350.org's Bill McKibben, who had invited her to play a key role in the 21-city "Do the Math" climate-movement roadshow that arrived at the sold-out Orpheum that night.
Comprendre le Nouvel Ordre Mondial
par Estelle Leroy, le 7/01/2011 Une étude réalisée par la société de prospective Trendwatching auprès de 160 000 décideurs dans 180 pays a retenu onze grandes tendances pour 2011 dont devraient s'inspirer les entreprises privées ou publiques, les collectivités locales...Les initiatives « généreuses » et le « contact humain » y tiennent une bonne place. Priorités aux initiatives généreuses ou empathiques
Place Publique - Média citoyen, relais d'engagements associatifs et outil de démocratie participative
ENVIRONNEMENT ET DÉVELOPPEMENT DURABLE,ROMAIN FERRARI - une vidéo Actu et Politique
Le ciel ne nous tombera pas sur la tête par Sylvie Brunel Jean-Robert Pitte | Editions JC Lattès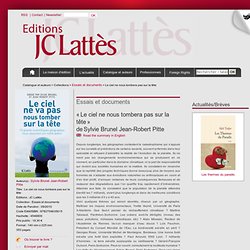 nonfiction.fr : Le ciel ne va pas vous tomber sur la tête "Le ciel ne va pas vous tomber sur la tête" a donc le mérite de se distinguer des autres ouvrages sur ces questions par un positionnement rigoureux, scientifique et, de fait, critique, qui clarifie le débat Presse Océan : "Le ciel ne va pas nous tomber sur la tête" "Les thèmes sont abordés avec fermeté et mesure, loin de l'esprit polémique d'un Claude Allègre mais conduisent à la même conclusion: non, la Terre n'est pas en péril, sortons de l'hystérie!
Carrotmob réinvente l'activisme consumériste
mouvement.pdf (Objet application/pdf)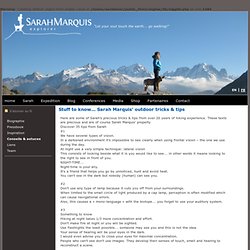 Here are some of Sarah's precious tricks & tips from over 20 years of hiking experience. These texts are precious and are of course Sarah Marquis' property Discover 35 tips from Sarah #1 We have several types of vision. In a darkened environment it's impossible to see clearly when using frontal vision – the one we use during the day. At night use a very simple technique: lateral vision This consists of looking beside what it is you would like to see... in other words it means looking to the right to see in front of you. NIGHT-TIME...
Sarah Marquis: À savoir... les trucs & astuces de terrain de Sarah Marquis
Accueil - Centre de vacances en Charente Maritime, centre de loisirs créatifs, stages, ateliiers, animations de bien être, réalisations de soi, massages ayurvédiques, CNV, arts plastiques, université d'été, carnaval, danses, écriture et poésie, philosophi
Blog développement durable de Publicis
The Ultimate Reading List for Sustainable Living