Sewing ideas
Little Red Infinity Dress Tutorial. February 14, 2011 I made this little dress in about 3 hours and for under $20!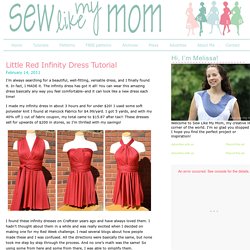 I used some soft polyester knit I found at Hancock Fabrics for $4.99/yard. I got 5 yards, and with my 40% off 1 cut of fabric coupon, my total came to $15.87 after tax!! Bedsheet to Ruffled Pillow Tutorial. Lace Up Your Shorts! I know it's winter and wearing shorts is probably one of the last things on your mind.
Here in Los Angeles, however, girls are still strutting their stuff in their short shorts, with degrees staying in the 60s during the day and dropping to the mid 40s at night. With lace shorts becoming the up-and-coming hot trend, I figured it'd be fun to post a few inspiration photos on what you can do with a little bit of time, some old jean shorts, and some lace. Tooth Fairy Bags. We thought we'd try to make the whole Tooth Fairy ritual a little more fun by making a colorful bag complete with a special tooth-shaped pocket for the baby tooth.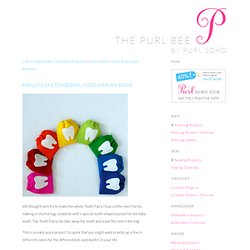 The Tooth Fairy can take away the tooth and leave the loot in the bag. This is a really quick project. So quick that you might want to whip up a few in different colors for the different kids (and teeth!) In your life. Turn a T-Shirt into a Halter Top. Rostitchery: convertible/infinity dress. (this post was originally published on 29 june, 2006, with the title "one seam convertible dress".) have a question?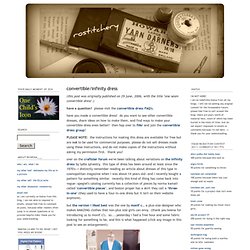 Please visit the convertible dress FAQ's. have you made a convertible dress? Do you want to see other convertible dresses, share ideas on how to make them, and find ways to make your convertible dress even better? Make It and Love It: Women's Corsage Shirt. I've been drooling over the Jcrew line this fall.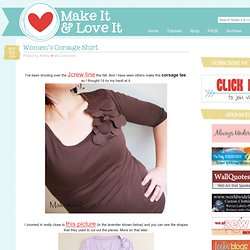 And I have seen others make this corsage tee, so I thought I'd try my hand at it. I zoomed in really close to this picture (in the lavender shown below) and you can see the shapes that they used to cut out the pieces. More on that later. I bought and used about a yard of knit fabric, which I bought for about $5 at Joann's. Embellish Knit Month: Day 6. A lot of you expressed questions about resizing sweaters.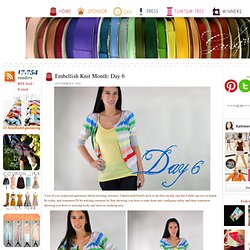 I mentioned briefly how to do that on day one but I didn't go too in depth. So today and tomorrow I'll be redoing sweaters by first showing you how to turn them into cardigans today and then tomorrow showing you how to resizing body and sleeves, nothing else. Today I found this Wet Seal sweater for $1.50 at Community Aid. I liked the stripes and the colors used. One Pearl Button: Tutorial: Silk Shirt Refashion. Anthropologie inspired knotted bedding part 2 (putting it all together) Before we get started piecing a PILE of knotted squares together, do you want the backstory on this little Anthro-inspired gem?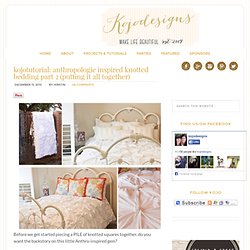 First, you should know that I'm a bedding junkie. I LOVE wandering through Pottery Barn, Restoration Hardware, Crate and Barrel, Anthropologie (at Park Meadows in Denver, those stores are all conveniently located near each other as well) to see their bedroom displays. Flutter heart snuggle pillow. Happy Valentine's Day, friends!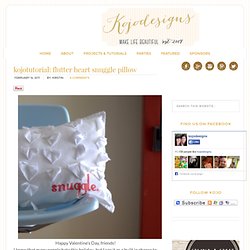 I know that many people hate this holiday- but I see it as a built in chance to tell my hot hubbie, my kiddos (well, mostly Burke since Piper Jane doesn't quite 'get it' yet) and my fantastic family that I love them. Oooh, and Valentine's Day is the perfect holiday for giving little gifts. And, y'all, I love little gifts! Adam is getting a watch I ordered from nomorerack for $8, some mini-butterfingers and a couple of kitchen gadgets, Burke is getting a new set of Cars cars and one of those Grow-An-Animal packs and Piper Jane is getting the sweetest little outfit (the only handmade gift of the bunch).
…and a great day to share the tutorial for the "snuggle" pillow. Sunburst Pillow Tutorial from Guest Anna of Noodlehead. Ohhhhhh, i love me a good pillow!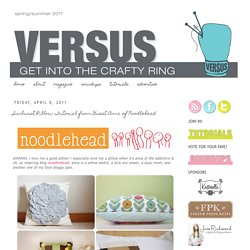 I especially love me a pillow when it's anna of the addictive & oh, so inspiring blog noodlehead. anna is a pillow addict, a kick ass sewer, a busy mom, and another one of my fave bloggy pals. here's an example of what is usually a regular email from me to anna: Hi anna, You are ahhhmmmmaaaaaaazing!!!!!!!!!!!! Sewing 101: making a pouf. Add a burst of color to your room with this crafty pouf!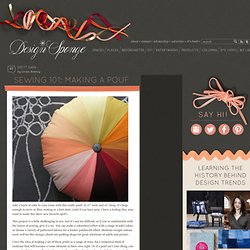 At 17" wide and 10" deep, it's large enough to serve as floor seating or a foot stool. (And if you have pets, I have a feeling they may want to make this their new favorite spot!) This project is a little challenging to sew, but it's not too difficult, so if you're comfortable with the basics of sewing, give it a try. You can make a colorwheel effect with a range of solid colors, or choose a variety of patterned fabrics for a louder patchwork effect. Medium-weight cottons work well for this design (check out quilting shops for great selections of solids and prints).
Tutorial: how to sew a simple maxi dress. Top 100 Tutorials of 2010. Home PomPom Pillow from Living with Punks. Dip-Dye Lamp and Pillow from Design Sponge. Simple Pillowcases from Made. Craftaholics Anonymous: Tutorials.
Geometric Crochet Basket Tutorial Hey there! It's Alexis from Persia Lou back with a little crochet project. I have been loving everything black and white and geometric lately, so I decided to see how I could interpret the trend in crochet. I ended up with this little basket that is a perfect addition to my craft area, which I am currently working on organizing and sprucing up. This basket has lots of fun texture, so while it may look complex, it really only uses variations of the single crochet. Simple! Tutorial: how to sew a simple maxi dress. Sew. Free Clothes Patterns. Posted on | October 9, 2008 | 7 Comments I originally became interested in patternless sewing, many years ago, because I had a hard time finding patterns in my size. Nowadays, patterns in large sizes abound. Nonetheless, I still love my pattern free sewing. These patterns generally of three types.
One type requires you to take your measurements and draw up the pattern yourself. Rostitchery: convertible/infinity dress. Baby Gifts: Pretty Bird Binky 'Leash' & Carry Bag. 1920s - Vintage Sewing Patterns. Sewing tutorials. Using Up That Sweater.
Top 100 Tutorials of 2010. Sewing. Tutorial: how to sew a simple maxi dress. HANDKERCHIEF SKIRT. Stamped Washer Necklaces.
---