Sewing ideas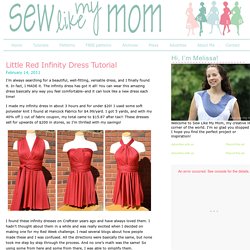 February 14, 2011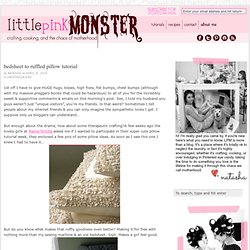 1st off I have to give HUGE hugs, kisses, high fives, fist bumps, chest bumps (although with my massive preggers boobs that could be hazardous) to all of you for the incredibly sweet & supportive comments & emails on this morning's post. See, I told my husband you guys weren't just "unique visitors", you're my friends. Is that weird?
Bedsheet to Ruffled Pillow Tutorial
Lace Up Your Shorts!
I know it's winter and wearing shorts is probably one of the last things on your mind. Here in Los Angeles, however, girls are still strutting their stuff in their short shorts, with degrees staying in the 60s during the day and dropping to the mid 40s at night. With lace shorts becoming the up-and-coming hot trend, I figured it'd be fun to post a few inspiration photos on what you can do with a little bit of time, some old jean shorts, and some lace.
Tooth Fairy Bags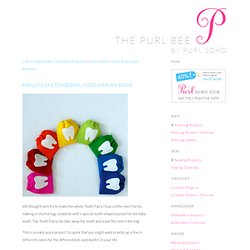 We thought we'd try to make the whole Tooth Fairy ritual a little more fun by making a colorful bag complete with a special tooth-shaped pocket for the baby tooth. The Tooth Fairy can take away the tooth and leave the loot in the bag. This is a really quick project. So quick that you might want to whip up a few in different colors for the different kids (and teeth!) in your life.
Turn a T-Shirt into a Halter Top
(this post was originally published on 29 june, 2006, with the title "one seam convertible dress".)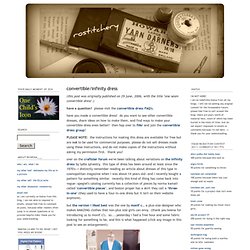 Make It and Love It: Women's Corsage Shirt
I've been drooling over the Jcrew line this fall.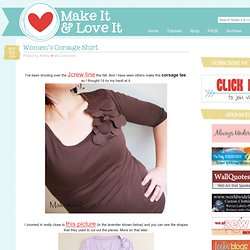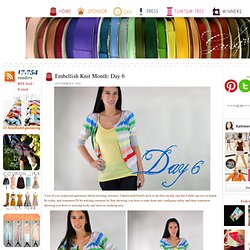 Embellish Knit Month: Day 6
A lot of you expressed questions about resizing sweaters.
kojotutorial: anthropologie inspired knotted bedding part 2 (putting it all together)
Before we get started piecing a PILE of knotted squares together, do you want the backstory on this little Anthro-inspired gem? First, you should know that I'm a bedding junkie. I LOVE wandering through Pottery Barn, Restoration Hardware, Crate and Barrel, Anthropologie (at Park Meadows in Denver, those stores are all conveniently located near each other as well) to see their bedroom displays.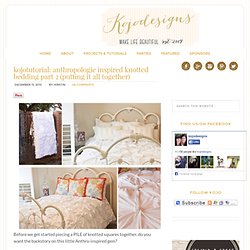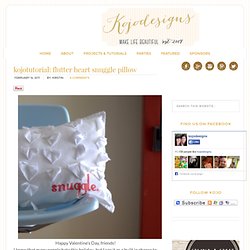 Happy Valentine's Day, friends! I know that many people hate this holiday- but I see it as a built in chance to tell my hot hubbie, my kiddos (well, mostly Burke since Piper Jane doesn't quite 'get it' yet) and my fantastic family that I love them.
kojotutorial: flutter heart snuggle pillow
ohhhhhh, i love me a good pillow!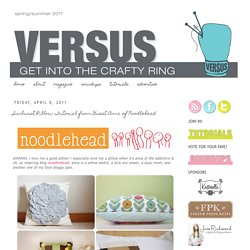 Sunburst Pillow Tutorial from Guest Anna of Noodlehead
Add a burst of color to your room with this crafty pouf! At 17" wide and 10" deep, it's large enough to serve as floor seating or a foot stool.
Jessica shares a fun how to make a fun Honeycomb Garland! Perfect for any party or gathering!
1920s - Vintage Sewing Patterns
Using Up That Sweater
Stamped Washer Necklaces