Favoritos 2.0
Create a Live internet Radio Show Free. Storybird - Artful storytelling. Dirpy - Internet DVR - YouTube to MP3 Converter and YouTube Video Downloader. Prezi - The Zooming Presentation Editor. Word Clouds for Kids! ABCya.com word clouds for kids!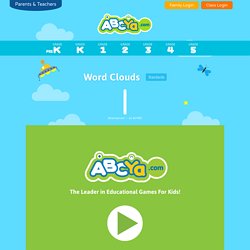 A word cloud is a graphical representation of word frequency. Type or paste text into the box below and press the arrow button to view the word cloud generated. The appearance of a word cloud can be altered using the graphical buttons above the cloud. It is also easy to save and/or print the cloud by simply pressing a button. A portion of this project is released under a BSD license - click here to learn more. Welcome to Fotobabble - Talking Photos. Online converter - convert video, images, audio and documents for free. Social Media Monitoring, Analytics and Alerts Dashboard.
Layar. Custom QR Code Generator - Free & Premium plans - Unitag. Convierta un sitio Web para móvil, Construya gratis sitios móviles, GinWiz. Portal de Actividades Educativas multimedia. Tagxedo - Word Cloud with Styles.
Slideshow Maker, Free Online Slideshows, Edit Photos. Voki Home. SoopBook | Escribe tu libro. Soluciones modernas para el antiguo arte de escribir. Weebly - Create a free website and a free blog. Pixton | Faire un dessin - Créer une BD. Make Your Images Interactive - ThingLink. Memplai.com - Collaborate. Create. View and Share. A world of music. Home - Creaza Education. SoundCloud - Share Your Sounds. Personaliza tu papel, descárgalo, imprímelo y envuelve.
Cuadernia. Bring your passions to life! - Living Junction. Gzaas! My full screen messages. Wibbitz - Text to Video. ImageChef - Customize Photos, Clip Art. Mural.ly. Lino - Sticky and Photo Sharing for you. Moodle.org: open-source community-based tools for learning.
Spicynodes : Home. Free Online Multimedia Software. iPiccy - Online Photo Editor | The best photo editing tools on the Web from Picnik! QuizBean | Quickly Create Online Quizzes For Free. PiZap - fun photo editor, free photo effects editor, collages, facebook timeline cover editor. Simple free learning tools for students and teachers | Quizlet.
ExamTime - Changing the way you learn. Bitly | ♥ your bitmarks. Blendspace - Create lessons with digital content in 5 minutes. PhotoPeach. Welcome to about.me (about dot me) Classmint. Classmint es una innovadora herramienta 2.0, puede ser muy útil para nuestras clases ya que permite elaborar tarjetas o flashcards educativas con la posibilidad de incluir información, imágenes, enlaces, etc. y compartirlas fácilmente en la red.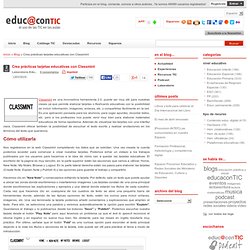 Es una aplicación pensada para los alumnos, para coger apuntes, recordar datos, etc. pero a los profesores nos puede venir muy bien para elaborar materiales educativos de forma rapidísima. Además de visualizar las tarjetas con una interfaz clara, Classmint ofrece también la posibilidad de escuchar el texto escrito y realizar anotaciones en los términos del texto que queramos. Cómo utilizarla. Secure Social Learning Network for Teachers and Students. Moovly, presentaciones y animaciones en vídeo. Moovly es una original herramienta 2.0 para crear animaciones y vídeos.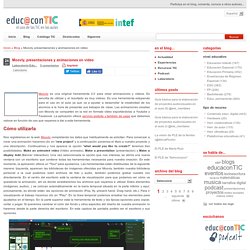 Es sencilla de utilizar y el resultado es muy vistoso. Es una herramienta estupenda para el uso en el aula ya que va a ayudar a desarrollar la creatividad de los alumnos a la hora de presentar sus trabajos de clase. Las animaciones creadas con Moovly se comparten en la red en formato vídeo exportándolas a Youtube y Facebook. Online Music Notation Software. Your music, everywhere.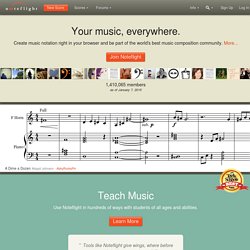 Create music notation right in your browser and be part of the world's best music composition community. More... Noteflight® is an online music writing application that lets you create, view, print and hear professional quality music notation right in your web browser. Write music on your computer, tablet or smartphone, share with other users, or embed in your own pages. Sign up for a free account, or purchase a Noteflight Crescendo subscription to take your creativity to the next level.Try the demo.
The Printliminator. Glogster: make a poster online. It's free! Give your scores a social life. Log in! Quietube | Video without the distractions | Youtube, Viddler, Vimeo and more. Dropbox - Simplify your life. MegaCloud - Home - Your files wherever you are. PDFmyURL.com - Free & Online: Convert and save PDF from any web page.
Blubbr - Play & create video trivia games. Coggle. Timeline Maker | Preceden - Make an amazing timeline in minutes. Online Jigsaw Puzzle Games. PicMark - Watermark Your Images Before Sharing. Inscription | Tumblr. Word Clouds for Kids! Popplet | Collect, curate and share your ideas, inspirations, and projects! Website Builder | Create a Free Website with Wix.com.
Make Magazines. Screenr | Instant screencasts: Just click record. Splush.
---