Social Media
Google. GSETA Conference 2010 - Social Media for Job Search. In the first part of this 2-part workshop on using free web-based technologies in One-Stop Career Centers, we focus on using various tools to support customer job search activities.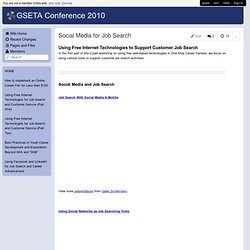 Social Media and Job Search Using Online Tools to Find and Monitor Leads. Social Media News and Web Tips – Mashable – The Social Media Guide. CAREEREALISM | Career and Job Search Blog. Find Jobs: Search Job Listings, Find Job Openings | TweetMyJobs. Better Jobs Faster | www.betterjobsfaster.org. 10 Must-Haves for Your Social Media Policy. Sharlyn Lauby is the president of Internal Talent Management (ITM) which specializes in employee training and human resources consulting.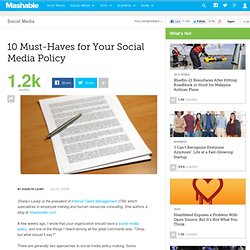 She authors a blog at hrbartender.com. A few weeks ago, I wrote that your organization should have a social media policy, and one of the things I heard among all the great comments was: "Okay, but what should it say? " There are generally two approaches to social media policy making. Some organizations handle social media in an evolutionary way. How to Use LinkedIn Company Profiles For Job Hunt, Networking CIO. CIO — As the recession turns workers of all industries into job seekers, many users of LinkedIn, the social network for professionals, have begun examining the service's free company profiles to see who recently joined (or left) organizations, prepare for interviews and learn about what skills particular employers value in prospective candidates.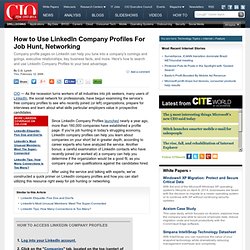 More LinkedIn coverage on CIO.com Since LinkedIn Company Profiles launched nearly a year ago, more than 160,000 companies have established a profile page. If you're job hunting in today's struggling economy, LinkedIn company profiles can help you learn about companies on your short list in greater depth, according to career experts who have analyzed the service.
Another bonus: a careful examination of LinkedIn contacts who have recently joined (or worked at) a company can help you determine if the organization would be a good fit, as you compare your own qualifications against the candidates hired.
Spokeo People Search | White Pages | Find People. Wikis for Everyone - Wikispaces. Vimeo, Video Sharing For You. Upload & Share PowerPoint presentations and documents. TwitJobSearch.com - A Job Search Engine for Twitter.
Social Jobs Partnership. BranchOut - Career Networking on Facebook. Beachlink. Relationships Matter. Welcome to Facebook - Log In, Sign Up or Learn More. Brazen Careerist | Where Ideas Are Your Resume. HOW TO: Build the Ultimate Social Media Resume. Dan Schawbel is the author of Me 2.0: Build a Powerful Brand to Achieve Career Success, and owner of the award winning Personal Branding Blog.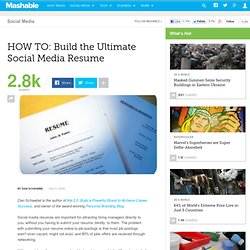 Social media resumes are important for attracting hiring managers directly to you, without you having to submit your resume, blindly, to them. The problem with submitting your resume online to job postings is that most job postings aren't even vacant, might not exist, and 80% of jobs offers are received through networking. With a social media resume, you're able to paint a completely different portrait of yourself for hiring managers and customize it to reflect your personal brand. With the inclusion of various multimedia elements, sharing options, integrated social networking feeds and the same elements you'd find in a traditional resume, you are better equipped for success. Social media has allowed us to reverse the recruiting process.
Vizibility.com.
---