Measurements Technical
The Most Adulterated Food Products: Olive Oil, Milk, Honey And More. The April issue of the Journal of Food Science analyzes the most adulterated ingredients -- in other words, the most common instances of food fraud.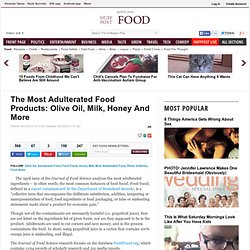 Food fraud, defined in a report commissioned by the Department of Homeland Security, is a "collective term that encompasses the deliberate substitution, addition, tampering or misrepresentation of food, food ingredients or food packaging, or false or misleading statements made about a product for economic gain. " Though not all the contaminants are necessarily harmful (i.e. grapefruit juice), they are not listed on the ingredients list of given foods, nor are they supposed to be in the product. Adulterants are used to cut corners and save money, and in the process contaminate the food. In short, using grapefruit juice in a carton that contains 100% orange juice is misleading, and illegal. The Journal of Food Science research focuses on the database FoodFraud.org, which contains 1,054 records of scholarly research and 251 media reports.
Foods to Improve Moods - Healthy Living Tips at WomansDay.com - Womans Day. While that tub of ice cream in the back of the freezer may be what you crave when you're feeling blue, there is a long list of other (healthier!)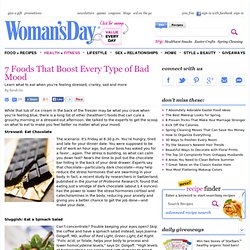 Foods that can cure a grouchy morning or a stressed-out afternoon. We talked to the experts to get the scoop on what to eat to make you feel better no matter what your mood. Stressed: Eat Chocolate The scenario: It's Friday at 6:30 p.m. You're hungry, tired and late for your dinner date. Meet the Personal Chef of Pot | Fast Company - StumbleUpon. Jonesing for some gourmet tri-tip and a solid buzz?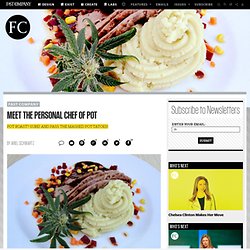 Check out Cannabis Catering, a San Francisco-based outfit that specializes in marijuana cuisine. The brainchild of Chef Frederick Nesbitt, a California Culinary Academy-trained chef who has worked as personal chef for Jerry Rice and John Madden, Cannabis Catering offers four and five-course meals laced with ganja. The idea for Cannabis Catering came to Nesbitt when he learned that his friend's diabetic mother had been diagnosed with cancer. "I would bring back edibles [from the dispensary], but they're so high in high-fructose corn syrup that she was high off sugar rather than being medicated," he says. Rotary Peeler by Damian Evans for Joseph Joseph & Yanko Design - StumbleUpon. Peeling With Three Variations There is a reason why potato peelers come with brown handles; to blend in with the peels, so that you accidentally throw it out with the trash and replace it with a new one.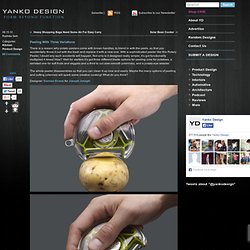 With a sophisticated peeler like this Rotary Peeler, I doubt any such accidents will happen. Not only is it designed really simple, it's got functionality multiplied 4 times! How? Commonly Used Measurements &Equivalents Article. Top 10 diet myths- part 2 | Asdfing. Let's debunk five more diet myths!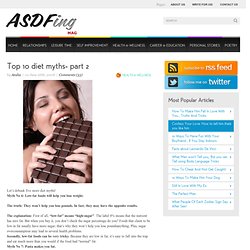 Myth No 6: Low-fat foods will help you lose weight. The truth: They won't help you lose pounds. In fact, they may have the opposite results. The explanation: First of all, "low-fat" means "high-sugar". StillTasty: Your Ultimate Shelf Life Guide - Save Money, Eat Better, Help The Environment - StumbleUpon.
---