Asian food
Get flash to fully experience Pearltrees
SLIDESHOW: Ramen Hacks: 30+ Easy Ways to Upgrade Your Instant Noodles [Photographs: J. Kenji Lopez-Alt] Ramen in the U.S. has come a long way.
March 2, 2010 nothing beats fried chicken and waffles! My love for fried chicken, much like my love for noodles, is not very discerning.
1. Add 11-18oz.(300-500g) flour in a big basin, drizzle 1/2 cup of water in occasionally, use both of your hands to make dough, knead it for 5-10 minutes until smooth (P1). Cover with a wet cloth and let stand to rise for30-60 minutes. P1 2. Cut the dough widthways in half (P2), roll out each into long rolls of 2 cm.or 3/2-inch diameter (P3). 3. Cut each lengthways into small buttons (P4), then press them by your palm (P5).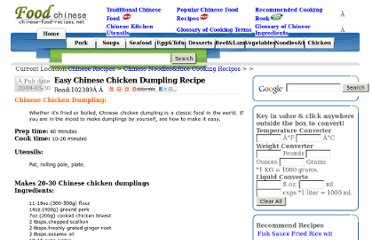 Sambhar is a South Indian dish made of toor dal , vegetables, turmeric powder, curry leaves, tamarind, cinnamon sticks, whole dried red chiles, cilantro, roasted coriander seeds and other Indian spices. It resembles a soup ; and is often served alongside idli (rice cakes) or dosa (Indian crêpe ). To make my version of sambhar , I start by boiling toor dal with a lot of vegetables, such as Indian eggplant, drumsticks, okra, carrots, turnips, pumpkin, sweet potatoes or Idaho potatoes and tomatoes, shallots and onions.
A hamburger being eaten how it should be: with your hands. Photograph: Jasper White/Getty Images I like people. Really I do. Indeed, some of my best friends are people. But as that great wit, ballroom dancer and socialite Jean-Paul Sartre once pointed out, it is also the case that "hell is other people".
At nearly any buffet or take-out place you can find General Tso's Chicken. General Tso's Chicken is a perfect combination of sweet and spicy flavors. It is a very popular dish throughout the United States and Canada. This is probably one of the best and easiest recipes around, you will be surprised at how little time it takes to prepare. I decided to get brave and use the boneless skinless chicken thighs, and I wasn't disappointed. However, If you want to use chicken breasts that would work fine as well.
Recipe by: MORPHIUS_RAE Delicious hot and sour soup does not need to be complicated. This is my quick and easy interpretation of the classic Chinese version - ready in about half an hour. Ready in 30 mins Saved by 219 cook(s) Ingredients
Traditional Thai Kitchen (Click to enlarge) Thai cuisine is adaptable, innovative and dynamic. The best Thai cooking uses the freshest ingredients available to create the unique Thai taste. Thai taste can be defined as the use of all 5 flavors: spicy, sweet, salty, bitter and sour. Only Thai cuisine brings out all of these flavors to play together harmoniously in a meal. Here in the West it may be difficult to find all the exotic ingredients used in Thai recipes, but do not despair.