Film making
666 DIY Horror Filmmaking Tutorials. It's that time of year again, so we thought it was time to update last years killer feature "Horror Filmmaking: From Script to Scream."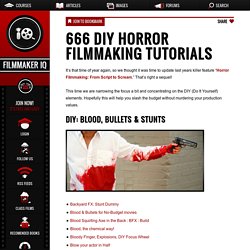 That's right a sequel! This time we are narrowing the focus a bit and concentrating on the DIY (Do It Yourself) elements. Hopefully this will help you slash the budget without murdering your production values. DIY: Blood, Bullets & Stunts DIY: Stage Effects/Green Screen. Terry Gilliam (Monty Python) Shows You How to Make Your Own Cutout Animation. Put aside 14 minutes and Terry Gilliam, the legendary Monty Python animator, will show you how to make your own cutout animations.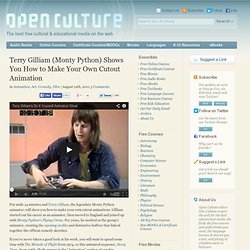 Gilliam started out his career as an animator, then moved to England and joined up with Monty Python's Flying Circus. For years, he worked as the group's animator, creating the opening credits and distinctive buffers that linked together the offbeat comedy sketches. If you've never taken a good look at his work, you will want to spend some time with The Miracle of Flight from 1974, or this animated sequence, Story Time, from 1968.
(Both appear in the "Animation" section of our big collection of Free Movies Online. SpliceVine. Montblanc - The beauty of a second challenge. FilmSound.org: dedicated to the Art of Film Sound Design & Film Sound Theory. A Tripod-On-Skates Lets Amateurs Pull Off Hollywood-Quality Camera Moves | Co. Design. What's the difference between a compelling, immersive short film and a throwaway piece of sub-viral crap?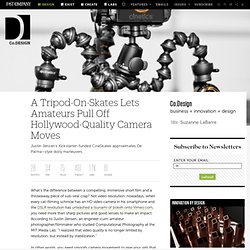 Not video resolution: nowadays, when every cat-filming schmoe has an HD video camera in his smartphone and the DSLR revolution has unleashed a tsunami of bokeh onto Vimeo.com, you need more than sharp pictures and good lenses to make an impact. According to Justin Jensen, an engineer-cum-amateur photographer/filmmaker who studied Computational Photography at the MIT Media Lab, "I realized that video quality is no longer limited by resolution, but instead by stabilization. " In other words, you need smooth camera movement to give your vids that juicy sheen of production value. But since Jensen couldn't afford a SteadiCam, he invented CineSkates: a tiny, inexpensive, portable, expandable camera-movement platform based on Joby's Gorillapod.
Crewger :: Home. Celtx script writing software. The DIY Filmmaker's Toolkit.
---