Maragrows
SchoolTube. The best videos from schools everywhere.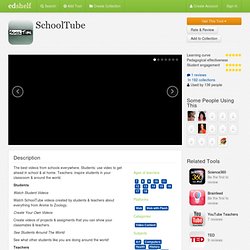 Students: use video to get ahead in school & at home. Teachers: inspire students in your classroom & around the world. Students Watch Student Videos. Differentiating Instruction: Meeting Students Where They Are, Teaching Today. Differentiating Instruction: Meeting Students Where They Are No two students enter a classroom with identical abilities, experiences, and needs.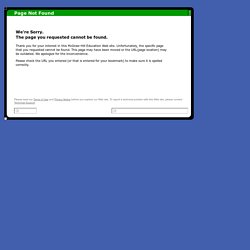 Learning style, language proficiency, background knowledge, readiness to learn, and other factors can vary widely within a single class group. Regardless of their individual differences, however, students are expected to master the same concepts, principles, and skills. Jessica Jimenez : Presentation Handout. Why teach inductively?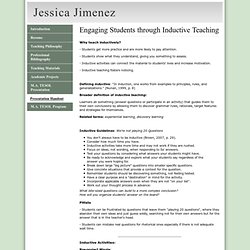 - Students get more practice and are more likely to pay attention. - Students show what they understand, giving you something to assess. - Inductive activities can connect the material to students' lives and increase motivation. - Inductive teaching fosters noticing. Disruptive Innovation: Higher Education. Last week, former Silicon Valley CEO Ben Nelson announced that he has raised $25 million to start an "elite university" which would exist exclusively online.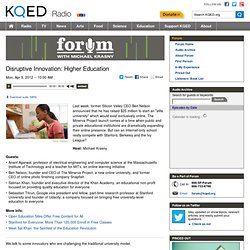 The Minerva Project launch comes at a time when public and private educational institutions are dramatically expanding their online presence. But can an Internet-only school really compete with Stanford, Berkeley and the Ivy League? We talk to some innovators who are challenging the traditional university model. How Schools Can Teach Innovation. Empowering the Language Learner | The New School. English Pronunciation - CAN & CAN'T. English Pronunciation - 4 Common Mistakes. Teaching Pronunciation: Seven Essential Concepts | The New School. Play and Affect in Language Learning. Written by: Joel Bacha MATESOL / International Policy Studies candidate Educational Development Monterey Institute of International Studies Teaching English in Japanese elementary schools for four years allowed me to experiment with a number of music, game, and total physical response (TPR) activities.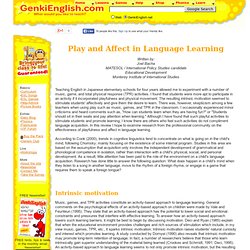 I found that students were more apt to participate in an activity if it incorporated playfulness and physical movement. The resulting intrinsic motivation seemed to stimulate students' affectively and give them the desire to learn. Soviet Psychology: The Vygotsky Internet Archive. "'Marxist' psychology ... is developing before our eyes, ... it does not yet have its own methodology and attempts to find it ready-made in the haphazard psychological statements of the founders of Marxism, not to mention the fact that to find a ready-made formula of the mind in the writings of others would mean to demand 'science before science itself.".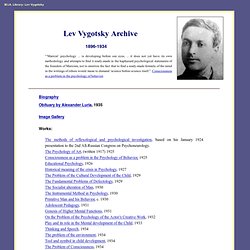 Consciousness as a problem in the psychology of behavior. BiographyObituary by Alexander Luria, 1935 Image Gallery. Maria Montessori. Maria Tecla Artemesia Montessori (Italian pronunciation: [maˈria montesˈsɔri]; August 31, 1870 – May 6, 1952) was an Italian physician and educator best known for the philosophy of education that bears her name, and her writing on scientific pedagogy.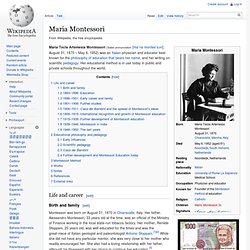 Her educational method is in use today in public and private schools throughout the world. Life and career[edit] Birth and family[edit] Play: How it Shapes the Brain, Opens the Imagination, and Invigorates the Soul: M.D., Stuart Brown, Christopher Vaughan. Why Use Games for Teaching English as a Second or Foreign Language? Ersoz - Six Games for the EFL/ESL Classroom. The Internet TESL Journal Aydan Ersözaersoz [at] server.gef.gazi.edu.trGazi University (Ankara, Turkey) Well-chosen games are invaluable as they give students a break and at the same time allow students to practice language skills.
This paper provides some sample games that can be used in the language classroom. Encyclopedia of Improv Games. Boudreault - The Benefits of Using Drama in the ESL/EFL Classroom. The Internet TESL Journal Chris Boudreaultsolartrees [-at-] gmail.com(Lac La Biche, Canada) As an English teacher, I have often been amazed at how effective drama is to capture the attention of the students in the ESL/EFL classroom.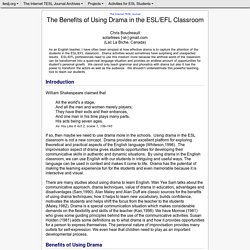 Drama activities would sometimes have surprising and unexpected results. ESL/EFL professionals need to use this medium more because the artificial world of the classroom can be transformed into a quasi-real language situation and provides an endless amount of opportunities for student's personal growth. We cannot only teach grammar and phonetics with drama but also it has the power to transform the actors as well as the audience. Play's Unfortunate Reputation | Playborhood. NOTE: This is the first of a three-part series on the value of play, by Robert Hess.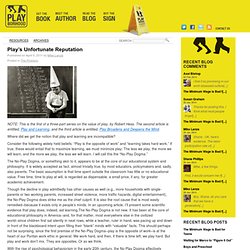 The second article is entitled, Play and Learning, and the third article is entitled, Play Broadens and Deepens the Mind. Where did we get the notion that play and learning are incompatible? Consider the following widely held beliefs: "Play is the opposite of work" and "learning takes hard work."
Capstone. There Is No Such Thing as THE Flipped Class. The term "Flipped Classroom" is being thrown around a lot lately in both positive and negative light. I think the term is a bit ambiguous and does not fully do justice to all that is being done under the guise of the Flipped Classroom. My colleague, Jon Bergmann, and I have a book coming out soon that I hope brings clarity to what most of us mean by "The Flipped Classroom. " In the mean time, I hope to shed some light on some of the confusion, critique, and hype. 1. What's in a name? The Flipped Classroom: Answering Obama's Call For Creativity In Education. As a sophomore and junior at Clintondale High School in suburban Detroit, Dominique Moody was barely squeaking by, getting Ds in geometry and algebra.
He was not alone: two years ago, the average failure rate was 61% at the financially disadvantaged school, where three quarters of its 570 students qualify for free lunches. But last fall, everything changed. The school inversed its teaching model, assigning students short, instructional videos to watch before class and then, at school, helping them practice problems that ordinarily would have been assigned as homework.
Dominique's math teacher, Richard Filbey, captured his short, step-by-step advanced algebra lectures on videos for students to watch at their own pace on computers, mobile phones, or tablets. The "flipped classroom" at Clintondale might just be a way to implement President Obama's call in his recent State of the Union Address to "grant schools flexibility to teach with creativity and passion; to stop teaching to the test." Flipped Learning | Turning Learning on Its Head! A Look Inside - Flipped. Posted By Meris Stansbury On February 9, 2012 @ 2:39 pm In Curriculum,eClassroom News,school reform,School Reform News,Top News | Teachers say that even though the pilot is over, they won't go back to the old way of teaching.
There have been many school reform trends over the past few years: student response systems, video games for math, mobile phones for learning—but none have completely transformed the notion of learning like the flipped classroom. Flipped learning [2], in essence, turns the idea of traditional classroom instruction on its head by asking students to watch videos of teacher lectures for homework, then apply the lesson with the teacher in the classroom. Using this method, proponents say, teachers have the opportunity to help students learn as individuals, and students can learn concepts more quickly.
Moodle.org: open-source community-based tools for learning. Katie Gimbar's Flipped Classroom - why it has to be me! What About Students With No Access? - FAQ - Katie Gimbar's Flipped Classroom. Katie Gimbar's Flipped Classroom - why it has to be me! Katie Gimbar's Flipped Classroom - why it has to be me! Katie Gimbar's Flipped Classroom - why it has to be me! Friday Institute for Educational Innovation - FIZZ. Concluded in August, 2013. The FIZZ method refers to the use of extraordinarily simple video recording techniques that educators can use to transform teaching and learning.
This method can be used to successfully flip the classroom by having teachers film and reflect on their lecture content. These teacher-created videos give students the ability to watch the lecture outside of the classroom, freeing up class time that can be used to challenge students to think critically and creatively. Khan academy • ESL Techies. Why the blended learning model is a good choice One of the latest trends in the education world is blended learning. So what is blended learning and how can it help English Language Learners? The term blended learning has been used in education for many years.
Web 2.0 for EFL / ESL Teachers. 2 Weeks In and... - Teacher Vodcasting and Flipped Classroom Network. Web 2.0 for EFL / ESL Teachers - Teacher Vodcasting and Flipped Classroom Network. Capstone. Top Ed-Tech Trends of 2011: The Higher Education Bubble.
Let's Hack Education. Sam Harris on the Future of the Book. The Very Real Danger of Genetically Modified Foods - Ari LeVaux - Health. The CLP » Home. Fun/Cool Stuff. Hypermedia. System : Hypermedia reading strategies employed by advanced learners of English. Journal - CALICO. A Digital Literacy for Everyone: S. Craig Watkins, Douglas Rushkoff, John Jones and Barbara Fister.
Push Pop Press — About Us. Digital Storytelling in the Classroom: New Media Pathways to Literacy, Learning and Creativity. Inkling 2.0: When a Textbook Becomes More Than a Textbook. Khan Academy. The CLP » Home. Index. How Online Education Is Changing the Way We Learn [INFOGRAPHIC] Closing Digital Divide, Expanding Digital Literacy. Digital Textbooks Slow to Catch On. Inkling - Interactive textbooks for iPad. Smarthistory: a multimedia web-book about art and art history. Journal of Educational Multimedia and Hypermedia (JEMH) AACE - Association for the Advancement of Computing in Education.
---