Maragrows
SchoolTube | edshelf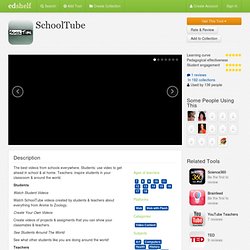 The best videos from schools everywhere.
Differentiating Instruction: Meeting Students Where They Are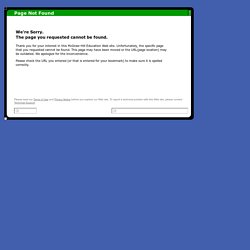 Why teach inductively?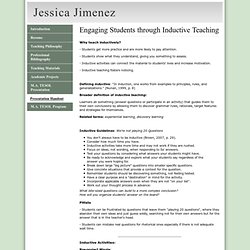 Jessica Jimenez : Presentation Handout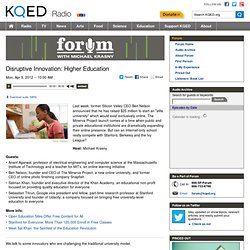 Last week, former Silicon Valley CEO Ben Nelson announced that he has raised $25 million to start an "elite university" which would exist exclusively online.
Disruptive Innovation: Higher Education
How Schools Can Teach Innovation
Empowering the Language Learner | The New School
English Pronunciation - CAN & CAN'T
English Pronunciation - 4 Common Mistakes
Teaching Pronunciation: Seven Essential Concepts | The New School
Play and Affect in Language Learning
Written by: Joel Bacha MATESOL / International Policy Studies candidate Educational Development Monterey Institute of International Studies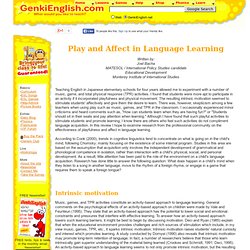 "'Marxist' psychology ... is developing before our eyes, ... it does not yet have its own methodology and attempts to find it ready-made in the haphazard psychological statements of the founders of Marxism, not to mention the fact that to find a ready-made formula of the mind in the writings of others would mean to demand 'science before science itself.".
Soviet Psychology: The Vygotsky Internet Archive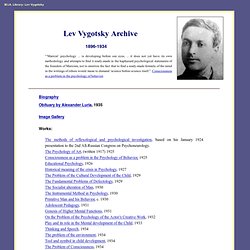 Maria Montessori
Maria Tecla Artemesia Montessori (August 31, 1870 – May 6, 1952) was an Italian physician and educator best known for the philosophy of education that bears her name, and her writing on scientific pedagogy.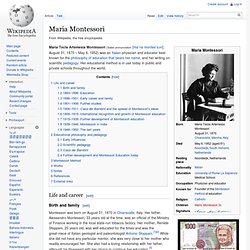 Play: How it Shapes the Brain, Opens the Imagination, and Invigorates the Soul: M.D., Stuart Brown, Christopher Vaughan
Why Use Games for Teaching English as a Second or Foreign Language?
Ersoz - Six Games for the EFL/ESL Classroom
The Internet TESL Journal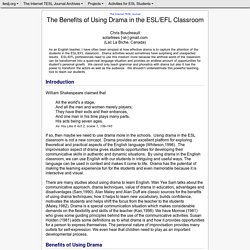 Boudreault - The Benefits of Using Drama in the ESL/EFL Classroom
The Internet TESL Journal Chris Boudreaultsolartrees [-at-] gmail.com(Lac La Biche, Canada)
NOTE: This is the first of a three-part series on the value of play, by Robert Hess.
Play's Unfortunate Reputation | Playborhood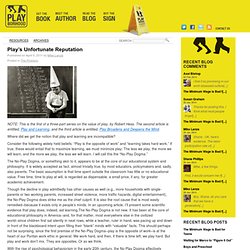 The term "Flipped Classroom" is being thrown around a lot lately in both positive and negative light. I think the term is a bit ambiguous and does not fully do justice to all that is being done under the guise of the Flipped Classroom.
There Is No Such Thing as THE Flipped Class
The Flipped Classroom: Answering Obama's Call For Creativity In Education
As a sophomore and junior at Clintondale High School in suburban Detroit, Dominique Moody was barely squeaking by, getting Ds in geometry and algebra. He was not alone: two years ago, the average failure rate was 61% at the financially disadvantaged school, where three quarters of its 570 students qualify for free lunches.
A Look Inside - Flipped
Posted By Meris Stansbury On February 9, 2012 @ 2:39 pm In Curriculum,eClassroom News,school reform,School Reform News,Top News | Teachers say that even though the pilot is over, they won't go back to the old way of teaching.
Katie Gimbar's Flipped Classroom - why it has to be me!
What About Students With No Access? - FAQ - Katie Gimbar's Flipped Classroom
Katie Gimbar's Flipped Classroom - why it has to be me!
Katie Gimbar's Flipped Classroom - why it has to be me!
Katie Gimbar's Flipped Classroom - why it has to be me!
Concluded in August, 2013.
khan academy • ESL Techies
Why the blended learning model is a good choice
Web 2.0 for EFL / ESL Teachers
2 Weeks In and... - Teacher Vodcasting and Flipped Classroom Network
Web 2.0 for EFL / ESL Teachers - Teacher Vodcasting and Flipped Classroom Network
Top Ed-Tech Trends of 2011: The Higher Education Bubble
Sam Harris on the Future of the Book
The CLP » Home
Hypermedia
System : Hypermedia reading strategies employed by advanced learners of English
Journal - CALICO
A Digital Literacy for Everyone: S. Craig Watkins, Douglas Rushkoff, John Jones and Barbara Fister
Push Pop Press — About Us
Digital Storytelling in the Classroom: New Media Pathways to Literacy, Learning and Creativity
Inkling 2.0: When a Textbook Becomes More Than a Textbook
The CLP » Home
index
Closing Digital Divide, Expanding Digital Literacy
Digital Textbooks Slow to Catch On
Journal of Educational Multimedia and Hypermedia (JEMH)
AACE - Association for the Advancement of Computing in Education