Vegetarian
Creamy Caprese Pasta. Black Bean-Quinoa Burgers Recipe. Nutritional information Serves 8 Here's a delicious veggie burger you can whip up from scratch.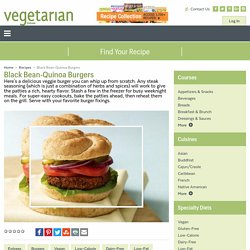 Any steak seasoning (which is just a combination of herbs and spices) will work to give the patties a rich, hearty flavor. Stash a few in the freezer for busy weeknight meals. For super-easy cookouts, bake the patties ahead, then reheat them on the grill. Spinach & Lemon Quinoa Bake. I came across this recipe and just knew I had to make it vegan.
After a few modifications, it's now an awesome vegan dish that is even easier to put together than the original recipe. Recipe Notes I replaced the cottage cheese and eggs with vegan sour cream and Ener-G egg replacer . I left the breadcrumbs out to make it lighter/healthier, and everything still holds together nicely. I added lemon zest, which results in such a fresh flavor.
Vegetarian Recipes. Spicy Buffalo Cauliflower 'Wings' Looking for a healthier (and kinder) alternative to chicken wings?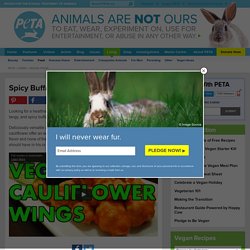 Try these juicy, tangy, and spicy buffalo cauliflower "wings"! Deliciously versatile and with just enough "kick," these bite-sized pieces of cauliflower offer an eerily similar experience to eating chicken wings. With all the flavor and none of the guilt, this is a secret-weapon recipe that every vegan cook should have in his or her kitchen. Card Search - Search: "Modern" The Meatless Challenge: 7 Vegetarian Meals for $10 or Less. Photo: sarniebill1 With so many laudable but expensive food movements like buying organic and fair trade, you've got to love one that cuts your grocery bill.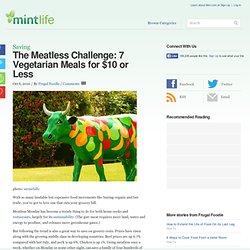 Meatless Monday has become a trendy thing to do for both home cooks and restaurants, largely for its sustainability. (The gist: meat requires more land, water and energy to produce, and releases more greenhouse gases.) Chinese Crispy Fried Tofu with Sweet Chili Sauce Recipe. It feels like yesterday, but the memory is fresh.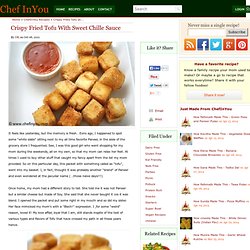 Eons ago, I happened to spot some "white slabs" sitting next to my all time favorite Paneer, in the aisle of the grocery store I frequented. See, I was this good girl who went shopping for my mom during the weekends, all on my own, so that my mom can relax her feet. Vegetarian. Cold Sesame Noodles March 11, 2014 Cold Sesame Noodles Serves 2 to 3 Adapted from Saveur Ingredients: ½ lb whole wheat spaghetti, cooked al dente, according to package directions (soba noodles also work, but I find they have a slightly bitter after-taste that's distracting) – $2.19 4 Tablespoons sesame oil, divided – stock 2 Tablespoons low-sodium soy sauce – stock 1 […] Read the full article →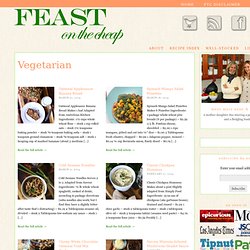 Zucchini Pancakes with Sriracha Sour Cream | The Chefanies. This Zucchini Pancakes recipe is one of my originals.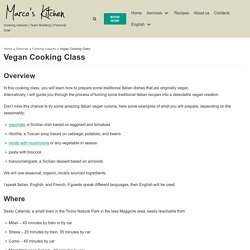 I have been making them since I started really cooking healthy last year. I am amazed by how many you can eat for like NO calories. I mean obviously there are some calories but very few. Weekday Vegetarian: Spinach and Avocado Salad with Garlic Mustard Vinaigrette. Jaymi's Notes:I can never turn down a recipe that calls for avocado.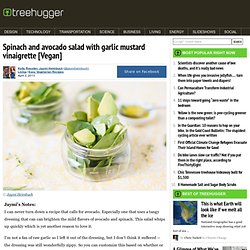 Especially one that uses a tangy dressing that can can brighten the mild flavors of avocado and spinach. This salad whips up quickly which is yet another reason to love it. I'm not a fan of raw garlic so I left it out of the dressing, but I don't think it suffered -- the dressing was still wonderfully zippy. So you can customize this based on whether or not you enjoy such a strong (and lasting) flavor. Best Make-Ahead Meals. Lunch Recipes: Vegetarian Lunch Sandwich Recipes - Martha Stewart. White Pizza with Spinach and Tomatoes. With my last pizza creation, my chicken teriyaki pizza, I broke my pizza stone.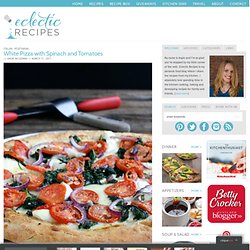 I had got that stone from Pampered Chef a few years ago, and have never been thrilled with the results. I am kind of glad it broke, but it's not like I intentionally threw it on the floor or something. I didn't carelessly toss it in the sink, or even slam it on the counter. Say 'Yes' to Pesto. The following article was written by Keegan Baur.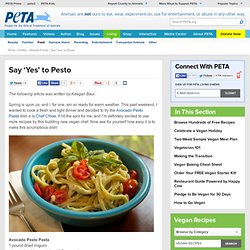 Spring is upon us, and I, for one, am so ready for warm weather. This past weekend, I wanted to cook a fresh and light dinner and decided to try the Avocado Pesto Pasta dish à la Chef Chloe. It hit the spot for me, and I'm definitely excited to use more recipes by this budding new vegan chef. Asparagus Gruyere Tart | The Chefanies. I always thought puff pastry was for the real "experienced" chef. You know, the ones who go to culinary or baking school. I was wrong. Sauteed Vegetable Gyros | The Family Kitchen. As a teenager my husband worked as a stage-hand in a night club where they use to give them one meal voucher a night. And the meal was for a gyro. He use to live off of them when he was working at the night club. Later one, we use to go out for gyros to a local Greek restaurant when I was working full-time.
Although I have always loved gyros, I never really liked the meat, I just like alot of vegetables. Mouthful - Frugal Feasts: Broccoli and Cheese calzones. I'm a day late on Frugal Feasts. My apologies; although I doubt you guys have been eagerly waiting for its arrival. I wanted to offer another vegetarian recipe because eating a few meatless meals each week is a definite way to be more frugal. I grabbed Mollie Katzen's latest book, "Get Cooking," off the shelf. It is a good primer for the person in your life learning to cook. Her recipes give very explicit basic instructions for the newbie in the kitchen. Greek Style Mac and Cheese | Steamy Kitchen. Monday, March 28, 2011 Greek Style Mac 'n Cheese Introducing the McGowan family! Angie and her family are fellow Floridians and they publish the popular Eclectic Recipes blog and the fact that she has a recipe category called "Spanglish" wins my heart. Guest Post: Jessica of 'How Sweet It Is' Presents Roasted Garlic, Red Pepper and Mushroom Quinoa.
One of my favorite ways to make a dish taste indulgent without lots of calories is to add roasted garlic. When roasted, garlic becomes caramelized, sweet and buttery, adding a burst of flavor to any dish. Recently, I paired it with the protein-packed grain, quinoa, which has become a favorite in our house. Along with caramelized red peppers and sautéed mushrooms, this mix has become a staple during our busy weeks. Frankel :: NY Times Best Seller & Celebrity Natural Food Chef. Black Bean and Guac Burrito – Naturally Ella.
Vegetarian Pho (Vietnamese Noodle Soup) | Apartment Therapy The Kitchn. Love That Quinoa Burger! «
---