Nature & Conservation
Part of Nature cartoon by Stuart McMillen - Recombinant Records. This cartoon is heavily influenced by the books Natural Capitalism - Paul Hawken, Amory Lovins and Hunter Lovins (1999) and Mid-Course Correction - Ray Anderson (1998).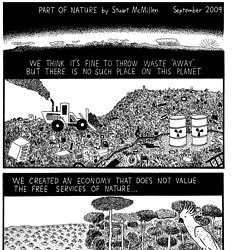 It is also in the same vein as the flash animation "The Story of Stuff" by Annie Leonard, which I watched when I was about 90% of the way through the drawing process. Back to post / website. View/add comments for this article.Part of Nature by Stuart McMillen. Rainforest conservation in action with the World Land Trust, international wildlife conservation organisation World Land Trust. Care2 - largest online community for healthy and green living, human rights and animal welfare. Peaceful Uprising. Tackling Climate.
---