Meals
Ramen Hacks: 30+ Easy Ways to Upgrade Your Instant Noodles. SLIDESHOW: Ramen Hacks: 30+ Easy Ways to Upgrade Your Instant Noodles [Photographs: J.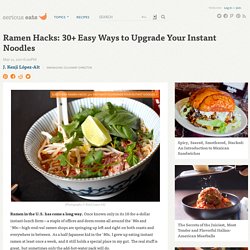 Kenji Lopez-Alt] Ramen in the U.S. has come a long way. Once known only in its 10-for-a-dollar instant-lunch form—a staple of offices and dorm rooms all around the '80s and '90s—high-end real ramen shops are springing up left and right on both coasts and everywhere in between. As a half-Japanese kid in the '80s, I grew up eating instant ramen at least once a week, and it still holds a special place in my gut.
The Hazel Bloom: The Best Macaroni and Cheese Recipe Ever. I can say this is the best macaroni and cheese recipe ever because it's not really my recipe.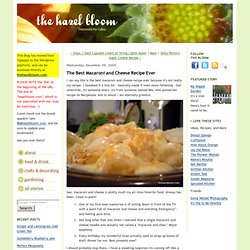 I tweaked it a tiny bit - basically made it even more fattening - but otherwise, it's someone else's. It's from someone named Bev, who posted her recipe on Recipezaar and to whom I am eternally grateful. See, macaroni and cheese is pretty much my all-time favorite food. Always has been. Macaroni & Cheese. There's nothing that can be said.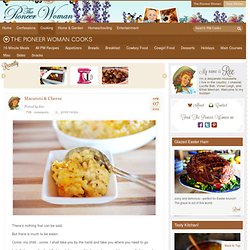 But there is much to be eaten. Come, my child…come. I shall take you by the hand and take you where you need to go. I shall show you the food that is solely responsible for my bones and tissues multiplying and growing at a young age. It's macaroni and cheese. Cruft: Lasagna Cupcakes. When Intelligentsia Coffee opened in Pasadena recently, I was intrigued the lasagna cupcakes they served.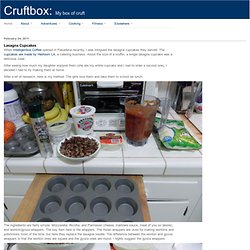 The cupcakes are made by Heirloom LA, a catering business. About the size of a muffin, a single lasagna cupcake was a delicious meal. After seeing how much my daughter enjoyed them (she ate my entire cupcake and I had to order a second one), I decided I had to try making them at home. After a bit of research, here is my method. The girls love them and take them to school as lunch. How to Make Crêpes Without a Crêperie. A brief tutorial on how to make crêpes at home, no crêperie required.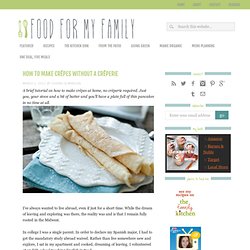 Just you, your stove and a bit of batter and you'll have a plate full of thin pancakes in no time at all. I've always wanted to live abroad, even if just for a short time. While the dream of leaving and exploring was there, the reality was and is that I remain fully rooted in the Midwest.In college I was a single parent. In order to declare my Spanish major, I had to get the mandatory study abroad waived. Rather than live somewhere new and explore, I sat in my apartment and cooked, dreaming of leaving.
---