Video and conference
Get flash to fully experience Pearltrees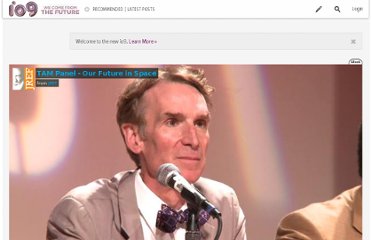 Just to throw this half formed idea out there. When I think of Neil Armstrong, or imagine the day when man steps onto the surface of Mars for the first time - there is a powerful, compelling impulse to know what it would be like - not only to be there, but to actually *be* that person, taking that first step - to not only see something from a genuinely new perspective for the first time, but to be the first person to do so. I have no reason to doubt that this is a reaction common to most of us - the need to participate, to live vicariously, to be a witness to history, to be able to say "I was there" - to drive hundreds of miles to see the Apollo 11 launch, to see the last Shuttle touchdown, for an eleven year boy saying " "I want to be Neil Armstrong when I grow up".
Video: Monkey brainwaves control avatar
Presumably if there were some sort of image in the background, you could see that this was turning the sheet into a mirror.
Sandrine Ceurstemont, editor, New Scientist TV You've probably heard of Schrödinger's cat , the famous thought experiment that illustrates the paradox of quantum mechanics when applied to everyday objects. In our latest One-Minute Physics animation, illustrator Henry Reich takes us through the experiment drawing by drawing and explains how it relates to unanswered questions in quantum physics.
Astronomy & Space Travel A Brief, Wondrous Tour of Earth (From Outer Space) - Video - Recorded from August to October, 2011 at the International Space Station, this HD footage offers a brilliant tour of our planet and stunning views of the aurora borealis.
Video of the Week #5, August 24, 2011
Estamos en el siglo del cerebro . Ése gran desconocido. El cerebro siempre ha sido un órgano esquivo, pero empezamos a entender cómo funciona, lo cual puede abrirnos posibilidades inimaginables a medio plazo.