Video and conference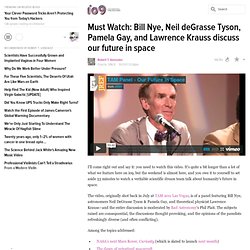 Just need to rebut that very last point Mr Tyson made before the video ended. Yes, deflecting asteroids probably takes less energy and effort than traveling to another solar system, or terraforming mars. However, those methods of colonization are not the logical first step to take.
Must Watch: Bill Nye, Neil deGrasse Tyson, Pamela Gay, and Lawrence Krauss discuss our future in space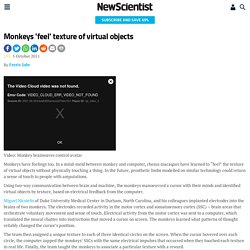 Video: Monkey brainwaves control avatar
Monkeys 'feel' texture of virtual objects - life - 05 October 2011
How an Underwater "Invisibility Cloak" Makes Solid Objects Disappear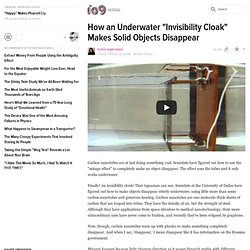 Carbon nanotubes are at last doing something cool.
New Scientist TV: One-Minute Physics: Is Schrödinger's cat dead or alive?
Astronomy & Space Travel A Brief, Wondrous Tour of Earth (From Outer Space) - Video - Recorded from August to October, 2011 at the International Space Station, this HD footage offers a brilliant tour of our planet and stunning views of the aurora borealis.A Universe from Nothing - Video – In 53 minutes, theoretical physicist Lawrence Krauss answers some big enchilada questions, including how the universe came from nothing.A Year of the Moon in 2.5 Minutes – Video – The Lunar Reconnaissance Orbiter has been orbiting the moon for over a year.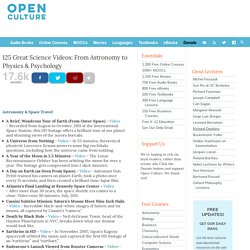 An Epic Tour of Life's History | Video of the Week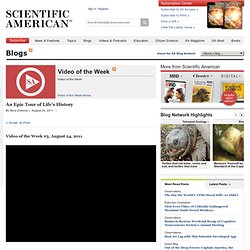 Video of the Week #5, August 24, 2011
Scientists have recorded the first experimental evidence that elephants experience "eureka!" moments
Elephants have always been recognized as intelligent, but the spark of insight — the ability to suddenly arrive at the solution to a problem by running problem-solving scenarios in your head (as opposed to repeated attempts at trial and error) — is something that has never been observed experimentally in the brainy pachyderms. But now, a young Asian elephant named Kandula at the National Zoo in Washington, D.C. has been spied experiencing what researchers are calling an "aha" moment — what they say is the first experimental evidence that an elephant is capable of insightful problem solving. The video up top shows Kandula's very first, insightful use of a cube as a tool to reach an otherwise unreachable branch.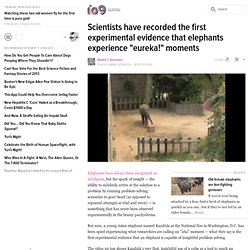 Tech: Mind-Controlled Robot Uses Human Brainwaves : Video
10 conferencias sobre el cerebro que no puedes perderte
Estamos en el siglo del cerebro. Ése gran desconocido. El cerebro siempre ha sido un órgano esquivo, pero empezamos a entender cómo funciona, lo cual puede abrirnos posibilidades inimaginables a medio plazo.