Biographies & Wikis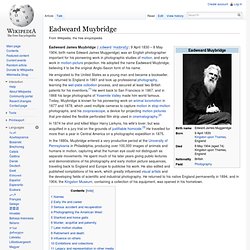 In his earlier years in San Francisco, Muybridge had become known for his landscape photography, particularly of the Yosemite Valley. He also photographed the Tlingit people in Alaska, and was commissioned by the United States Army to photograph the Modoc War in 1873. In 1874 he shot and killed Major Harry Larkyns, his wife's lover, but was acquitted in a jury trial on the grounds of justifiable homicide.[2] He travelled for more than a year in Central America on a photographic expedition in 1875.
Eadweard Muybridge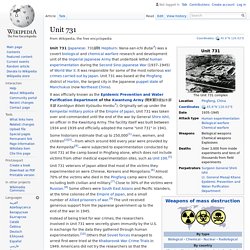 Unit 731
Unit 731 (731部隊, Shichi-san-ichi butai?, Chinese: 731部队) was a covert biological and chemical warfare research and development unit of the Imperial Japanese Army that undertook lethal human experimentation during the Second Sino-Japanese War (1937–1945) and World War II.
Anaximander (/əˌnæksɨˈmændər/; Greek: Ἀναξίμανδρος Anaximandros; c. 610 – c. 546 BC) was a pre-Socratic Greek philosopher who lived in Miletus,[1] a city of Ionia; Milet in modern Turkey.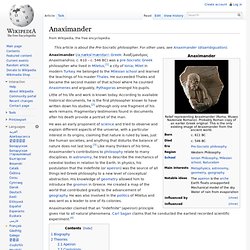 Anaximander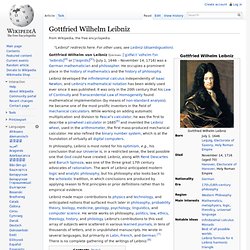 Gottfried Wilhelm von Leibniz (German: [ˈɡɔtfʁiːt ˈvɪlhɛlm fɔn ˈlaɪbnɪts][4] or [ˈlaɪpnɪts][5]) (July 1, 1646 – November 14, 1716) was a German mathematician and philosopher.
Best of all possible worlds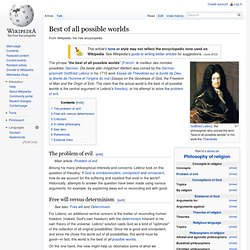 The phrase "the best of all possible worlds" (French: le meilleur des mondes possibles; German: Die beste aller möglichen Welten) was coined by the German polymath Gottfried Leibniz in his 1710 work Essais de Théodicée sur la bonté de Dieu, la liberté de l'homme et l'origine du mal (Essays on the Goodness of God, the Freedom of Man and the Origin of Evil). The claim that the actual world is the best of all possible worlds is the central argument in Leibniz's theodicy, or his attempt to solve the problem of evil.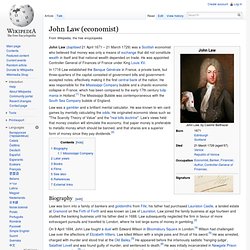 John Law (economist)
John Law (baptised 21 April 1671 – 21 March 1729) was a Scottish economist who believed that money was only a means of exchange that did not constitute wealth in itself and that national wealth depended on trade. He was appointed Controller General of Finances of France under King Louis XV.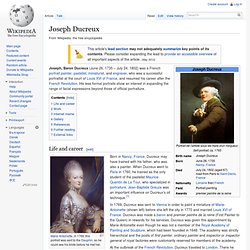 Joseph, Baron Ducreux (June 26, 1735 – July 24, 1802) was a French portrait painter, pastelist, miniaturist, and engraver, who was a successful portraitist at the court of Louis XVI of France, and resumed his career after the French Revolution.
Joseph Ducreux
Biography[edit]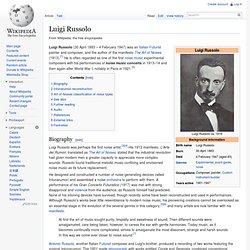 Luigi Russolo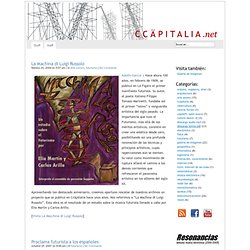 por Luigi Russolo, Milán 11 de Marzo 1913
El Arte de los Ruidos - Luigi Russolo
Gagarin became an international celebrity, and was awarded many medals and titles, including Hero of the Soviet Union, the nation's highest honour.
Yuri Gagarin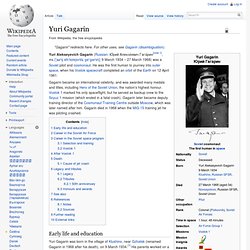 Maurits Cornelis Escher (/ˈɛʃər/, Dutch: [ˈmʌurɪts kɔrˈneːlɪs ˈɛʃər] (
The mysterious disappearance (or not) of the physicist who discovered neutrons (or not).
Although at the time of his disappearance, no one had conceived that an atomic bomb was possible, some biographers have posited that Majorana was quietly a few steps ahead of everyone and wanted no part of what was to come.
Les Paul, de nombre real Lester William Polsfuss (Waukesha, Wisconsin, Estados Unidos, 9 de junio de 1915 - Nueva York, Estado de Nueva York, 13 de agosto de 2009), fue un guitarrista de jazz estadounidense y una de las más importantes figuras en el desarrollo de instrumentos musicales eléctricos y técnicas de grabación.
Les Paul
Utah teapot
History[edit]
Genie (born 1957) is the pseudonym of a feral child who was the victim of extraordinarily severe abuse, neglect and social isolation. Her circumstances are recorded prominently in the annals of abnormal child psychology.[2] Born in Arcadia, California, United States, Genie was locked alone in a room from the age of 20 months to 13 years, 7 months, almost always strapped to a child's toilet or bound in a crib with her arms and legs completely immobilized.
Victor of Aveyron
Raymond Robinson (Green Man)