Funny Stuff
Australian Troll
E-mails from an Asshole
Hi! You need Japanese translate? I Chan, I help you with translate. - Chan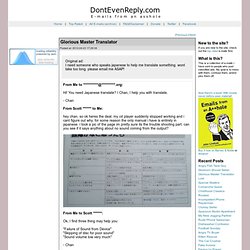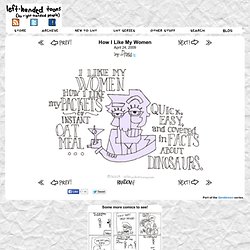 Invisible Bread's One Year Anniversary! April 11th, 2012 Yup! It's been one year since I announced and launched Invisible Bread !
How I Like My Women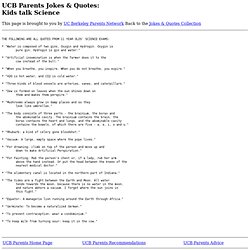 This page is brought to you by UC Berkeley Parents Network Back to the Jokes & Quotes Collection THE FOLLOWING ARE ALL QUOTES FROM 11 YEAR OLDS' SCIENCE EXAMS: * "Water is composed of two gins, Oxygin and Hydrogin. Oxygin is pure gin.
Picture Prank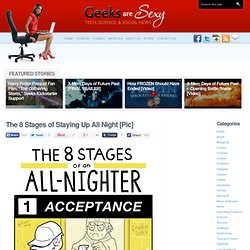 This only applies to subjects that have a lot of papers, mostly the Humanities, Philosophy, Theology, History, English, Literature, Communications, etc. Next in line would be the Social Sciences, Economics, Sociology, Psychology, Political Science (Actually, PolSci belongs with the Humanities in terms of amount of papers since it's closely related to Philosophy), etc. Last in line would be Management (Accounting, Finance, Engineering Management, Accounting Management, Financial Management, Office Management, Applied Chemistry in Management, etc) and the Physical Sciences (Computer Science, Theoretical Physics, Experimental Physics, Mathematics, Actuarial Science, Computational Science, Biology, Financial Mathematics, Material Science, Chemistry, Information Technology, all of Engineering, etc). Am I right? In fact, I think Mathematics and closely-related fields can be separated from the other Physical Sciences (Oh wait, Mathematics ISN'T a Physical Science, is it?