Fun stuffs
Personal Development for Smart People - Steve Pavlina. The Courage to Live Consciously by Steve Pavlina. Security is mostly a superstition.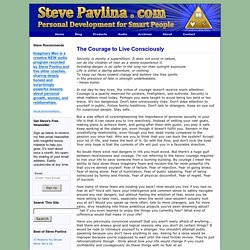 It does not exist in nature, nor do the children of men as a whole experience it. Avoiding danger is no safer in the long run than outright exposure. A Valentine's to Remember | Kids Stuff World. My happy little life: inspiration mosiacs. I'm ready for warmer days. and i want to lock myself in a room with my sewing machine and make a few tunics and dresses for myself (always plan to, never do it), go thrifting for some cardigans or maybe knit one or two (as if i need any more), braid my scraggily hair, and dust off the saltwaters (i miss you dears). 1. shecouldn'tbeartofaceit , 2.
Untitled , 3. cowl-crazy! , 4. i don't even like hot weather... , 5. holga jördis , 6. minimalist cardigan , 7. girl , 8. my favorite necklace , 9. red sandals , 10. Oh I can't wait :] , 11. Family Chic - Creative Living Ideas for Families by Camilla Fabbri. Craftgawker | look to inspire. Meet Me At Mikes: :: Crochet School : How To Make A Granny Square. Everywhere orange. Made From Scratch. Matrix. How About Orange.
Sleepyti.me bedtime calculator. RainyMood.com. Do Nothing for 2 Minutes. Free Nature Sounds. SimplyNoise - The Best Free White Noise Generator on the Internet. Turnabout Jazz Soul - Track 8 - Godot - The Fragrance of Dark Coffee | EndlessYouTube.
---