Mahoney
Why Facebook and Google's Concept of 'Real Names' Is Revolutionary - Alexis Madrigal. The primary version of identity online is a radical departure from what we expect in real life Should you have to use your real name online?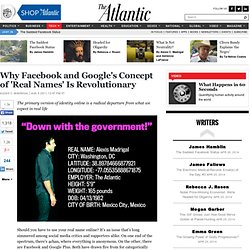 It's an issue that's long simmered among social media critics and supporters alike. On one end of the spectrum, there's 4chan, where everything is anonymous. On the other, there are Facebook and Google Plus. Both have drawn fire from for categorically preventing people from using pseudonyms. CloudExplorer on Google+ Add me.
Pearltrees videos
Getting started. LIZ Message Board | Liz Claiborne, Inc. Common Stoc Stock. Google+ News on Google+
---
mahoney Oct 15 2011

Very interesting, want I have seen so far. Wonderful , just concerned about privacy and security.
---