Native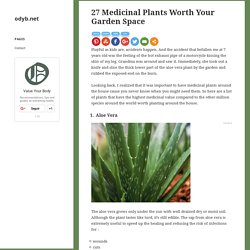 Playful as kids are, accidents happen. And the accident that befallen me at 7 years old was the feeling of the hot exhaust pipe of a motorcycle kissing the skin of my leg. Grandma was around and saw it. Immediately, she took out a knife and slice the thick lower part of the aloe vera plant by the garden and rubbed the exposed end on the burn. Looking back, I realized that it was important to have medicinal plants around the house cause you never know when you might need them.
The origin of stories A Seneca Legend [Told by Henry Jacob] In a Seneca village lived a boy whose father and mother died when he was only a few weeks old. The little boy was cared for by a woman, who had known his parents, She gave him the name of Poyeshaon (Orphan).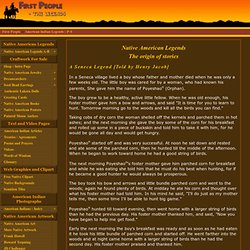 The origin of stories - Seneca
TO HIGH SCHOOL, COLLEGE, GRADUATE STUDENTS: The American Indian Movement has attempted to provide information on a variety of issues on our Website. As we continue to build our site, we hope that the information will assist students in their quest for writing term papers, and other scholarly work. We receive many requests for more information, interviews about a variety of issues. Unfortunately, it is not possible to reply to all of these many requests. If you email us, a reply may not be forthcoming.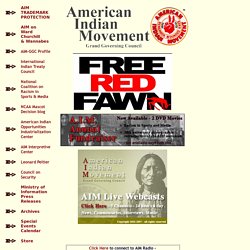 THE WEST - Chief Joseph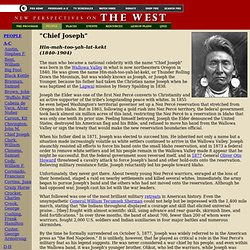 Hin-mah-too-yah-lat-kekt (1840-1904) The man who became a national celebrity with the name "Chief Joseph" was born in the Wallowa Valley in what is now northeastern Oregon in 1840. He was given the name Hin-mah-too-yah-lat-kekt, or Thunder Rolling Down the Mountain, but was widely known as Joseph, or Joseph the Younger, because his father had taken the Christian name Joseph when he was baptized at the Lapwai mission by Henry Spalding in 1838.
Open Directory - Society: Ethnicity: The Americas: Indigenous: Native Americans: Personal Pages
Images of Native Americans : The Bancroft Library
Attitudes and Behaviors Talking for the sake of talking is discouraged. In days past in their own society, Indians found it unnecessary to say hello, good-bye, how are you, and so on. Even today, many Indians find this type of small talk unimportant.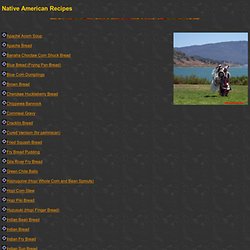 Apache Acorn Soup Apache Bread Banaha Choctaw Corn Shuck Bread Blue Bread (Frying Pan Bread) Blue Corn Dumplings
The Films | We Shall Remain | American Experience | PBS
Karen Noles Native American Expressions - Native American Indian style Western Cowboy Cowgirl Artists Art Posters
native americans -native american indian tribes US
Artifact Replicas|Jewelry|Clothing|Figurines|On Sale|New Products Today's Mail Bag Question: I have three pieces of pottery I want to give to the Cahokian Indians. I've been told they are authhentic, and I bought them at a local flea market . I have not had them authenticated , but the person I bought them from said he dug them himself. If they are, I do want them to go to the proper people not just a collector or someone that just wants to resell them for profit.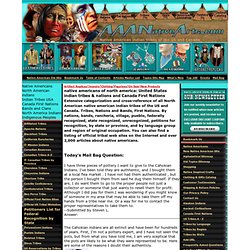 Cherokee Names and Facts is a research service for those desiring more detailed information about their ancestry. an extensive library of microfilm and other publications along with modern computer technology has greatly improved service for clients. The fee for research is $100.00 per person regardless of how many rolls they are listed on. One will receive a great deal more information if the name is on one of the rolls after 1835.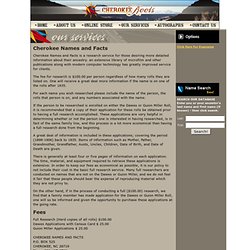 Cherokee Roots ~ Our Services
Who researched the topics? How long did it take to research? What information did you use?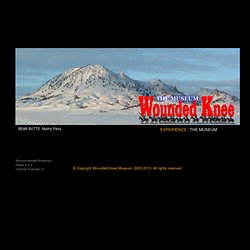 ...::: WOUNDED KNEE: THE MUSEUM :::...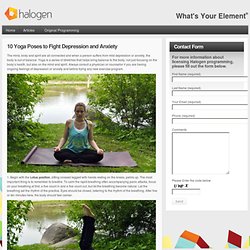 The mind, body and spirit are all connected and when a person suffers from mild depression or anxiety, the body is out of balance. Yoga is a series of stretches that helps bring balance to the body; not just focusing on the body's health, but also on the mind and spirit. Always consult a physician or counsellor if you are having ongoing feelings of depression or anxiety and before trying any new exercise program. 1. Begin with the Lotus position, sitting crossed legged with hands resting on the knees, palms up.
The Trail of Tears and the Forced Relocation of the Cherokee Nation
he caravan was ready to move out. The wagons were lined up. The mood was somber.
PLEASE NOTE: Before you e-mail questions, please read our FAQ for non-practitioners. IF YOU DO NOT LIVE IN THE UNITED STATES, please read A note for international visitors to this site. Articles listed by Disorder Name Articles Listed by Herb, Formula, or Substance Name Articles Relating to Acupuncture & Moxibustion Herb Safety and Related Concerns Miscellanous Articles about Traditional Medicine and Resources Articles Relating to Tibet, Ayurvedic, Unani, and other Asian Medicine systems Issues Please read these if you have concerns regarding herb-drug interactions: Checking for Possible Herb-Drug Interactions Warfarin and Chinese Medicine Are you using the right dosage of herbs?
Institute for Traditional Medicine | ITM | Portland, OR
By: +David Herron; Date: Tue Apr 08 2014 17:37:06 GMT-0700 (PDT) Reiki (pronounced Ray-Key) is a method of natural healing based on the application of Universal Life Force Energy (the name literally means Universal Life Force Energy). These pages are a collection of information about Reiki and are presented with the purpose of spreading knowledge of what Reiki is. Just for today, do not worry. Just for today, do not anger.
uot Keeping of the Soul
Back Keeping of the Soul - Nagi Gluhapi This is the first one of the seven sacred rites of the Lakota Sioux people and lasts about one year. The physical body of a deceased Sioux was placed in trees or on wooden (scaffold) platforms high enough to protect the body from animals and wrapped in hides and allowed to decay until nothing of the body was left.
Luther Standing Bear - StumbleUpon