Projets cool
WHITE Installation: The Biggest Comfortable Hammock
A group of architecture students in California used 7432-sq-m of plastic sheeting to create a massive, malleable and climbable installation to fill a gallery space. The WHITE project was realized collaboratively by 20 students at the California Polytechnic State University, who fabricated and installed it in just five days. The plastic was sliced, loomed, woven, stapled and taped to create prefabricated panels, which were then custom-fitted to fill the 416-sq-m gallery space. 'We wanted to create a continuous surface that would bring spatial interest and social interaction to the gallery,' they say. 'The woven installation is a solution to providing students and faculty a setting to not only read about our projects, but also to enjoy the space.' via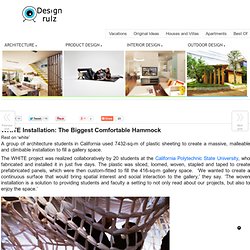 Le Kinect'o Mètre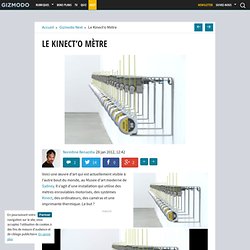 Voici une œuvre d'art qui est actuellement visible à l'autre bout du monde, au Musée d'art moderne de Sydney. Il s'agit d'une installation qui utilise des mètres enroulables motorisés, des systèmes Kinect, des ordinateurs, des caméras et une imprimante thermique. Le but ? Cette œuvre ne s'appelle pas Kinect'o Mètre, mais « Tape Recorders » et elle a été réalisée par Rafael Lozano-Hemmer. Lorsqu'un visiteur s'approche de cette installation, il est détecté et les mètres enroulables les plus près de lui se mettent alors à grimper.
See-Through, Touch-Screen Tablet Renders Interiors in 3D
It has taken from hundreds to thousands of years for architects and designers to perfect the art of translating from two-dimensional images to the three-dimensional world and back again. Augmented-reality technologies like this, however, promise new quantum leaps in matters of months. A see-through touch screen will allow users of the (still pre-production) IRIS Tablet to overlay physical spaces with digital renderings ranging from plans and sections to highlighted perspectives, all paired for easy identification of locations and angles in multiple dimensions. A combination of geo-positioning and pattern recognition help the device recognize its own stance within a structure, projecting too-be-added components onto the screen for an up-close-and-personal look at proposed renovations and additions.
Dites bonjour à l'imprimante la plus mignonne que j'ai vue depuis longtemps. Elle s'appelle Little Printer, parce qu'il s'agit d'une imprimante et qu'elle est toute petite. Elle fonctionne sans PC et va chercher toute seule sur le web le contenu qui vous intéresse. Le matin, au moment du petit déjeuner, elle vous imprime alors votre mini-journal du jour, regardez un peu…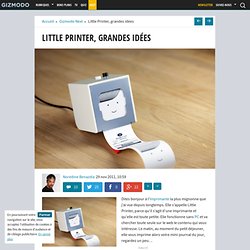 Little Printer, grandes idées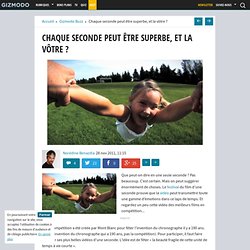 Que peut-on dire en une seule seconde ? Pas beaucoup. C'est certain. Mais on peut suggérer énormément de choses. Le festival du film d'une seconde prouve que la vidéo peut transmettre toute une gamme d'émotions dans ce laps de temps. Et regardez un peu cette vidéo des meilleurs films en compétition...
Chaque seconde peut être superbe, et la vôtre ?
privacy_monitor.wmv
Not Another Brick In The Wall The Save Water Brick design is really unique; the brick is a mixture of discarded plastic bottles and dried rotting leaves molded into bricks. There are funnels within the brick to channelize the rain water to nearby plants or underground tanks. So the basic idea is that it collects rainwater for consumption. Obviously the bricks are intended for external walls so that they can absorb the water, but the question is will they be strong enough to endure the elements?
Save Water Brick Design by Jin-young Yoon & Jeongwoong Kwon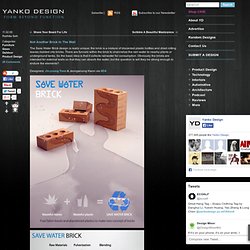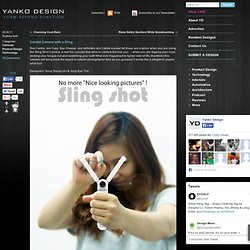 Sling Shot Camera Concept by Sung Young Um & Jung Eun Yim
Candid Camera with a Sling Don't smile, don't say 'Say Cheese' and definitely don't strike a pose! All these are a taboo when you are using the Sling Shot Camera, a real fun concept that aims to capture the real you…. when you are digging your nose, sticking your tongue out and scratching your butt! What ever happened to lighter side of life; thankfully this camera will bring back the spunk to natural photography! And as you guessed it works like a slingshot; yippee what fun! Designers: Sung Young Um & Jung Eun Yim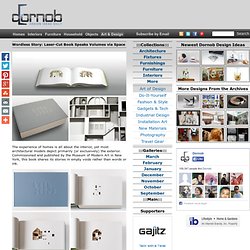 The experience of homes is all about the interior, yet most architectural models depict primarily (or exclusively) the exterior. Commissioned and published by the Museum of Modern Art in New York, this book shares its stories in empty voids rather than words or ink. Edge-bound, laser-sliced white pages crisply depict a series of sections spanning from wall to wall (and trim to trim) through the artist's home, showing details without just omitting words but also in the absence of tone or color (relying on depth, light and shadow instead). Like a classic children's popup book, the result is interactive and engaging, and shows a side rarely seen in single drawings, renderings or physically-modeled spaces.
Wordless Story: Laser-Cut Book Speaks Volumes via Space
When you head into the wild, privacy may be of little concern as you progress further from the beaten path – views to and connections with nature may, instead, become a higher priority. Hence, the spherical BubbleTree tent with 360-degree lines of sight. The basic design comes complete with portable wardrobes, sofas, roll-out beds and even optional electricity for lighting. Translucent and half-transparent designs are also available, depending on one's desired degree of environmental exhibitionism.
Bubbles of Luxury: Inflatable Spheres for Modular Camping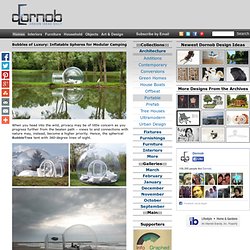 Smart Energy, an energy drink produced by Spring Valley, is being promoted as the source of good energy with "Junk Ballet", a commercial featuring a zoetrope made out of junk. The campaign is linked with an online interactive site, Makes Good Energy Totem. Most energy drinks focus on negative behaviour – partying, extreme cliff jumping, etc.
Smart Energy in Junk Ballet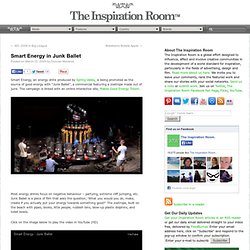 There is a brief head-scratching moment when one first sees these strange wooden rugs and has to wonder: is that mobile, functional, art or all of the above? These are precisely the design questions Elisa Stroyzk wants more people to ask. These wood carpets work at a weird intersection between art and design – grafted, geometric, laser-cut wood leftovers are attached to a functional and flexible textile background. The only question is: how comfortable is it to curl up with a wooden blanket?
Wood Textiles? Creative-but-Confusing Wooden Carpets
Radical Redesigns: Bridge-to-Home Building Conversions
Everyone claims they want a house on the water, but few get to experience that desired proximity quite so directly. Large and small, old and new, there are many amazing dwellings built on aged bridges or designed to be a bridge from the day they are constructed – in short, there are many people in the world who get to actually live on bridges. The above Kraemerbrucke in Germany and Ponte Vecchio in Italy both have long and rich histories as bridges, inhabited and otherwise. The former was built and rebuilt after being destroyed by fire many times starting over 1,000 years ago, with its current built-out form dating back nearly 500 years.
Yarn tells two kinds of tales: narratives are said to be weaved or spun as yarns, but there is a more literal meaning we also know. This curious street art project spans both definitions, creating small stories while infilling physical gaps in urban fabric. Juliana Santacruz Herrera began this beautification project in Paris, selectively decorating cracked and broken parts of the pavement with stretched yarn in a rainbow of colors. There is an almost-organic nature to the strange formations of string that result, as if they had crawled, intertwined and nested of their own will in a mysteriously self-selecting manner. Whether it is pure fun or functional is up for debate, though, arguably, Parisian drives could find these voids less destructive with a little padding, or perhaps simply avoid them now that they are so much easier to see.
Colorful Yarn turns Potholes from Pock into Beauty Marks
Over a quarter of a century ago, an architect stumbled upon the half-ruined remains of an old cement factory. The grounds contained dozens of silos, vast subterranean spaces and long-silent manufacturing equipment. Decades later, the results of his ongoing renovation project are beyond remarkable.?The complex now houses its re-designer, Gothic-influenced Spanish architect Ricardo Bofill, serving as his primary residence.
25-Year Refab: Concrete Factory Converted to Castle Home
Hidden inside a steel cargo container, rusted from a life of shipping at sea, lies a secret luxury home layout that unfolds at the push of a button – opening like an ocean clam to reveal a fully-furnished set of floor plans – as precious and surprising as a perfect pearl. The flip-open mini-house designed by Adam Kalkin is illuminated from a suspended chandelier and set of built-in table lamps. These lights turn on remotely as the project is opened up (via hidden hydraulics) to reveal a series of semi-divided spaces unlike any residential plan you have ever seen – an open layout that amounts to a combined set of living, lounging, library, dining, sitting and sleeping areas. One of the containers' side panels becomes a platform for a kind of floating bedroom-and-bathroom combination complete with a bed, headboard, bench, sink and toilet. Another storage wall slides into place and features a leather couch, side tables and lighting.
Steel Hide-a-House: Secret Storage Container Home Plans
Shhh!!! 'Hush Pod' Brings Blissful Silence to Public Seating
Fantastic Floor-to-Ceiling, Whole-Wall Bookcases & Shelves
Digital Reality: 3D Data Re-Encoded Inside Real Architecture
Living in Nature: Beautiful Wood & Stone Bungalow Home
RGB Wall Art Murals Shift Scenes as Lighting Color Changes
Mobile Smart Phone Grocery Shopping in Subway Stations
2020 Vision: Floor-to-Ceiling & Wall-to-Wall Glass House
Motion Displays | Zebra Imaging
Digital Holographic Prints | Zebra Imaging
3D Interior Design Meets Futuristic Mediated Reality [Video]
Trick & Treat: 7 Huge Photo Prints Sculpt Impossible Spaces
Creative Modern Home + Contextual Design Approach =
Bed Jumping: Subversive Mid-Air Art of Mattress Bouncing
Amazing Home Atrium & Multi-Level Interior Garden Design
Lawn Cabins: Grass-Roofed Landscapes for Green Retreats
Urban Fantasies: 12 3D Architectural Images Warp Reality
Modular Wire-Frame Shelf from Wall-Mounted Metal Rods
Practical to Impossible: 50 DIY Projects, Designs & Ideas
Key Inventions: Built-In Carabiner Keys & Split-Ring Blanks
Friendly Vending Machine Dispenses Cans With a Smile
Ceramic City: Urban Street Pattern Floor & Wall Tile Design
Innovative Concrete Shows Secret Patterns When Wet, Hot
Starry, Starry London Night Created With Slingshots + LEDs