Reading
Reading A-Z: The online leveled reading program with downloadable books to print and assemble. Reading Comprehension - Free Worksheets. Home- English- Math - Reading - Research - Keys - Blog - Links - Contact Reading Comprehension, Volume 5: Number 32, Word Meanings From Context.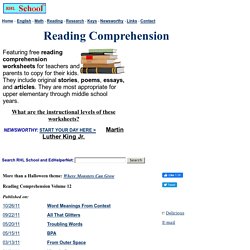 Learning Resources. Reading. Reading Lessons International Women's Day - A reading comprehension test on the topic of International Women's Day Night Study in Korea - A reading comprehension test on the topic of night studying in Korea.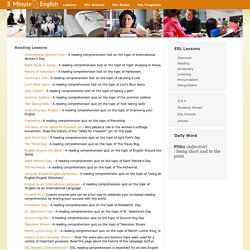 History of Halloween - A reading comprehension test on the topic of Halloween. Breaking News English Lessons: ESL Plans Teaching Current Events. ESL Reading Exercises, Printable worksheets & Text Mazes. Movie worksheets- Teach English using English movies, Printable worksheets for movies-Have fun!!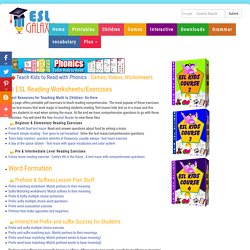 Music activities- Teach English using English songs- Worksheets to teach with English songs- It really works!! Word Formation Worksheets- Teaching prefixes & Suffixes (affixes) to high level students can greatly help to speed up vocabulary building-Try these worksheets in your lessons. Quizzes & Cloze Exercise: Printable quizzes, cloze & gap fill exercises. Adult Communicative Lesson plans: Help adults practice grammar & vocabulary using communicative exercises Holiday/Festivals Worksheets: Christmas, Halloween, Valentine's day, St. The BEST English-Learner's site on the 'Net! ESL Reading: learning resources for English language students & teachers. Project Gutenberg - free ebooks. Free ESL Stories and Exercises.
Reading Practice. Reading comprehension exercises for ESL. KENMEI INTERNET READING LAB. Welcome to my On-Line Internet Lab.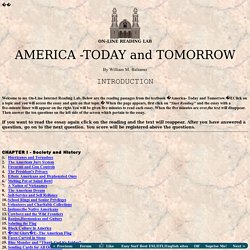 Below are the reading passages from the textbook America- Today and Tomorrow.EClick on a topic and you will access the essay and quiz on that topic. When the page appears, first click on "Start Reading" and the essay with a five-minute timer will appear on the right.You will be given five minutes to read each essay. When the five minutes are over,the text will disappear. Then answer the ten questions on the left side of the screen which pertain to the essay. If you want to read the essay again click on the reading and the text will reappear.
---