Alternative Stuff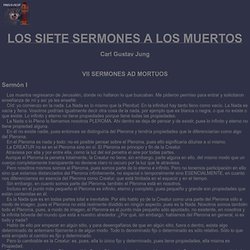 Los Siete Sermones a los muertos
Carl Gustav Jung Sermón I Los muertos regresaron de Jerusalén, donde no hallaron lo que buscaban. Me pidieron permiso para entrar y solicitaron enseñanza de mí y así yo les enseñé: Oíd: yo comienzo en la nada. La Nada es lo mismo que la Plenitud. En la infinitud hay tanto lleno como vacío.
Facebook
<A HREF="http://ws.amazon.com/widgets/q?ServiceVersion=20070822&MarketPlace=US&ID=V20070822%2FUS%2Fintent-20%2F8001%2F5cc44d35-1de1-493e-b6a7-da8a764c7b77&Operation=NoScript">Amazon.com Widgets</A> Amazon.com - an ever-growing list of books, videos, tools, software, art and other items, or just select from the entire Amazon site Astro-logix - a unique system of glow-in-the-dark hubs and day-glow cylinders to make a phenomenal variety of 2D and 3D geometric models Bluehost - our GeometryCode.com webhost and domain registrar offers superb customer service, technical expertise and value; tops in every respect! Crop Circle Oracle Cards - A deck of 80 splendid geometric patterns made with cereal grains, photographed by leading researchers, Kabbalistic interpretations by Joseph-Mark Cohen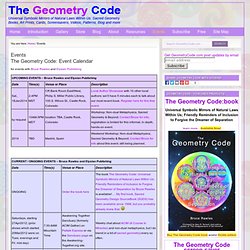 Events | The Geometry Code:Universal Symbolic Mirrors of Natural Laws Within Us
Sacred Geometry 101 – What is Sacred Geometry : True Knowledge Network
All natural objects are made up of patterns, structures, and designs. You see these in the smallest atom to the stars of deep space. These natural creations reveal the nature of the object and its vibration energy. Thus, each creation has a unique vibrational frequency. The interaction of all the vibrational frequencies found in creation show us the part of the package. Together we will find what some call the music of the spheres.
Wayseer Manifesto
Anonymous lanza el mayor ataque informático contra EEUU y la industria musical - Tecnología
Goteo.org News Cultura libre y peer production: La era maker.
Crowdfunding the commons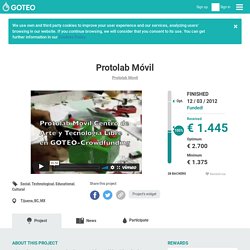 Slingshot | Featured Article
Publicity 21: marzo 2010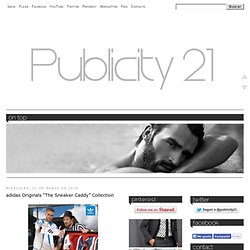 Amigos, se nos viene la JOIA para este año con una nueva serie llamada JOIA Magazine & Kings. Es por esto que están todos invitados a compartir y celebrar éste martes 30 de marzo a las 20:30 horas en el bar restaurant Santería, ubicado en Chucre Manzur 001, Providencia. Además, podrás encontrar un stand de la revista a precio especial.
Cool ice is cool
Olympus Bioscape: biopaisajes psicodélicos del mundo microscópico (FOTOS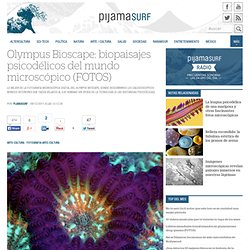 Luminosos mundos interiores más allá de la epidermis, inaccesibles al ojo desnudo, se revelan en la octava edición del Olympus Bioscape, competencia que produce las más asombrosas imágenes de fotografía microscópica digital. Como si el universo fuera una cebolla iridiscente de infinitas capas, cada una de ellas un mundo en sí misma, al penetrar la materia descubrimos mircopaisajes biológicos que, como la moléculas psicoactivas, estimulan visualmente nuestros centros de percepción. En esta competencia el arte y la ciencia confluyen de manera armónica, en un eco prístino. La mayoría de los galardonados son científicos que en su pasión por penetrar los secretos de la naturaleza descubren que la forma y el fondo son inseparables y que la elegancia y la belleza son partes indisociables del conocimiento. Arriba la imagen de un "coral cerebral" una especie que puede vivir hasta 200 años.
La humanidad permaneció fosilizada en sus convicciones morales, producto de la superstición religiosa. La genética no pudo, entre otras ciencias, estudiarse libremente y al cabo de unos pocos miles de años el ser humano comenzó a involucionar. Su ADN degeneró y la Naturaleza eliminó a la Especie. D.Javier De La Mata Y Vergara (Venerable Gran Maestre de la Soberana Orden del Ánfora)*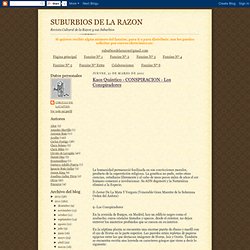 SUBURBIOS DE LA RAZON
Flower of Life Research, LLC.
"And is not He who cures the soul, which is more than the body, greater?"
Guía de medicina enteógena (sanación holística a través de psicodélicos