2012-04-10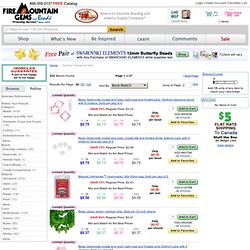 Close
Spring Clearance Sale
The policy of the Morocco in the access to Internet was until recently rather liberal, the Government has encouraged the development of the media. Nevertheless, more than two years the trend reversed and cases of censorship are becoming more and more common. Cases of censorship are primarily the result of the telephone operator and Internet dominant Morocco Telecom (a subsidiary of Vivendi), it is practiced in a manner totally arbitrary and opaque, Morocco telecom claiming technical problems for claim. It is characterized by the absence of recourse to a court decision, although the Morocco proclaims a "State of law". Morocco Telecom blocked several blogging sites, such as LiveJournal. Reporters without borders says that the Morocco often censor political websites claiming independence of Western Sahara.
Censorship of the internet in the Morocco | Sahara Press Service
Les données brutes issues du rapport "Transparence" peuvent être exportées dans plusieurs formats lisibles par machine. Les développeurs et les chercheurs peuvent reprendre ces données pour les visualiser différemment ou les combiner à des informations provenant d'autres organisations afin de tester et d'élaborer de nouvelles hypothèses. google-government-removal-requests.csv Télécharger | Ouvrir dans une feuille de calcul Google Ce fichier contient les informations relatives à toutes les demandes de suppression de contenu indiquées dans le rapport "Transparence", organisées par pays et période de référence semestrielle.
Raw Data – Google Transparency Report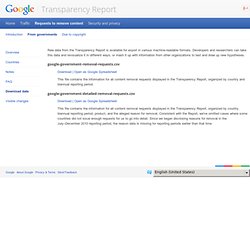 Certains produits et services Google ont été inaccessibles à un moment ou à un autre dans plus de 30 pays. Les causes à l'origine de ces interruptions varient et peuvent inclure des pannes de réseau et des blocages mandatés par une autorité administrative. Consultez les interruptions actuelles répertoriées ci-dessous ou parcourez la liste de toutes les interruptions consignées (liste non exhaustive).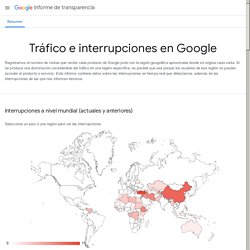 Traffic – Google Transparency Report
Like other technology and communications companies, Google regularly receives requests from government agencies and courts around the world to remove content from our services or to review such content to determine if it should be removed for inconsistency with a product's community policies. In this report, we disclose the number of requests we receive from each government in six-month periods with certain limitations. Governments ask companies to remove or review content for many different reasons.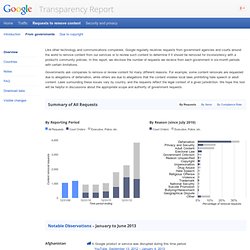 Government Requests – Google Transparency Report
Qu'est-ce qu'une demande de suppression de contenu ? Governments make content removal requests to remove information from Google products, such as blog posts or YouTube videos. The data includes court orders sent to us to remove content, regardless of whether the court order is directed at Google. For purposes of this Report, we also count government requests that we review particular content to determine if it should be removed for violating a product's community guidelines or content policies. Ces données sont-elles complètes ? Les indications que nous apportent ces données sont limitées.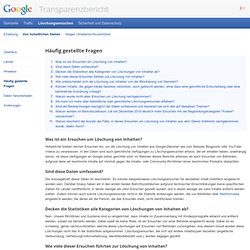 FAQ – Google Transparency Report