2012-04-10
Spring Clearance Sale. Close Forgot Your Password?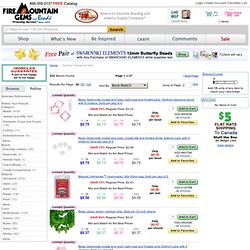 Need Help? ? Electronic Frontier Foundation | Defending your rights in the digital world. Censorship of the internet in the Morocco. The policy of the Morocco in the access to Internet was until recently rather liberal, the Government has encouraged the development of the media.
Nevertheless, more than two years the trend reversed and cases of censorship are becoming more and more common. Cases of censorship are primarily the result of the telephone operator and Internet dominant Morocco Telecom (a subsidiary of Vivendi), it is practiced in a manner totally arbitrary and opaque, Morocco telecom claiming technical problems for claim.
It is characterized by the absence of recourse to a court decision, although the Morocco proclaims a "State of law". Morocco Telecom blocked several blogging sites, such as LiveJournal. Reporters without borders says that the Morocco often censor political websites claiming independence of Western Sahara. Raw Data – Google Transparency Report. Raw data from the Transparency Report is available for export in various machine-readable formats.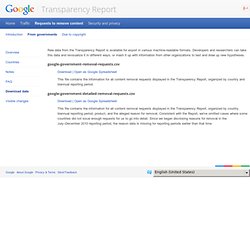 Developers and researchers can take this data and revisualize it in different ways, or mash it up with information from other organizations to test and draw up new hypotheses. google-government-removal-requests.csv Download | Open as Google Spreadsheet This file contains the information for all content removal requests displayed in the Transparency Report, organized by country and biannual reporting period. OpenNet Initiative. Chilling Effects Clearinghouse. Traffic – Google Transparency Report. People have been unable to access certain Google products and services at some point in more than 30 countries.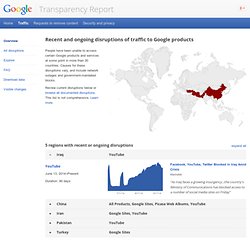 Causes for these disruptions vary, and include network outages and government-mandated blocks. Review current disruptions below or browse all documented disruptions. Government Requests – Google Transparency Report. Like other technology and communications companies, Google regularly receives requests from government agencies and courts around the world to remove content from our services or to review such content to determine if it should be removed for inconsistency with a product's community policies.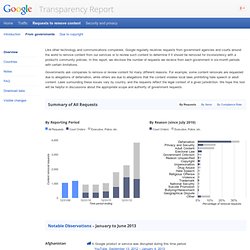 In this report, we disclose the number of requests we receive from each government in six-month periods with certain limitations. Governments ask companies to remove or review content for many different reasons. FAQ – Google Transparency Report. Was ist ein Ersuchen um Löschung von Inhalten?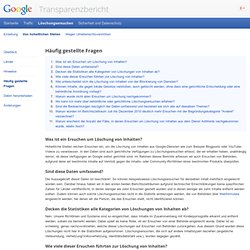 Hoheitliche Stellen reichen Ersuchen ein, um die Löschung von Inhalten aus Google-Diensten wie zum Beispiel Blogposts oder YouTube-Videos zu veranlassen. In den Daten sind auch gerichtliche Verfügungen zu Löschungsersuchen erfasst, die wir erhalten haben, unabhängig davon, ob diese Verfügungen an Google selbst gerichtet sind. Im Rahmen dieses Berichts erfassen wir auch Ersuchen von Behörden, aufgrund derer wir bestimmte Inhalte auf Verstoß gegen die Inhalts- oder Community-Richtlinien eines bestimmten Produkts überprüfen. Sind diese Daten umfassend? Die Aussagekraft dieser Daten ist beschränkt.
---