Random
Stuff for Smart Masses. Shawnimals - Home. POG.COM - Play Online Games. Teenormous - Funny t-shirts, vintage tees, custom tshirts and cool shirts from all over the internet. Cracked.com - America's Only Humor & Video Site Since 1958. Wattpad - The Best Place to Discover and Share Stories. 70 Science Fiction and Fantasy Movies to Watch Out for in 2012. Clarification: 47 Ronin should not be confused with Seven Samurai. 47 Ronin is based on Chushingura, a set of 18th-century stories, which in turn are loosely based on an actual historical event, the "Ako Incident".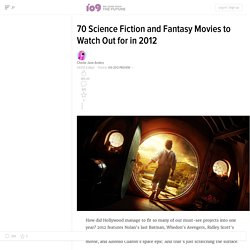 While there have been a number of movies (not to mention novels, manga, kabuki, and bunraku) based on Chushingura, there has never really been a single, definitive version, and none that could be called pillars of Japanese cinema (the Mizoguchi version is perhaps the best known). Seven Samurai was an original story, and one of the greatest things ever filmed, period. Did I hallucinate viewing a version with Toshiro Mifune that blew the top of my head off? I saw it when I was a kid. Top Ten Films 1930-2009.
2013 1.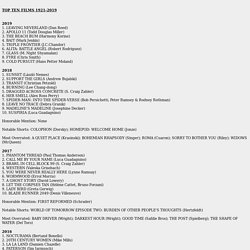 UNDER THE SKIN (Jonathan Glazer) 2. BLUE JASMINE (Woody Allen) 3. INSIDE LLEWYN DAVIS (Joel & Ethan Coen) 4. BEFORE MIDNIGHT (Richard Linklater) 5. The Movie Cliches List, part 1. Piston-engine airplanes in the movies are unusually subject to engine failure.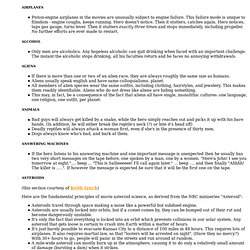 This failure mode is unique to filmdom - engine coughs, keeps running. Hero doesn't notice. Then it stutters, catches again.
---