DIY/art
39 Easy DIY Ways To Create Art For Your Walls. Bookbinding tutorial. Beautiful photo books and book printing. Make your own book | Blurb. MAGAZINE ENVELOPES. 18K+ Well I got this idea from our friend Nina.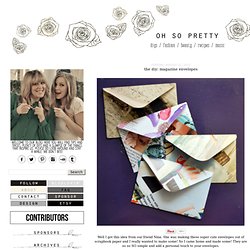 She was making these super cute envelopes out of scrapbook paper and I really wanted to make some! So I came home and made some! They are so so SO simple and add a personal touch to your envelopes. DIY string-tie envelopes. By Kate on February 20, 2012 Hello!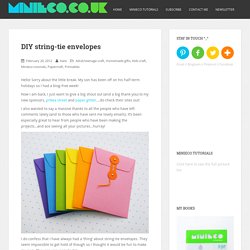 Sorry about the little break. My son has been off on his half-term holidays so I had a blog-free week! Now I am back, I just want to give a big shout out (and a big thank you) to my new sponsors, pi'ikea street and paper glitter….do check their sites out! - StumbleUpon. CWTS reveal - the book clutch + how-to. Did you see this week's Crafting with the Stars?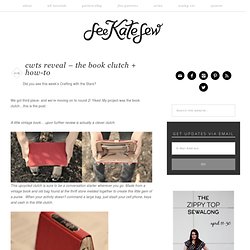 We got third place- and we're moving on to round 2! Yikes! My project was the book clutch…this is the post:A little vintage book… upon further review is actually a clever clutch. This upcycled clutch is sure to be a conversation starter wherever you go. Made from a vintage book and old bag found at the thrift store melded together to create this little gem of a purse. Women-clothing. Am I about to post something on ACTUAL UCREATE?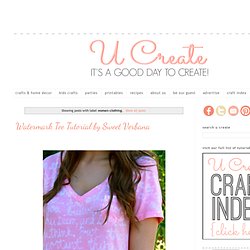 Is this a dream? No. 101 Simple Handmade Gift Tutorials. These simple handmade gift tutorials will make any crafty person's heart sing with joy!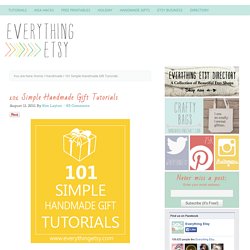 You don't need special skills or a bunch of time because these can all be done super fast! Simple and cute…that works for me! How To: Make Typographic Gift Wrap » Man Made DIY | Crafts for Men « Keywords: paper, craft, design, gift. This year, I vowed to only make or buy handmade holiday gifts for my friends and family, and I've kept to it so far.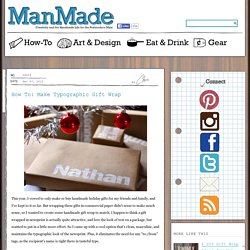 But wrapping these gifts in commercial paper didn't seem to make much sense, so I wanted to create some handmade gift wrap to match. I happen to think a gift wrapped in newsprint is actually quite attractive, and love the look of text on a package, but wanted to put in a little more effort. So I came up with a cool option that's clean, masculine, and maintains the typographic look of the newsprint. Drab to fab! 5 DIY ideas for t-shirt remakes.
Posted by ScrapHacker.com on tisdag, juni 5, 2012 · 5 Comments With temperatures rising so is the annual epidemic of fashion fever, making many of us feverishly hit the high street (although our wardrobes are already stuffed full…).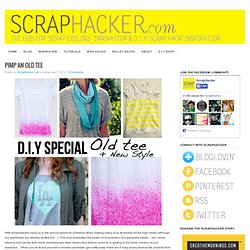 This post celebrates the power of re-invention of a wardrobe staple – old t-shirts. How to Make Cherry Blossom Lights. I love the way the cherry trees outside my building bloom cheerfully each Spring.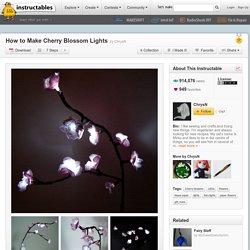 I wanted to bring the beauty of those cherry blossoms indoors so I made some out of tissue paper and to make them even more special I added LEDs These pretty lights are inexpensive and easy to make. How To Draw A Wave | Club Of The Waves. This art tutorial, kindly donated by surfing comic strip illustrator and surf artist Bob Penuelas covers how to draw a wave the Wilbur Kookmeyer way!
If you're like me, then you've probably spent a lot of time in high school class daydreaming and doodling a thousand perfect cartoon waves in your notebook. It's safe to say that ninety percent of us surfers have a habit of scribbling perfect waves whenever a pencil is in our hands. Hopefully the following pointers will help you change your throw-away wave doodles into actual compelling artwork that you want to keep forever. Drawing Lessons - How to Draw the Portrait - Drawing Figure - Drawing Still Life.
Lessons. Drawspace Pro Lessons are designed for artists of all levels and educators, and are logically organized into resources and activities.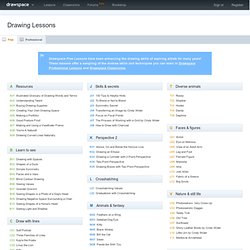 Eventually, all lessons and E-books authored by Brenda Hoddinott will be available here: four to eight brand new lessons and newly-revised older lessons are being added every month! Upgrade Now: Download all 246 lessons and 4 e-books! Try for Free: Download lessons marked as "Free"! Free 1.1.R1 Glossary Of Art Terms. Quick hand-legs-foot tutorial by `Hellobaby on deviantART. How To Draw. To make all of these Instructables, download this collection of How To's as an ebook. Download » "How to Draw" is a collection of tutorials that will teach you everything from perspective basics to shading chrome. Never picked up a pencil before? Fear not! Art 1. Optical Design. 30Day.jpg (JPEG Image, 600x776 pixels) - Scaled (82%)
---