D.I.Y
DIY Duct Tape Accessories
The Brit & Co. Scotch Color & Patterns jewelry is a stylish and affordable way to spruce up one's wardrobe. At first glance, one would not assume that these are made out of duct tape, which is why they are so appealing. To create these pieces, the materials needed include duct tape, scissors, a ruler and accessories such as earring backs, barrettes, comb clips and pins that can be found at any craft store. You simply twist the tape, and then attach the accessory backs.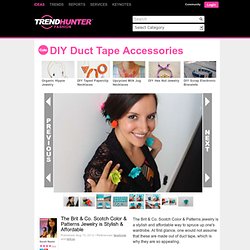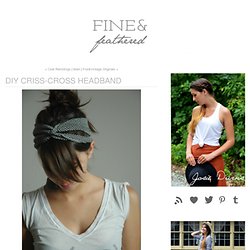 My addiction to insanely simple DIYs continues. I threw this together today and thought I'd share:) 1. Take a long strip of fabric (preferably some type of stretchy fabric) 2. Position the middle of the fabric strip at the base of your neck 3.
DIY Criss-cross headband
PINTEREST UPDATE: This is a post from 2010. I do not take custom orders, only the tutorial is available. The lamps have held up wonderfully. As many of you requested, Marie is sharing a little tutorial here on how she made her lampshades.
Fall is my favorite season. I love the cool, crisp air, the trendy sweaters, the seasonal baked goods, and the anticipation of Halloween costumes and parties. But as summer comes to a close, many of us lament the shorter days and the end of beach season. Without the opportunity to lounge lakeside or poolside, our tans will begin to fade, and paleness will return.
Everyone needs a go-to fringe scarf in their fashion repertoire. Here's an easy way to make your own. What You Will Need: -Old T-Shirt -Good Scissors Step 1: Go through your old T-shirts and find a daring print or color combo. For a cleaner look, choose a solid. Step 2: Cut horizontally across the shirt, just below the armholes, to create a rectangular tube.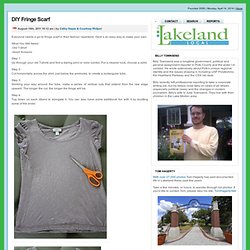 Last Christmas I almost had a breakdown... We had just moved in to our home the month before, but I didn't want to let that prevent us from having the holliest jolliest Christmas. My intentions were good. I wanted to make Christmas special for everyone, but I learned the hard way that I should have been planning ahead!! And that's how it happened.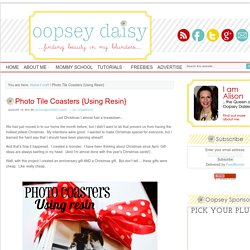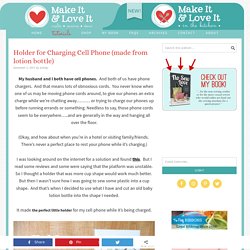 My husband and I both have cell phones. And both of us have phone chargers. And that means lots of obnoxious cords. You never know when one of us may be moving phone cords around, to give our phones an extra charge while we're chatting away……… or trying to charge our phones up before running errands or something.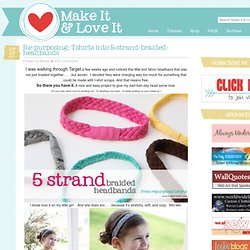 I was walking through Target a few weeks ago and noticed this little knit fabric headband that was not just braided together…….but woven. I decided they were charging way too much for something that could be made with t-shirt scraps. And that means free.