Movies
500 Free Movies Online: Great Classics, Indies, Noir, Westerns & More. Watch 675 movies free online.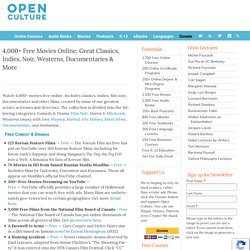 Includes classics, indies, film noir, documentaries and other films, created by some of our greatest actors, actresses and directors. The collection features films by Alfred Hitchcock, Orson Welles, Fritz Lang, Andrei Tarkovksy, John Huston, plus some early short films by Tarantino, Kubrick and Truffaut. Clerkdogs | Human-Powered Movie Recommendations.
Elephant (2003. Edit Storyline A day in the lives of a group of average teenage high school students.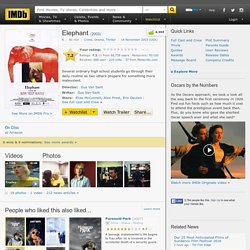 The film follows every character and shows their daily routines. Bernardo Bertolucci. Innocence (2004. Cracks (2009. All About Lily Chou-Chou (2001. Edit Storyline Life isn't easy for a group of high school kids growing up absurd in Japan's pervasive pop/cyber culture.

As they negotiate teen badlands- school bullies, parents from another planet, lurid snapshots of sex and death- these everyday rebels without a cause seek sanctuary, even salvation, through pop star savior Lily Chou-Chou, embracing her sad, dreamy songs and sharing their fears and secrets in Lilyholic chat rooms. Immersed in the speed of everyday troubles, their lives inevitably climax in a fatal collision between real and virtual identities, a final logging-off from innocence.
---