ECONOMICOS
GDP Industrial Production Money Supply Inflation US Japan China. U.S. National Debt Clock : Real Time. Center for Pacific Basin Studies (CPBS) The Center for Pacific Basin Studies seeks to promote cooperation among Pacific Basin central banks and enhance public understanding of major monetary and economic policy issues in the region.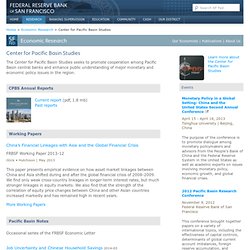 Learn more about the Center for Pacific Basin Studies CPBS Annual Reports. Organisation for Economic Co-operation and Development. FDI Indices. The UNCTAD web site was re-launched on 15 March 2012.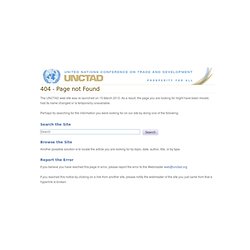 As a result, the page you are looking for might have been moved, had its name changed or is temporarily unavailable. Perhaps try searching for the information you were looking for on our site by doing one of the following: International Monetary Fund Home Page. WIDER : Database (WIID) The UNU-WIDER World Income Inequality Database (WIID) collects and stores information on income inequality for developed, developing, and transition countries.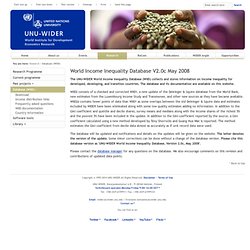 The database and its documentation are available on this website. WIID2 consists of a checked and corrected WIID1, a new update of the Deininger & Squire database from the World Bank, new estimates from the Luxembourg Income Study and Transmonee, and other new sources as they have became available. WIID2a contains fewer points of data than WIID1 as some overlaps between the old Deininger & Squire data and estimates included by WIDER have been eliminated along with some low quality estimates adding no information. SEDAC - Millennium Challenge Corporation - Natural Resource Management Index. Introduction In May 2005 a consortium led by the Center for International Earth Science Information Network (CIESIN) at Columbia University, which included the Yale Center for Environmental Law and Policy (YCELP), the University of New Hampshire Water Systems Analysis Group, the Wildlife Conservation Society, and the Columbia University Tropical Agriculture Program, submitted a proposal to the Millennium Challenge Corporation (MCC) in response to the MCC's search for a Natural Resources Management Indicator.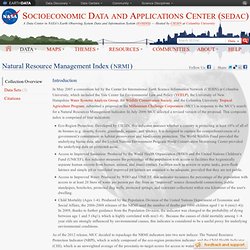 In July 2006 MCC selected a revised version of the proposal. Current Melt Value Of Coins - How Much Is Your Coin Worth? Business portal for executives created by a busy executive. Money - Business, financial and personal finance news. PricewaterhouseCoopers: Global: Insights & Solutions: MoneyTree™ Survey Report. Finance: Stock market quotes, news, currency conversions & more. CNNMoney - 4 hours ago Bank of America reported a quarterly loss Wednesday as legal costs hit the bank's bottom line.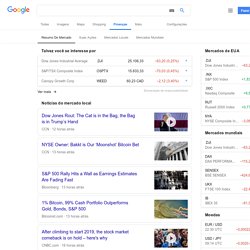 It's another reminder that the tentacles of the financial crisis are still squeezing Wall Street. Wall Street Journal - 41 minutes ago BEIJING--China's slowdown in growth, widely expected to continue through the second quarter at least, will boost pressure on Beijing to dial up stimulus measures and dial back structural reforms, economists said.
Stock Research Center - Yahoo! Finance - Company Reports, Analyst Research, Screeners. Cost of Living. Occupational Wages around the World (OWW) Database. This database contains occupational wage data for 161 occupations in 171 countries from 1983 to 2008.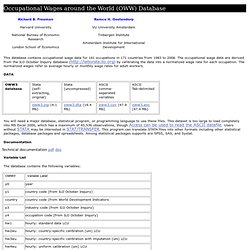 The occupational wage data are derived from the ILO October Inquiry database ( by calibrating the data into a normalized wage rate for each occupation. The normalized wages refer to average hourly or monthly wage rates for adult workers. You will need a major database, statistical program, or programming language to use these files.
This dataset is too large to load completely into MS Excel 2000, which has a maximum of 65,536 observations, though Access can be used to read the ASCII datafile. Users without STATA may be interested in STAT/TRANSFER. LABORSTA Internet (E) Ranking of economies. World Databank. Global Competitiveness | World Economic Forum-Global Competitiveness. The Global Competitiveness Report 2013 - 2014 The Global Competitiveness Report 2013-2014 assesses the competitiveness landscape of 148 economies, providing insight into the drivers of their productivity and prosperity.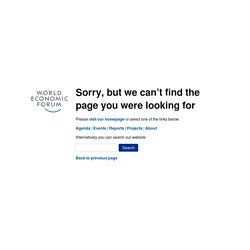 The Report series remains the most comprehensive assessment of national competitiveness worldwide. TheGlobal Competitiveness Report 2013-2014assesses the competitiveness landscape of 148 economies, providing insight into the drivers of their productivity and prosperity. Economic Freedom of the World project | www.freetheworld.com. Stats | Indicadores del Milenio. The Millennium Development Goals Report 2013 was launched in Geneva by the Secretary-General on 1 July 2013.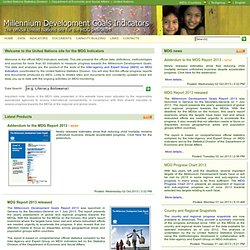 The report presents the yearly assessment of global and regional progress towards the MDGs. With the deadline for the MDGs on the horizon, this year's report examines where the targets have been met and where redoubled efforts are needed urgently to accelerate the progress. Index of Economic Freedom: Promoting Economic Opportunity and Prosperity.
---