Now
A userbox (commonly abbreviated as UBX) is a small colored box (see examples to the right) designed to appear only on a Wikipedian's user page as a communicative notice about the user, in order to directly or indirectly help Wikipedians collaborate more effectively on articles. The first userboxes were introduced to support the Babel inter-language effort by indicating users' skills in other languages. Using existing userboxes[edit] Userboxes belong on their user's pages. It may be considered uncivil to place userboxes on other users' pages without their permission (especially in a mean-spirited way--Homophobia, Racism, Sexism, etc). However, userboxes may be placed on non-mainspace talk/discussion pages by anyone.
Userboxes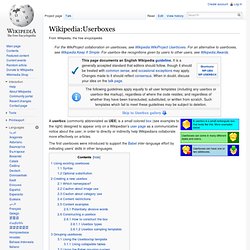 Category:Icons
Download Store - Test it out
Watch TV online | ITV
International TV Online: Watch Global IPTV and Internet Video, Sports, News, Drama on JumpTV --Online Television --English
Project management software for everyone "With Wrike's help, we get vastly better results, we get more things done and done faster." Timothy Seward, CEO of ROI Revolution Wrike is an online project management platform for making work fast, easy and efficient in co-located and distributed teams. Its flexibility enables multifunctional teams to collaborate and get things done successfully in one place. Schedule, prioritize, discuss and track progress in real time — all with a few mouse clicks.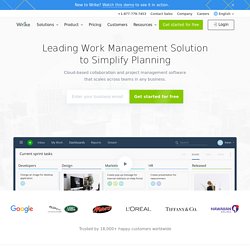 http://tiinker.com/
Sandy — your free personal email assistant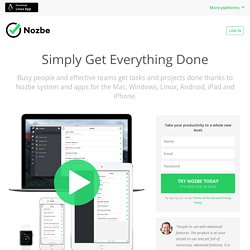 Nozbe is a tool that helps busy professionals and teams organize time and projects Improve your time management skills. Inspired by Getting Things Done ® concept. Stop using e-mail to collaborate with your friends and colleagues. There is a better way. Use Nozbe on any platform. With anyone you want.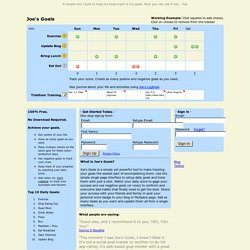 - Get Started Today. - One step signup form: What is Joe's Goals? Joe's Goals is a simple yet powerful tool to make tracking your goals the easiest part of accomplishing them. Use the simple single page interface to setup daily goals and track them with just a click. Watch your daily score to gage your success and use negative goals (or vices) to confront and overcome bad habits that finally need to get the boot. Share your success with your friends and family or post your personal score badge to your blog or MySpace page.
...on Windows, Linux, Mac ThinkingRock is a powerful project management tool designed for the GTD (Getting Things Done) methodology. ThinkingRock is one of the rare GTD implementation on cross-platform without having your data on the web: use it at home and at work. Follow GTD flow and improve productivity: Store ideas, tasks, references into one systemPlan projects into ordered list of actions and sub-projectsBrainstorm projects, add the project's vision and purpose: meet deadlinesCreate, re-use and share project templatesReview actions by context, Today view, This Week view, Overdue view, etc. and create own custom viewsGet motivated: review your 6-Level model and link projects to goals, making them achievable;Get mobile and take our planning tool on your iPhone, Android or on paper (pocketmod, Jasper or PDF reports). Learn more, discover the process flow and get started!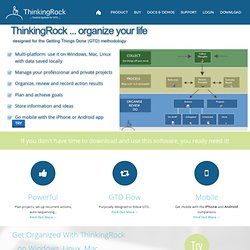 If you would like to specialise in planning and land development but your interests extend beyond issues of profitability, risk and return to include the wellbeing of communities and issues of sustainability, then this course is ideal. It is designed to integrate the theory and practice of spatial or town and country planning with the growing pressures for urban and rural developments to meet community needs and sustainable criteria. What will you study? The course is split between taught and research modules. In the taught section, you will be introduced to the concepts of sustainability, regeneration and urban design, and will gain an understanding of the legal and institutional frameworks, including policy governing planning and development.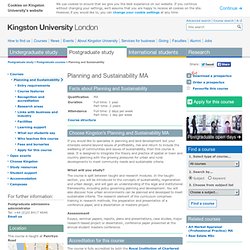 Planning and Sustainability MA - Postgraduate courses - Kingston University London
Knoppix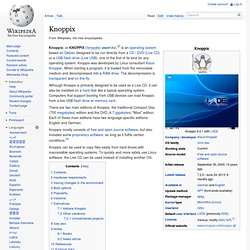 Although Knoppix is primarily designed to be used as a Live CD, it can also be installed on a hard disk like a typical operating system. Computers that support booting from USB devices can load Knoppix from a live USB flash drive or memory card. There are two main editions of Knoppix: the traditional Compact Disc (700 megabytes) edition and the DVD (4.7 gigabytes) "Maxi" edition. Each of these main editions have two language-specific editions: English and German. Knoppix mostly consists of free and open source software, but also includes some proprietary software, so long as it fulfils certain conditions.[3]
Scribus is an Open Source program that brings professional page layout to Linux, BSD UNIX, Solaris, OpenIndiana, GNU/Hurd, Mac OS X, OS/2 Warp 4, eComStation, and Windows desktops with a combination of press-ready output and new approaches to page design. Underneath a modern and user-friendly interface, Scribus supports professional publishing features, such as color separations, CMYK and spot colors, ICC color management, and versatile PDF creation.
http://www.englishpartnerships.co.uk/publications.htm
South Cambridgeshire District Council LDF || Northstowe Outline Application December 2007 (S/7006/07/O)
http://www.englishpartnerships.co.uk/qualitystandards.htm
Highly recommended. Primarily through word-of-mouth alone, Basecamp has become the world's #1 project management tool. For the last 10 years, companies have been switching to Basecamp because it's famously easy-to-use, reliable, and It Just Works™. Combine that with our best-in-the-biz customer service, and you've got a unique and delightful package. Just last week, another 6,119 companies started using Basecamp.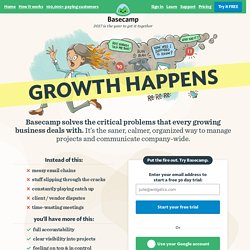 Current Backpack customers can sign in here. Hello, We launched Backpack back in 2005 so people could "keep life's loose ends together" in one place online.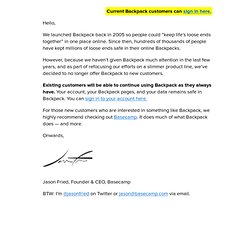 Main Page
From 43FoldersWiki This is the wiki web for 43 Folders, which we've conceived as a place to explore and expand on the ideas discussed on the 43F site. Popular topics on 43 Folders include: And any cool ideas that help people to accomplish their goals, route around bad behaviors or replace them with good ones, reduce stress, find - or make - the time to do things they enjoy
MoI, 3D Modeling for Designers and Artists
Powerful, accurate, yet easy to use! MoI's sleek intuitive UI blends a fluid easy workflow with powerful tools, making it the perfect choice for someone who has been frustrated with the complexity of existing CAD tools. MoI is also a fantastic complementary tool for a polygon-based artist since its CAD toolset and advanced boolean functions enable extremely rapid creation of mechanical or man-made type "hard surface" models.
portfolium's favorites tagged with "SimuTerra" on del.icio.us
The Crunchies 2007 - Celebrating the best of internet and technology innovation