Decor
Home decor doesn't have to cost a fortune, especially if you can make it yourself. I often find beautiful home accessories in magazines and catalogs only to realize the prices are outrageous. Most of the time the products I see in catalogs can be made with a few supplies for a fraction of the cost.
How to Make a Moss Topiary Tree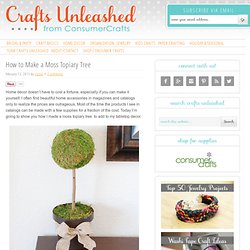 Spring Break Memory Keeping
Double Dose of Spring DIYs!
Here are two spring inspired DIYs using moss! Hope you enjoy. Supplies: Moss mat, cork coasters, Mod Podge. Pantry Supplies: Scissors, paintbrush. First, paint a thick layer of Mod Podge on the top of the cork coaster.
Holder for Charging Cell Phone (made from lotion bottle)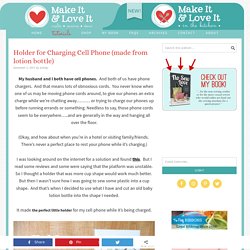 My husband and I both have cell phones. And both of us have phone chargers. And that means lots of obnoxious cords.
Try this: Hanging String Balls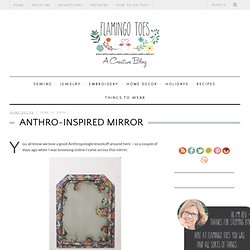 You all know we love a good Anthropologie knockoff around here – so a couple of days ago when I was browsing online I came across this mirror. Oh I definitely need that. Hold the presses – did that say $498??? Huh. We can do better than that. :) So after scouring the thrift shops, cutting myself on mirror glass, and overcoming an unreasonable fear of Mod Podge, here is my version!
Anthro-Inspired Mirror
DIY Heart of String
52 Totally Feasible Ways To Organize Your Entire Home
Make-up Magnet Board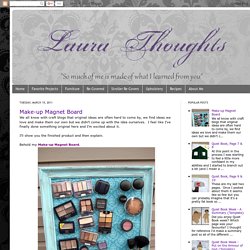 We all know with craft blogs that original ideas are often hard to come by, we find ideas we love and make them our own but we didn't come up with the idea ourselves. I feel like I've finally done something original here and I'm excited about it. I'll show you the finished product and then explain. Behold my Make-up Magnet Board. I have a friend who is beautiful and stylish and has always loved make-up but recently took a course that intensified her love. Her renewed interest has worn off on me and it made me remember eye shadows I'd hidden away that were gathering dust.
7710_32da.jpeg (JPEG Image, 435 × 3307 pixels)