Fun
HEYYEYAAEYAAAEYAEYAA. 36 Funny Email Signatures. An email is very similar to a letter - you write a greeting, a message, and you sign it with your name.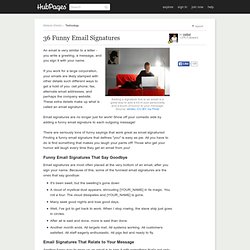 If you work for a large corporation, your emails are likely stamped with other details such different ways to get a hold of you: cell phone, fax, alternate email addresses, and perhaps the company website. These extra details make up what is called an email signature. Email signatures are no longer just for work! Show off your comedic side by adding a funny email signature to each outgoing message! There are seriously tons of funny sayings that work great as email signatures! Happy Place - The Latest Funny Videos, Funny Pictures, Funny Tweets, Funny Ecards and More! Android On Top For Now But Consumers Also Eyeing Windows Phone 7 for the Future. Home. Cute Roulette: Cutest videos on the web. Food_scarcity.jpg (JPEG Image, 600x600 pixels) My Funny Pictures: 100 Acre Drug Use. Tom Mabe Pranks A Telemarketer.
Alldogsgotoheaven-e1276285992777.jpg (JPEG Image, 500x3212 pixels) - Scaled (20%) Random Posts. Resume2.png (PNG Image, 714x249 pixels) Still life: Bent objects. UPDATE: The Return of Bent Objects Wires transform these objects from inanimate to hilarious works of art.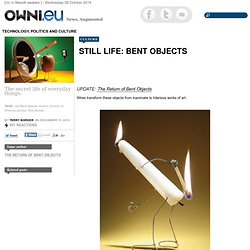 Little polish girl McDonalds as Sculpture Materials Yeah, this is where those come from Dancing Queens.
---