Science
Animal Planet's Introduction to Insects http://animals.howstuffworks.com/animal-facts/insect-info.htm Lots more about insects can be found at Animal Corner http://www.animalcorner.co.uk/insects/insects/html
The Entomological Foundation - Educational Resources: Educational Links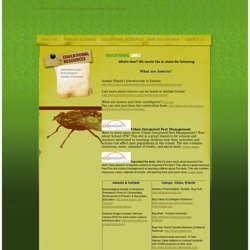 The Bugscope project provides free interactive access to a scanning electron microscope (SEM) so that students anywhere in the world can explore the microscopic world of insects. This educational outreach program from the Beckman Institute's Imaging Technology Group at the University of Illinois supports K-16 classrooms worldwide. Bugscope allows teachers everywhere to provide students with the opportunity to become microscopists themselves—the kids propose experiments, explore insect specimens at high-magnification, and discuss what they see with our scientists—all from a regular web browser over a standard broadband internet connection. You sign up, ask your students to find some bugs, and mail them to us. We accept your application, schedule your session, and prepare the bugs for insertion into the electron microscope.
Bugscope: Home
Earth and Atmospheric Science Fun at NCAR Kids' Crossing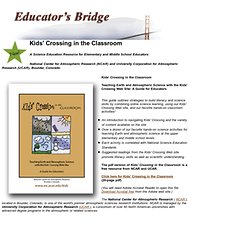 Kids' Crossing in the Classroom: A Science Education Resource for Elementary and Middle School Educators
A Science Education Resource for Elementary and Middle School Educators National Center for Atmospheric Research (NCAR) and University Corporation for Atmospheric Research (UCAR), Boulder, Colorado Kids' Crossing in the Classroom Teaching Earth and Atmospheric Science with the Kids' Crossing Web Site: A Guide for Educators This guide outlines strategies to build literacy and science skills by combining online science learning, using our Kids' Crossing Web site, and our favorite hands-on classroom activities! An introduction to navigating Kids' Crossing and the variety of content available on the site Over a dozen of our favorite hands-on science activities for teaching Earth and atmospheric science at the upper elementary and middle school levels.
GLOBE Program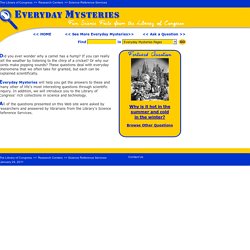 Did you ever wonder why a camel has a hump? If you can really tell the weather by listening to the chirp of a cricket? Or why our joints make popping sounds? These questions deal with everyday phenomena that we often take for granted, but each can be explained scientifically. Everyday Mysteries will help you get the answers to these and many other of life's most interesting questions through scientific inquiry.
LegoSpace
Please wait while my latest tweet is loading... June 5 - July 31 Have you ever dreamed of exploring space, or building your own aircraft of the future? We'll like to invite you to do more than dream. Starting Wednesday, June 5th, we'll like you to take part in a very special competition with NASA and The LEGO Group on ReBrick, NASA's Missions: Imagine and Build, for a chance to win a collection of goodies from both groups. Join here » December 5 Assembly Flight: 33SMission: Expedition 34/35Launch Vehicle: Soyuz TMA-07MLaunch Site: Baikonur Cosmodrome, KazakhstanDescription: Soyuz TMA-07M will carry three Expedition 34/35 crew members to the International Space Station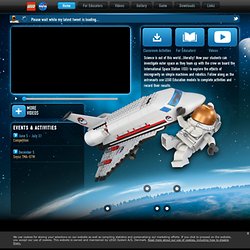 Teachers | Professional Development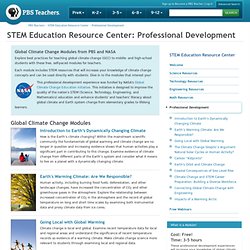 Global Climate Change Modules from PBS and NASA Explore best practices for teaching global climate change (GCC) to middle- and high-school students with these free, self-paced modules for teachers. Each module includes STEM resources that will increase your knowledge of climate change concepts and can be used directly with students.
View selected lessons from MSC translated into Spanish. Ver las Lecciones ► Investigate the world of atoms and molecules through hands-on inquiry-based activities and molecular model animations. View the Lessons ► View selected lessons from MSC translated into Spanish.