Add Ons
Guru's Blog. Recent Ext. Problematic extensions. From MozillaZine Knowledge Base This article lists some extensions that are known to cause problems.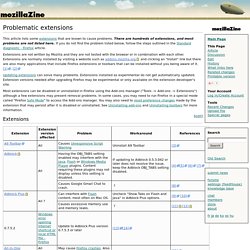 There are hundreds of extensions, and most problems are not listed here. If you do not find the problem listed below, follow the steps outlined in the Standard diagnostic - Firefox article. Extensions are not written by Mozilla and they are not tested with the browser or in combination with each other. Have it Your Way! There are many free web browsers on the market.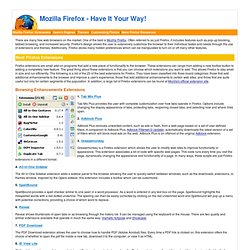 One of the best is Mozilla Firefox. Often referred to as just Firefox, it includes features such as pop-up blocking, tabbed browsing, and increased security. Firefox's design allows the user to extensively customize the browser to their individual tastes and needs through the use of extensions and themes. Additionally, Firefox stores many hidden preferences which can be manipulated to turn on or off many other features. Best Firefox Extensions. Add-ons Blog. In Firefox 30 the Add-on SDK is making a change to the execution environment for content scripts.
While this change will not affect most add-ons, some patterns will no longer work. Specifically, content scripts will no longer be able to use unsafeWindow or window.wrappedJSObject to make JavaScript objects available to content. The more common pattern of accessing objects in the page directly via unsafeWindow will continue to work as expected. What we're introducing instead are some new APIs that you can use to share functions and objects with content explicitly.
While you're working on migrating to these new APIs, there's a mechanism you can use to switch your add-on back to the old behavior as a short-term measure.
---