Add Ons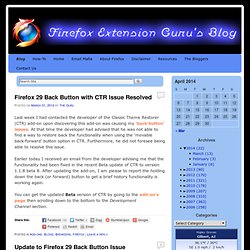 In the post yesterday we asked if the screenshot below was that of Firefox or Chrome. The answer is Firefox. Firefox 29 Beta 1 release with the new Australis theme/UI. This is the first major UI change since Firefox 4 was released on March 22, 2011 (after over a year of developmental releases). Firefox 4 also introduced Tabs on Top, the hidden menu bar and the Firefox button, which with Firefox 29 will be a thing of the past. Kind of a shame too as it at least made Firefox standout from other browsers which are really all starting to look the same now.
Guru's Blog
Recent Ext.
Problematic extensions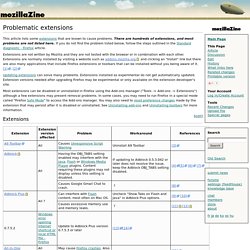 From MozillaZine Knowledge Base This article lists some extensions that are known to cause problems. There are hundreds of extensions, and most problems are not listed here. If you do not find the problem listed below, follow the steps outlined in the Standard diagnostic - Firefox article. Extensions are not written by Mozilla and they are not tested with the browser or in combination with each other.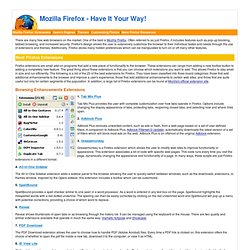 Have it Your Way!
There are many free web browsers on the market. One of the best is Mozilla Firefox. Often referred to as just Firefox, it includes features such as pop-up blocking, tabbed browsing, and increased security. Firefox's design allows the user to extensively customize the browser to their individual tastes and needs through the use of extensions and themes. Additionally, Firefox stores many hidden preferences which can be manipulated to turn on or off many other features. Best Firefox Extensions
Australis, the new Firefox theme, landed in Nightly 6 weeks ago. Because of the ongoing work being done to it, it won't be uplifted to Aurora just yet, so it will continue to be available exclusively in the Nightly channel for at least one more cycle. That means that Australis won't be in Firefox before version 29, which is currently scheduled to make its final release in late April 2014. We encourage you to download the latest Nightly and test your add-ons in it. If you're an add-on developer and run into problems, please let us know, or file a bug and add it as a dependency to this tracking bug for add-on issues on Australis. Make sure to give the other dependent bugs a look first to prevent duplicates.
Add-ons Blog